Not to long ago I jumped on an airplane and headed out to California to get the behind the scenes info and secrets of the new Marvel movie ANT-MAN. One of our stops on the trip was a press junket to get the inside scoop from those who were hands on with the movie. As we get closer to the movie hitting the big screen I will have more secrets and behind the scenes information for you! First up is the Paul Rudd & Evangeline Lilly ANT-MAN Movie Interview. Where we got to hear their take on being stars of this new Marvel film. 
Interview with Paul Rudd & Evangeline Lilly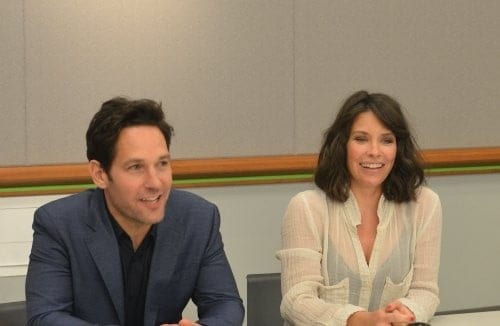 Some helpful tips about their characters for those who haven't always followed the Marvel Story. And for those who haven't don't worry you can still see and enjoy this movie (possibly get hooked on Marvel too) even if you have never see another Marvel Movie. But for the sake of those who want to know some back stuff about the characters Paul Rudd and Evangeline Lilly play I am going to help you a bit 🙂
In Marvel's ANT-MAN actor Paul Rudd plays Scott Lang aka Ant–Man and Evangeline Lilly plays Hope Van Dyne. Hope is the daughter of Hank Pym who is the man who created the ANT-MAN technology. There was also a character named Janet Van Dyne who was the Wasp in earlier Marvel stories. Relationships I don't know exactly but their might be some. This Marvel database can help you out with characters you are wanting to know about. ANT-MAN has a child of his own as well and well I am not going to give to much away but I want you to make sure you are caught up to speed as you read this interview and not confused if you are not a Marvel fanatic 🙂
Behind the Scenes of Marvel's Ant-Man Movie | Interview with Paul Rudd & Evangeline Lilly
One thing I enjoyed about this movie aside from the fact that you do not have to be a Marvel Fanatic to enjoy it is that there is so much we can relate to in our daily lives in the movie. The struggles of parenting, relationships and being ourselves.

Parenting:
There is a HUGE focus on parenting. I know what you are thinking, this is a Marvel movie, why would there be a focus on parenting? Well there are so many great parts in this movie that show the love a parent has for their child and the love a child has for their parent.
Paul Rudd: 
I also knew that there was this relationship that Scott Lang had with his daughter and that there was the relationship that Michael Douglas has with his daughter. That this whole thing with parents and children, that that was going to be really the thrust of the film. And that's relatable, empathetic and something that you can hang the whole thing on. And that's pretty dramatic.
It's the thing that I think everyone will relate to you know. We've all had bumpy times or whatever, in whatever our relationship is, with our parent or our child and, that's the stuff that I think people will relate to.
Evangeline Lilly:
I think redemption really is a big theme in the film. I think redemption between the father/daughter and the father/daughter relationship is, the powerful theme that really anchors the film emotionally.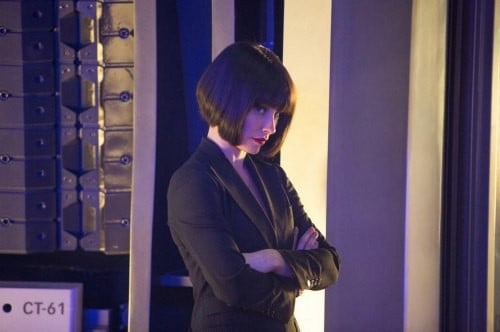 Girl Power:
It is not "in your face" but the power of women and how they are just as awesome as men and kick butt just like they can is an important part of the movie for me and I was glad to hear them talk about that part of the movie as well. I think it is good for kids no matter what their gender is to see that gender doesn't stop someone from doing something that they want to do.
Evangeline Lilly:
You know, it's funny because actually the girl power part was no really my contribution. That was Marvel and the boys who– I mean what guy doesn't like a girl who can kick ass? They like to see that on screen, right? What I think is important is that woman, first of all be a woman and not a girl, and that she also have all the dimensions that a male character who can kick ass would also have. And I think a lot of the times what happens mistakenly in men's very, very meaningful attempts to make strong women is they make them strong in the way that they relate to, which is wrong. And I think that female strength, has many more dimensions than that and I think that a lot of our strength comes from our women's vulnerability, our compassion, our maternal instincts, and I don't think that those things should ever be labeled as weaknesses. And I think that's one of the things that I always look to put in and infuse these characters with, is the sort of moments where you suddenly realize underneath that very hard facade, underneath what she's trying to project to the world because she feels she has to survive or she has to do what she needs to do.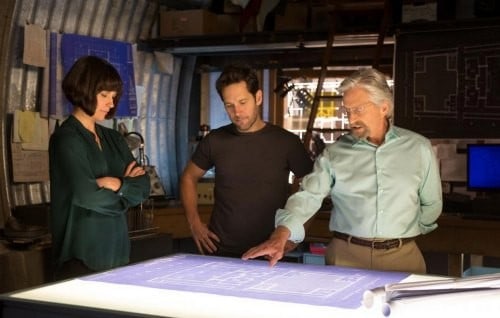 Relationships:
Relationships are challenging, weather they are ones we have with our family, our friends, people we love or even ourselves. And through out the movie the different relationships between the characters are ones that I feel should be noted. The relationships between the characters bring forth things we can all relate to. Our personal character also plays a big roll in our lives as to who we let into our lives. It is also the people who we don't expect to learn something from or to have help us that end up doing so. In ANT-MAN we see this happen.
Evangeline Lilly:
I think that in our lives, we all know often what our greatest pitfall is in our character and, we don't know we're doing this but I believe that we're constantly drawing people into our life to help us deal with that thing and usually those people are the most unpleasant people for us to deal with because they bring to light that thing that you wish you could just push under the carpet and not think about, but you know you need to work on.

And I feel like, for Hope, Scott coming into her life could not have more poignantly exasperated the issue of her need for control, to control everything, every little thing right down to her lipstick point and her haircut. He just is so loose and, and from her perspective he seems so out of control and, I think that's that rub that we draw to ourselves. She drew in that energy because she needed to face it and she needed to deal with it and I think it's really appropriate that it's the Scott Lang character who helps Hope to realize, what's truly going on in her relationship with her father, because she couldn't see it for herself.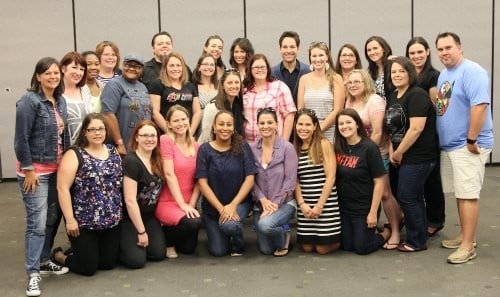 Disclaimer: I was invited to an all expenses paid press trip with Disney for the Marvel ANT-MAN Movie. All opinions are 100% my own.