So we have been in this house for a few months and I was all rip rearing ready to go to get all the rooms painted, furnished, decorated and then BAM the amount of work it is to get it all done while blogging and still being a mom and having a life things got side tracked but we are still sloooowly making progress on the house and it is all coming together (as long as you do not look in my garage and see all the still packed boxes 😉 )
When we asked Alyssa what she wanted the only response we got from her was pink, it had to be pink. Thankfully Tom is a good sport and when the first 2 pinks were not pink enough for her (gotta love a 4 year old with a vision) he repainted them and we ended up finally with a pink she LOVES! Thankfully as of right now she is telling us it will be pink forever!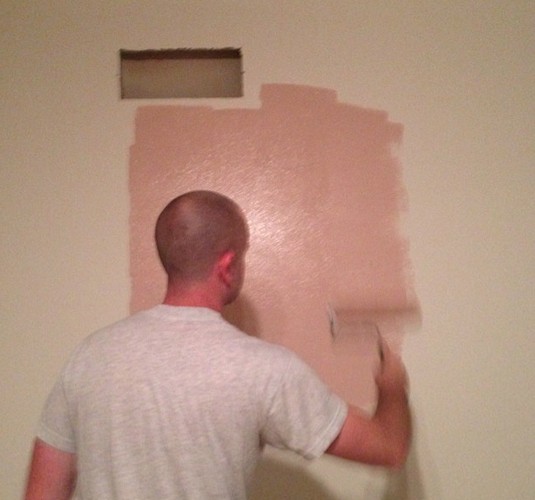 The first pink once done was very very light and you could not tell once it was painted, but we ended up doing 1 wall in the second pink color we found and then the other 3 walls in the darker brighter pink. (Thank God for the clearance paint rack!)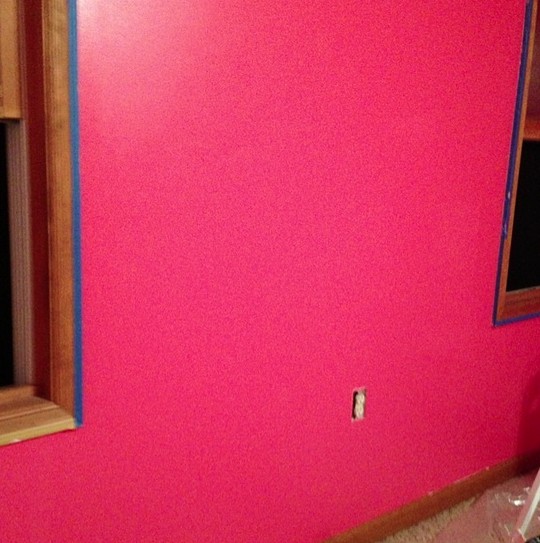 I love how the dark pink makes the light pink look brighter and the ceiling is white but the light reflects off the darer pink making it look pink too!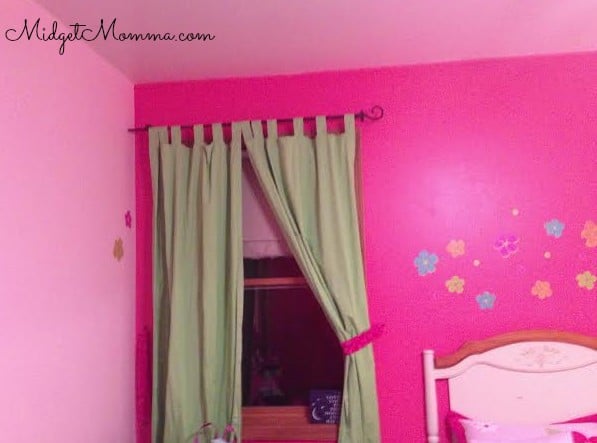 The pink paint is called watermelon smoothie (found at Home Depot) and the flower stickers are from the dollar store. The green curtains were in McKenzie's room when we bought the house that the old owners left, so we tossed them in the washer, and hung them up! I think they look perfect. I am sure you recognize the furniture, from my awesome Goodwill find a few years ago. I was so excited to finally put the mirror on top of the dresser now that she is old enough to understand not to pull on it (and it is screwed in to the top of the dresser). The bookshelf you see in the picture was mine as a kid, but it was not painted and to make it match her room I painted it with a quick coat of white paint. Which was super easy to do!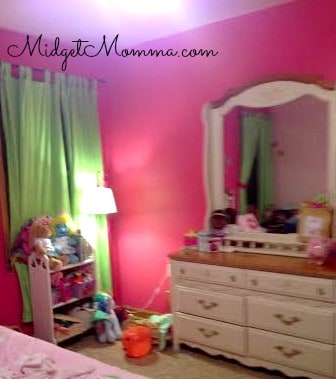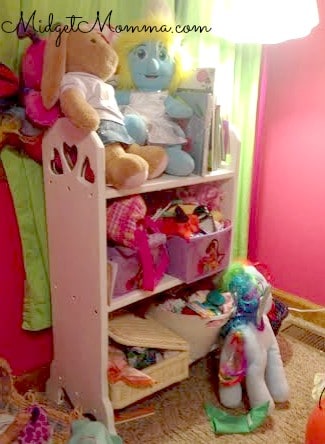 I am in LOVE with the bedding from Beyond Bedding, which is the set you see on Alyssa's bed. They have so many different choices to pick from, such as chevron baby bedding,  nautical baby bedding, and other modern crib bedding styles so no matter what style you are wanting to do your kiddos rooms in you should have no issues finding the perfect bedding. I also love that they have custom bedding where you can make your own design and then they make it!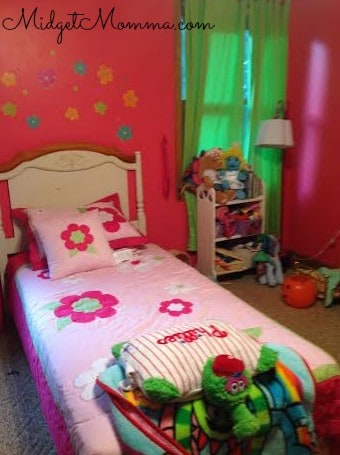 Then there is the HUGE Doc McStuffins she got at an event with me that she insists on having on her wall, but I am excited she can now have space in her room to have the 2 little tikes houses I found years ago (when McKenzie was about a year old) at a Yardsale for just $10 each!
Alyssa now loves her room and we are very happy to have another room finished, next rooms to finish are McKenzie and Logan's which thankfully is not to much left to get them complete so be on the look out for those posts soon 🙂
Disclaimer: Beyond Bedding supplied the bedding for Alyssa's room. No compensation was received and all opinions are 100% my own.