Well it has been a crazy week here and I never even had the chance to get up my normal Merry Christmas post. This past week has been crazy a friend of mine had a family emergency and she had to go out of town and her kids came to stay with us. They were here until tonight with the exception of going home with their uncle so Santa could go to their house. I have to admit having 5 kids in the house was not as bad as some might expect, we only had 3 fights the whole time they were here. However it did mean things here on the blog had to be pushed back a little bit because they are not used to our house and so things were a bit crazy. I am super proud of my kids though, they welcomed their friends into our home, shared their rooms, their toys (even the new ones they got for Christmas), and did everything they could to make their friends feel welcomed and comfortable. I couldn't have asked for my kids to be better then they were, it all happened last minute and unexpected and my kids jumped in and did whatever was needed to make their kids feel comfortable.
We made Christmas cookies using the No Spread Sugar Cookie Recipe and the kids gave us all a sugar high with the amount of icing and sprinkles they put on them 😀
Christmas Eve we all headed to the children's service at church and then it was time to get ready for Santa. We decorated the tree, which has been bare in our living room for like 3 weeks and we could not seem to get it together enough to get the ornaments and lights on it. But we did it before Santa came so that is what counts!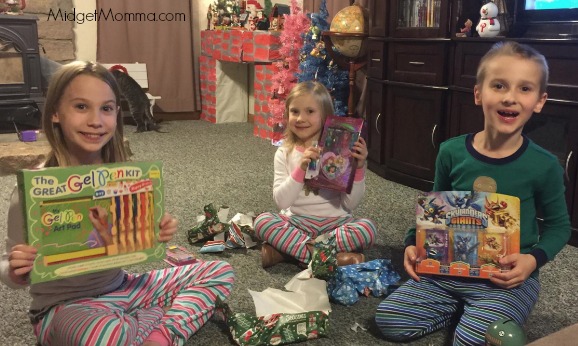 The kids exchanged gifts with each other, I always love seeing their reactions of what the others have picked out for them. They always get so excited to give each other gifts. I love how hard it is for them to keep the secret for a few weeks about the items they picked out and bought and then seeing them finally able to give the gifts.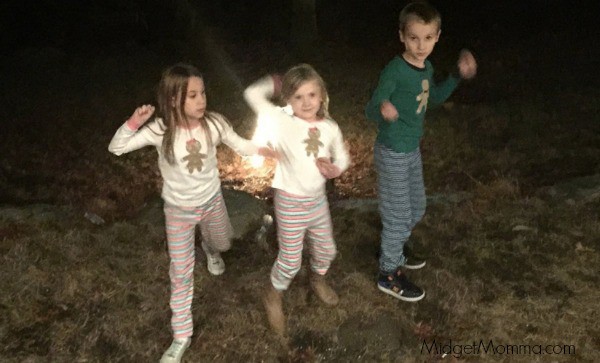 The kids sprinkled reindeer food on the front yard, left cookies and milk out for Santa and carrots for the reindeer and then headed to bed.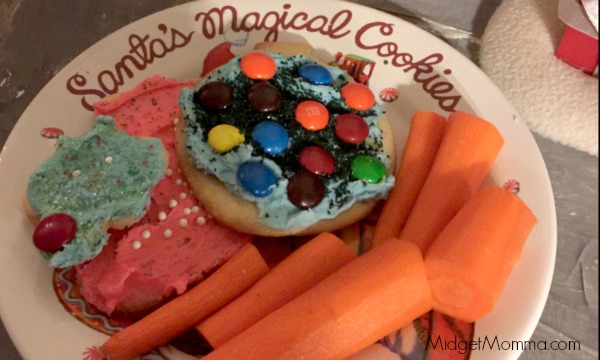 Christmas night was kinda crazy, Santa came and was so loud he woke me up! Which is probably a good thing since I forgot to wrap a few things of the kids. McKenzie caught me wrapping the last gift of Logan's from Tom and I and thankfully she didn't  spoil the surprise of what his gift was!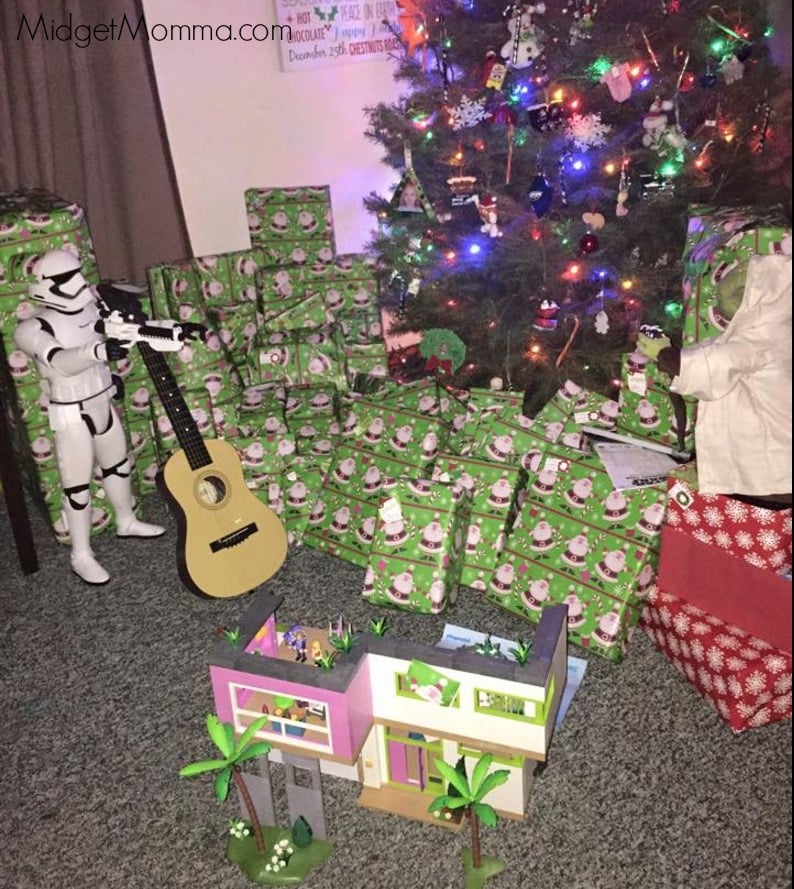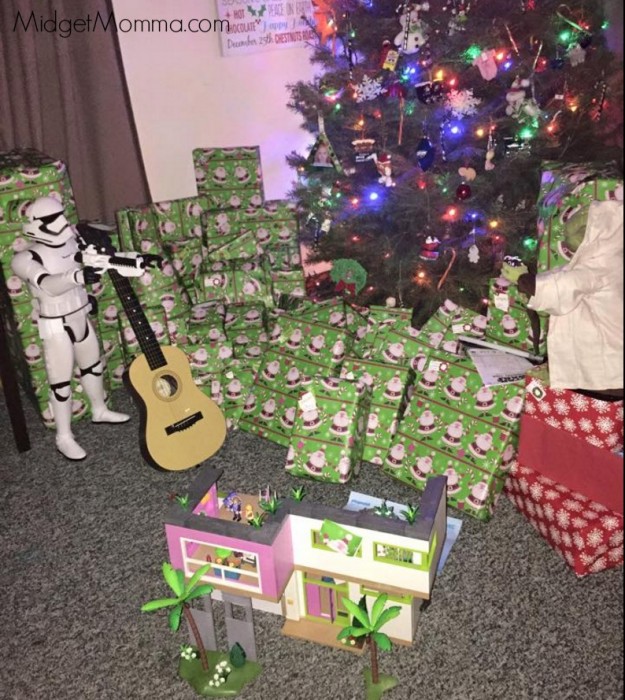 Christmas morning, we had our traditional cinnamon rolls for breakfast while opening gifts. I love seeing the kids smile when they open things that they believed they would never get.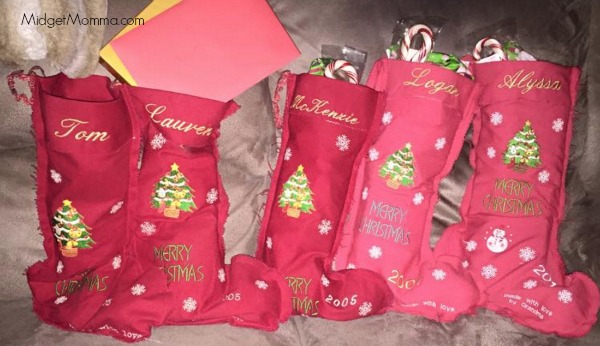 Alyssa was so proud of her gifts to Tom. She was able to get 2 2 packs of Marvel Glasses and 2 shirts for Tom for only $14! We had found a clearance sale that had them marked down to $7.44 (Reg $15) for the glasses and they were buy one get one free and the shirts were the same but marked down to $8 from $16 and had a buy one get one sale. She excitedly told him about the deal she scored on his gift after he opened them. I love this photo I snapped of them, you can see how proud she is of her gift. This was also the first year that she picked out gifts for people on her own, with out asking me if someone was going to like it and went with her own choices of gifts.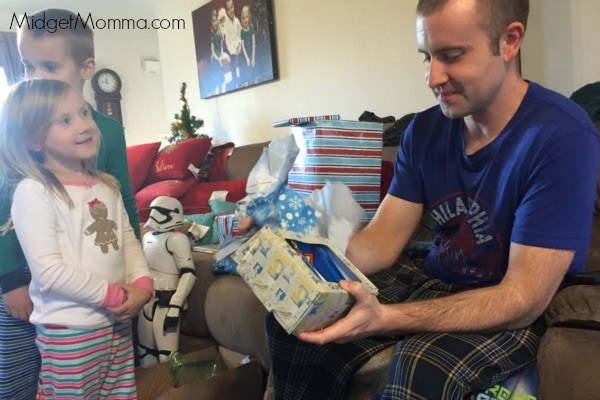 I love when my kids randomly give each other hugs while opening their gifts on Christmas morning. It really melts my heart! I wish I was fast enough with my camera to get a photo of every time it happened. They got excited when someone opened a gift that was something that they had really wanted, and were excited for one another.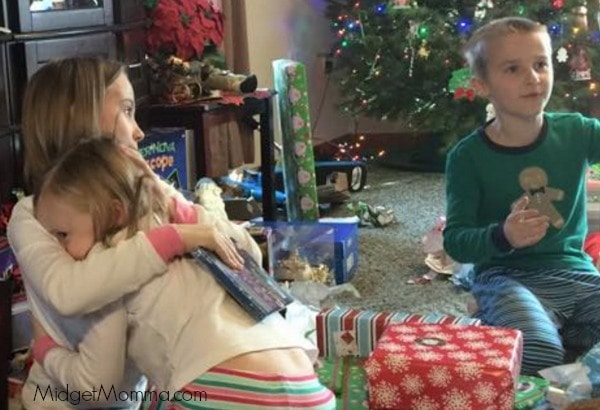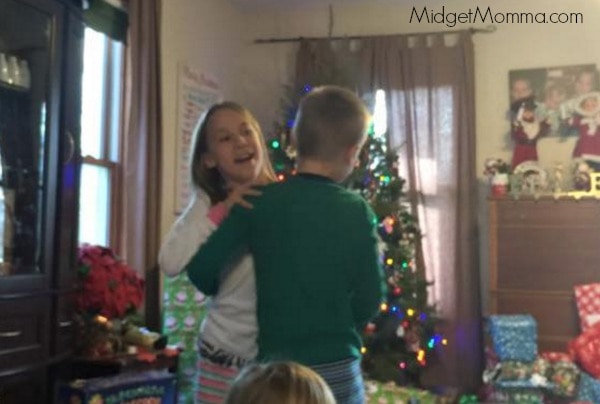 Then my parents, sisters and their husbands/boyfriends came over and my friends kiddos came back. We did a gift exchange and this year was the first time we did Secret Santa and we all learned we suck at it. We suck at it BAD too! But I guess that is what happens when the majority of the family hunts deals and uses coupons. No one stuck to the limit we had set in place (because with retail cost being much higher then a deal price we all went over the spending limit retail price wise lol).
The spread of snacks and appetizers I may have gone over board with, we had cheese and sausage from Hickory Farms, crockpot meatballs, ham and swiss party sandwich roll ups, sugar cookies, peanut butter cookies, cocktail shrimp and I am sure i am forgetting a few things too.
Dinner was filled with my favorites, Prime Rib, an awesome potato recipe I came up with that will be on the blog soon, crockpot carrots, and rolls.
Then because of work schedules everyone went home and Tom, the kids and I all just hung out and relaxed. For dinner the kids all wanted pancakes, which were super easy to make with this pancake maker thing Tom got me for Christmas.
All in all it was a good day, plenty of smiles, laughs, family and craziness. Just what I love about Christmas Day!
How was your Christmas Day?
Hickory Farms

 is proud to support No Kid Hungry®. No Kid Hungry is, working to end childhood hunger in America by ensuring all children get the healthy food they need every day. 

Hickory Farms

 has contributed more than $4 million to No Kid Hungry since 2008. For every Signature Party Planner purchased this holiday season, 

Hickory Farms

 will donate $5 to No Kid Hungry. As a supporter of the U.S. Armed Forces, the company provides year round complimentary shipping on select products to military addresses across the globe to ensure families can send loved ones warm wishes and a favorite taste from home. Visit 

www.hickoryfarms.com

 for details.
Disclaimer: Compensation and products for review were provided by Hickory Farms via MomTrends. I received a free sample of the product for the purpose of this review and to facilitate a giveaway. The opinions expressed herein are those of the author and are not indicative of the opinions of Hickory Farms.