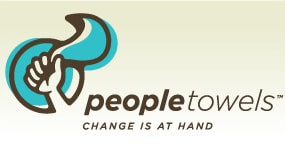 Most days I have to wash my hands in my house about 30 times a day…drool, pancake syrup, after washing dishes, before making a bottle, after making a bottle, a really disgusting 'present' from my children, squashed a bug…LOTS of things happen in my house that require a hand wash and that's only starting at home.  I'm not including the half a dozen times I have to go into the bathroom while I'm at the store, because, of course three children never have to go to the bathroom at the same time!  Plus, there's the leaky package of chicken, the spilled candy I have to pick up in the middle of the aisle, the Icee they talked me into…the list just goes on.  According to PeopleTowels, there's over 3,000 tons of paper towel waste produced in the United States PER DAY.  Can you imagine?  An elephant weighs an average of 4 1/2 tons so we throw away over 650 elephant's worth of paper towels every day!  When I got the chance to review PeopleTowels, I was pretty excited.  This was my chance to cut down on my waste (and money out of my pocket!) once and for all.  I'll admit, I tend to forget to bring it to the store with me (I'm trying!), but I have one hanging on my fridge all day, everyday.  It dries very quickly and soaks up all the water from my hands after I wash them.  They're really cute and a bit witty (One says 'This is not a Tree'!)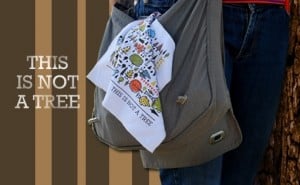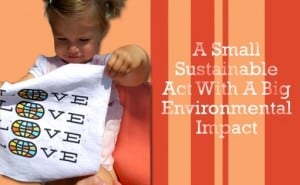 It's really made me realize just how many paper towels I used for something silly like drying my hands.  I suddenly realized that I hadn't bought paper towels in weeks when I was normally buying them on every shopping trip.  There's cute little hook on the back that lets you hang it pretty much wherever you want (It's great to hook it on a magnet on the fridge!):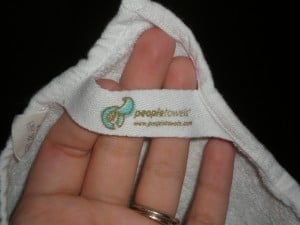 They are only made from 100% organic, fair trade cotton, and the greatest part about them is what they help you save! 
BUY IT:
Go to www.peopletowels.com to pick up your very own PeopleTowels!
Disclaimer: I was provided product to facilitate this review, I was not compensated for this review. All opinions are my own.
Join the newsletter
Subscribe to get our latest content by email.
This post may contain affiliate links. Please read my disclosure policy here