Peppermint Hot Chocolate with Peeps
As it gets colder and the snow starts to fall I love making hot chocolate and trying different things to add into it and different ways to make it. Recently Peeps sent us a box of Peeps and when I saw the Peppermint Peeps I thought they would be perfect in my hot chocolate, and they were! It is super easy to make but doesn't taste like it is made with just 2 ingredients!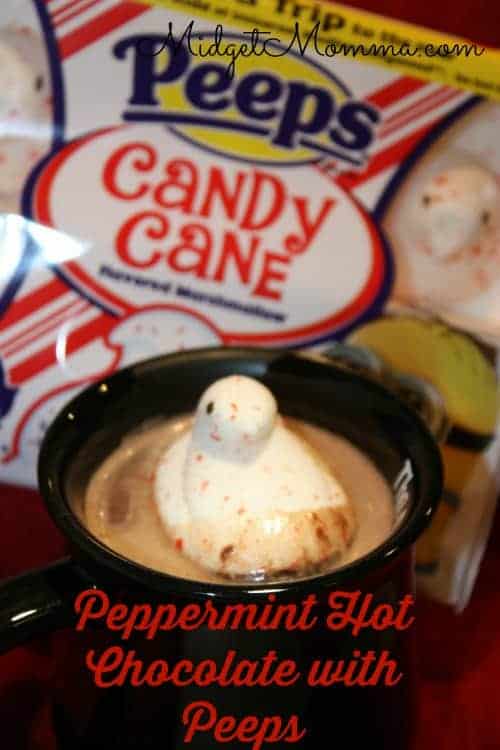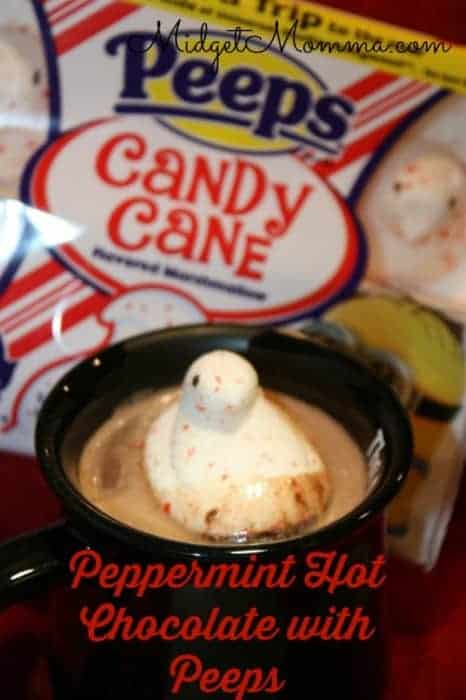 Ingredients for Peppermint Hot Chocolate with Peeps
Packet of Your favorite Hot Chocolate mix
Candy Cane Peeps
Directions for Peppermint Hot Chocolate with Peeps
In your mug pour the package of hot chocolate, place 2 peeps in the bottom of the cup. Pour the hot water into your mug and stir well. (Your peeps will melt with the hot water being poured on them, I use my keurig and the hot water setting when making mine). Then top it off by adding another Peppermint Peep on top 🙂
Yum!
Ingredients
Packet of Your favorite Hot Chocolate mix
Candy Cane Peeps
Instructions
In your mug pour the package of hot chocolate.

Place 2 peeps in the bottom of the cup.

Pour the hot water into your mug and stir well. (Your peeps will melt with the hot water being poured on them, I use my keurig and the hot water setting when making mine).

Then top it off by adding another Peppermint Peep on top 🙂
Share on Facebook
Pin Recipe
Tried this recipe?Mention @midgetmomma or tag #MidgetMommaRecipes