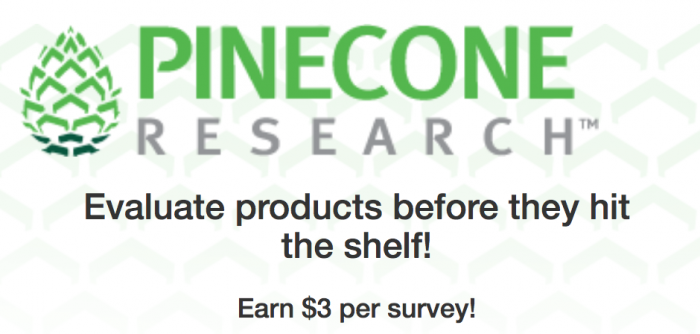 I have been doing surveys with Pinecone Research since 2008 and I love them! I have cut back doing them for lack of time (time in general) and wish I hadn't! The surveys they send are simple and do not take very long. For each one that you do you get paid $3!
We have also tried out lots of different products with Pinecone Reasearch, the kids favorite one was the fruit snacks 🙂  After trying them I filled out a quick question and answer form of my thoughts and then with in 2 weeks I had my check in the mail!
They send you e-mails letting you know about surveys, you fill them out and then you get paid by paypal or check! Super simple, easy and fun! You won't get rich with doing them but you can definitively add more money to your savings accounts, or vacation funds 

Huury and apply to be a member of Pinecone research –it fills up fast and they do not open up to new members very often!
Reader Comments about Pinecone Research-
Alicia – "I love Pinecone, I have been a member for them for a few months now and love it"

Amber- " love this company! They send you a Mastercard that your $$ is loaded onto automatically. I only get a couple surveys per month, but it adds up!"

Melinda – "I love pinecone. Simple surveys user friendly."
If you are looking for another awesome company to do surveys with my second favorite is Opinion Outpost – Learn more about them here.
Looking for more ways to make money with surveys? Check these others out that we love and use! 
Join the newsletter
Subscribe to get our latest content by email.
This post may contain affiliate links. Please read my disclosure policy here