I was excited when the chance for hubby and I to go see Pirates of The Caribbean: On Stranger Tides. This was my first 3D movie experience and it was amazing! It really makes me wants to see more movies in 3D, it makes you feel as if you are right there with the characters as they travel on their adventure.

Jack Sparrow (played by Johnny Depp) brings a lot of adventure to the movie, and makes it obvious to viewers that he is a typical pirate who is in it for what is best for him and brings out the typical pirate thought of being all for themselves. While there are times that he does help others during the movie the end result is still he is a pirate and does what benefits him.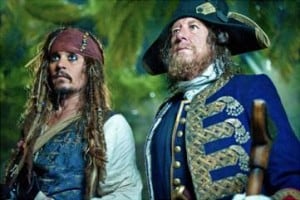 With three different groups, the Spanish, the British and Blackbeard's group on a race to the fountain of youth, all for their own reasons and  not only do they all have to find it, but they have challenges to face in order to use the powers of the Fountain of Youth. Action is a majority of the movie, there are times where there is a small break in the action, but during those breaks you are still wanting to know what is next.
One thing I really enjoyed was that the magical feel you get from all Disney movies was present as well. There is always magic, enchantment, and imagination to Disney movies.  With the enchantedness of the Fountain of Youth, Blackbeard's magic and the imagination people have about mermaids(however these mermaids are not what we all tend to think of when we think of mermaids and I would not recommended taking a young child who has a positive image about mermaids to this movie) Disney's magic that we think of when we think of a Disney movie is definitely in this movie.
Both hubby and I really enjoyed this movie, it is a little more then 2 hours long however it sure did not feel that long at all with there always being some part keeping our attention. Make sure you stay until after the credits are done rolling to see the last scene!
Pirates of the Caribbean: On Stranger Tides comes to theaters on May 20th and is rated PG-13.
Disclaimer: I was not compensated for this review, I did receive free tickets to facilitate this review. All opinions are my own.
This post may contain affiliate links. Please read my disclosure policy here