As a stay-at- home Mom to four little boys, I am always looking for great-tasting and efficient dinner recipes. I was filled with excitement and completely nervous to receive the Power Pressure Cooker XL to review! Not only did I have zero experience cooking with a pressure cooker, I had grown up hearing horror stories of the exploding pressure cooker that left dinner splattered across the kitchen. I'm happy to report back that I have used the Power Pressure cooker three times already and all three times were a giant success!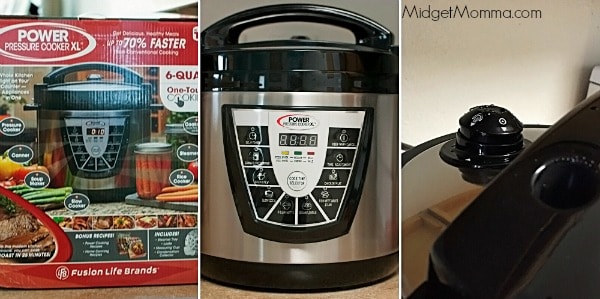 The Power Pressure Cooker is black and stainless steel and will match most kitchens, which is a huge plus! It is large, but can fit under the cabinets on our counter. It takes up no more room than our slow cooker and it is a much more versatile small appliance. In addition to being a pressure cooker, it can be used for slow cooking, canning, cooking rice, steaming, and cooking soup! The digital display panel is easy to read and features several one-touch preset buttons. I found it to be incredibly easy to use and clean.
For my first attempt at pressure-cooking, I decided to use one of the recipes in the included recipe book. The recipe my family decided on was the Asian Chicken and Rice. I loved that I could use the "Meat" setting to sauté the chicken and vegetables right in the pressure cooker! Then, I added the other ingredients, attached the lid, and turned the pressure cooker to the rice setting and waited for the magic to happen. The recipe said a 6-minute cook time, but I noticed that it does take a little time to warm-up after you press the button before the countdown begins. When the six minutes was up and the pressure cooker beeped, I immediately thought "well that rice can't be done…" I am happy to report that I was wrong! Everything, including the rice, was well cooked in less than ten minutes! Since this was my first time using a pressure cooker, I was not expecting the loud and sudden burst of steam when first opening the pressure release valve! It is pretty intense! But I've learned my lesson- pay attention to the warning on the lid to keep your face away from the pressure valve!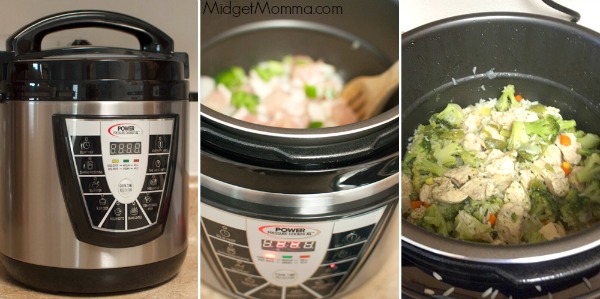 For our second attempt we decided to make French onion soup, also from the recipe book that was included. We were able to make and eat homemade French onion soup during my husband's lunch break from work. Once you have your onions cut and ingredients added to the pressure cooker, the soup cooks in only TWELVE minutes! Again, I was able to sauté the vegetables and cook the soup all in the same pot- that may be my favorite part because you are left with only one pot to clean!
For our third attempt we used the pressure cooker as a rice cooker. We made four cups of perfectly cooked white rice in less than ten minutes. Full disclosure: I have never used a rice cooker to cook rice before. I was AMAZED at how perfectly cooked this rice turned out. This will be the only way we book rice from here on out.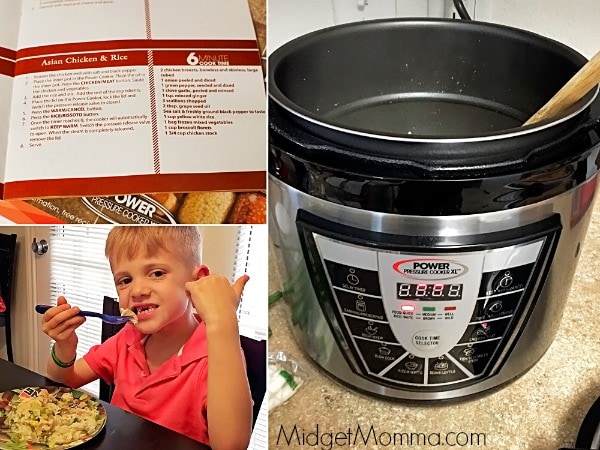 Overall, we are surprised by how versatile the Power Pressure cooker is. The size is small enough that it doesn't take up a load of counter space, but large enough to cook family meals for my family of six. I don't know if I will ever use the canning feature, but I will definitely continue to use this product weekly to make soups, stews, rice, and more. It cuts the time I spend doing both cooking dinner and washing pots and pans and allows me to spend more time with our family in the evenings, and nothing can beat that!
Disclaimer: Product was provided to facilitate this review. All opinions are 100% my own.