My Mom got me hooked on Precious Moments when I was a kid, not only did she have a HUGE collection of them (she still does and adds to it too!) but she also bought them for us kids. She started my love for these collectibles and it has only continued as I have grown older.
I love that they have pieces that are perfect for every holiday, I have even over the years managed to get Tom hooked on them as well. He has bought them for me as gifts and I have given him them as gifts as well!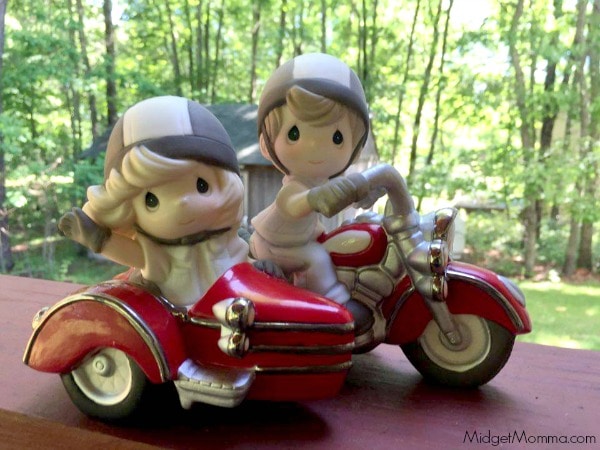 This year Tom is getting the newest Father's Day Figure, Forever By Your Side.
Sharing a friendly wave from the side-car of a bright red motorcycle, this free-wheeling joy-rider is happiest when next to the one she loves. The smiles they share together are as bright as the chrome accents on their favorite mode of transportation. This piece is a beautiful tribute to a special love shared by those who crave the wind in their hair. Bisque porcelain. 5 1/4" H.
I like this one a lot because while Tom is a dad it is an on going joke that he is "stuck with me forever" and this piece puts that in to much nicer words 🙂
Plus through today June 6th you can get 15% off Father's Day gifts with coupon code DAD2016 at PreciousMoments.com!
Disclaimer: This post is sponsored by Precious Moments. All opinions are 100% my own!