The Disney Channel is a big part of our family tv show watching, in fact it can often be found still on after the kids have all gone to bed and then from there we have a few ABC shows and Netflix series that Tom and I watch and then of course Tom's sports. But any time the kids are awake you will find the Disney Channel on in our house. We don't sit there watching it all day long but it is a channel I know I can trust to have shows on that are appropriate for all the kids to see if they were to walk thru the living room and I don't like a silent house.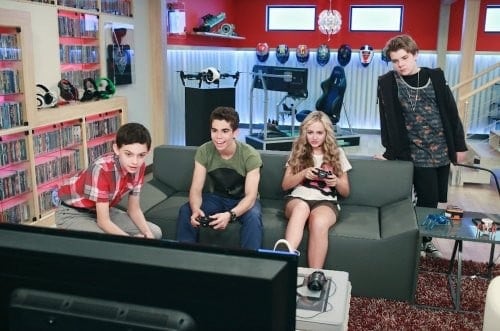 One of the newest shows coming to the Disney Channel is Gamers Guide to Pretty Much Anything. You will see a familiar face with Cameron Boyce  playing Conor (formerly on Jessie) and a few new faces too.
The series chronicles the antics of a 15-year- old professional video game-playing phenom who is forced to enroll in public school for the first time and now must deploy his virtual gaming acumen to circumvent real-life challenges.
This new Disney show airs on Disney XD on July 22. It has a rating of Y7 so it is great for the kids who want to watch the "big kid shows" and are not ready for the older range shows! Really though to be honest the whole family can sit down and watch an episode and enjoy it.
Premiere episode of Gamers Guide to Pretty Much Anything Airs on July 22
In the premiere episode, Conor desperately wants to get his pro card back, so he recruits new classmates Franklin, Wendell and Ashley to play the game for him. However, a failed attempt to ditch school early to practice the game lands the foursome in detention with the toughest teacher in the school. The team must find a way to escape detention before the online gaming tournament begins if Conor has any hope of returning to the pro gaming circuit. Stampy Cat makes a cameo in this episode as the announcer for the pro-gaming tournament.
Will you be tuning in?