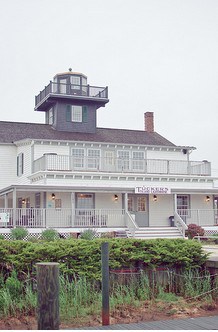 Get your pirate gear together and get ready for some fun! This weekend at Tuckerton Seaport it is the Privateers & Pirates Festival!!! First this seaport is super close to my absolutely favorite place in the world, Long Beach Island and if you have never been to that part of New Jersey put that on your must do list because it is absolutely beautiful! I have never been to Tuckerton but seeing as it is only a few minutes from my favorite place I can only imagine that it is going to be awesome!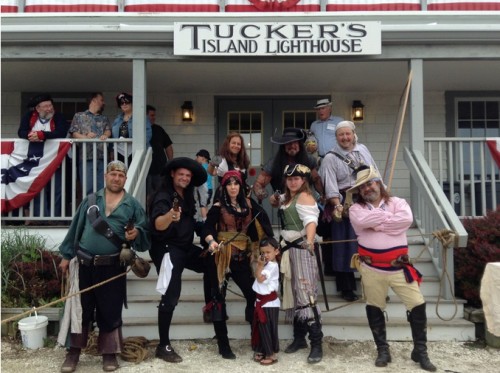 I am headed down and the kids, Tom and I are going to be roughing it (I have already heard a lot about how our cabin will not have a toilet and that has the kids in a tizzy however I am excited for the time out from regular life and all the electronics we normally have (with the exception of my cellphone so I can share the excitement of the Jersey shore and Tuckerton Seaport and a few times of me jumping online to share some deals of course).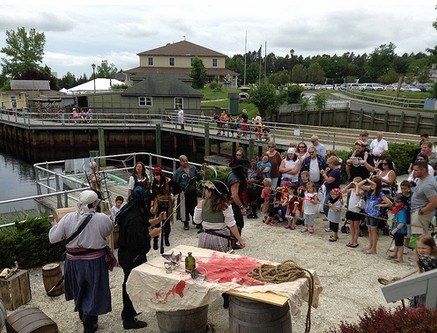 Now let me tell you about the best part… YOU can be there too!!! But if you see me walking around looking like a hot mess blame it on the fact that I am roughing it in a cabin with out a bathroom and we will be using a communal bathroom 😉 The day's activities begin at 11am with a Pirate Meet & Greet!!! This is event is totally budget friendly too!! Event admission is $8 for adults, $6 for seniors, $5 for children, and free for Seaport Members and children under 5. Event admission includes access to the Seaport's 40 acres of family fun, featuring maritime activities, historic and recreated buildings, live animals, a boardwalk, miniature golf course, and exhibits. 
Privateers & Pirates Festival Weekend at Tuckerton SeaportPirate Meet & Greet
Pose on the Plank
Pirate Costume Contest for Adults and Children
Piratology 101: Learn about the Golden Age of Piracy!
Cannon Demo: Watch how to handle and fire a cannon. Volunteers will be needed to join the gun crew. Don't be scared by the big BOOM at the end.
Scurvy Mutineers Sword Fight Show: A live steel combat show complete with action and laughs. Volunteers will be selected from the audience to join the mutiny.
Whip Show: Things will really heat up as tricks and skills are shown.
Pirate Pistol Duello Show: A stage show of how a friendly game of Liars Dice can go terribly wrong. Learn how pirates settle an argument.
Amputation Demonstration!
American Water Puddles Van: Learn about water conservation, where the water locally comes from, how the water is treated and play interactive games where you can estimate your daily water usage
Watch the Parrot Pirate Party with a Parrot that Talks
Pirate Food Court
Make-and-Take Crafts
Live Music by Pirates for Sail
Treasure Hunt sponsored by Fantasy Island Plus, Pirate Ship Bounce House included with Admission!
This is a sponsored post written by me on behalf of the Tuckerton Seaport.  This program is in partnership with Real Mom Media .  All opinions are my own.
So Who am I going to see this weekend?