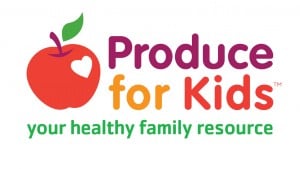 Now through the end of the summer head to your local participating grocery stores and check out the Get Healthy, Give Hope
displays from Produce for Kids, Sprout and LazyTown! Each display will have FREE Recipe Card ideas that will help you with healthy meal ideas for you and your kiddos and with them sporting the fun character's our kids all know from LazyTown it will make it even more fun for them! I know my kids love eating Sports candy just like Sportacus and Stephanie from LazyTown!
Celebrating a milestone 10th birthday in 2012, Produce for Kids is excited to kick off this year's campaign with a new partnership with Sprout® and LazyTownTM. During the campaign, Stop & Shop will offer shoppers collectible Produce for Kids' Ideal MealsTM – quick and easy healthy meal ideas, which are free and can be found in displays featuring LazyTown characters from the popular, health-focused, children's series airing exclusively in the U.S. on 24-hour preschool television channel, Sprout.
The Ideal Meals recipe cards will have recipes for breakfast, lunch and dinner that are perfect for families on the go and all of them will have fruits and veggies as the main ingredient. You can also find recipes for breakfast, lunch snacks and dinner on the Produce For Kids website! They have a TON of them online and make sure you keep an eye out for the displays in the store too!
Here is one of the ones I am looking forward to trying with my kiddos, it looks so Yummy! Turkey Burgers and Rainbow Salad!
Turkey Burgers 

Ingredients:

1 lb. ground turkey
1 cup panko breadcrumbs
1 egg
1 Tbsp. fresh basil, (or ⅓ Tbsp. dried) chopped fine
1 cup mushrooms, washed/dried, sliced
½ medium sweet onion, sliced
2 Tbsp. butter
4 slices, deli style mozzarella cheese (¾ oz. each)
1 large tomato, sliced
4 whole grain burger buns

Directions:

1. In large bowl, mix breadcrumbs, egg, basil, and salt. Once mixed, add ground turkey and mix well. Make patties about the size of the bun.
2. In frying pan, on medium/high heat add butter, mushrooms and onions and cook about 10 minutes until tender and brown. Turn heat to low and keep warm.
3. Pan-fry or grill, on medium heat, burgers until firm (about 4-5 minutes a side).
4. Assemble bun with burger, cheese, tomato and onion/mushroom mixture.

Rainbow Salad

Ingredients:

1 apple, cored, sliced
4 rainbow peppers, seeded, sliced
½ mango, skinned, diced
½ fresh lemon, juiced
2 Tbsp. olive oil

Directions:

1. Thoroughly toss apples, peppers, mango, lemon juice and olive oil in a bowl.
2. Season with salt and pepper, as desired.
Stop n Shop, Giant, Giant/Martin's: May 4 – May 31

Homeland: May 30 – June 27

Fred Meyer: June 14 – July 26

King Soopers: June 20 – July 31

Kroger Central: June 21 – July 18

Kroger Mid-Atlantic: June 14 – July 26

Kroger Mid-South: June 17- July 28

Kroger Southwest: June 13 – July 24

Meijer: May 27 – June 23

Price Choper: June 17 – July 28

Publix: May 31 – June 28

Smith's: June 17 – July 14

Stop & Shop – May 4- May 31 
Now through May 31,2012 when you purchase produce at local Stop & Shops grocery stores you are supporting local children's cancer research programs and bringing healthy food in your home for your family.  Thanks to the annual Get Healthy, Give Hope campaign hosted by Stop & Shop Supermarket Company, LLC and Produce for Kids, the more produce shoppers buy the more hope they can give to local children.
Disclaimer: I was provided a PFK Goody Bag and a Stop & Shop gift card for sharing this with you, as always all opinions are 100% my own and can not be bought 🙂 However I would have shared it with you with out being given anything at all 🙂 
This post may contain affiliate links. Please read my disclosure policy here