It is no secret that I am a coffee addict, not only self proclaimed but Tom reminds me daily of my coffee intake and how the amount of sugar that is involved when I use creamer or milk and sugar in my coffee is probably not always such a good idea. Moderation is key, but with coffee I lack the ability to keep it in moderation and I enjoy my 5+ cups of coffee a day. Now the 5 cups would not be an issue if I was drinking my coffee black, but yuck! No thanks I need my coffee sweet and creamy to fill my taste and want for it 🙂
So began the hunt for an alternative to the large amounts of sugar that I take in daily from my coffee and then I got an e-mail from Pure Via about their products and wanting me to try them out. As soon as I saw they had a sweetener, that was not sugar but an all natural one that comes from a leaf called stevia I knew that this might just be the option I have been looking for to reduce the amount of sugar I consume daily.
It is also not a secret that I am not a crunchy person but I am trying to add more natural products to our household and more natural ways of doing things like using Essential Oils and so seeing that it was also a natural product it was another win for me. I know I will never go fully organic or fully natural product using but little by little making changes I am seeing changes in our household and health in general and so I am open to products that are natural and better for us to integrate into our daily lives.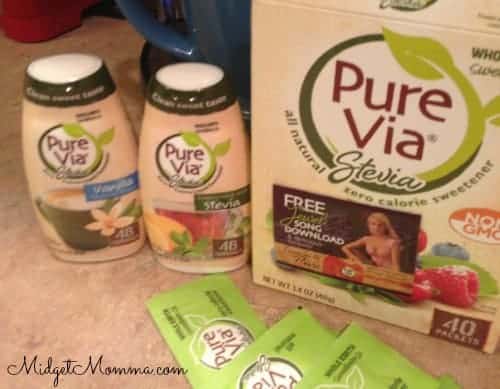 ---
Products shown in Photo above: 
Pure Via® all natural, zero calorie sweetener made from the stevia leaf. Sold in 40- and 80-ct boxes
Pure Via® stevia liquid 1.6 oz. bottles (48 servings)
Pure Via® vanilla liquid 1.6 oz. bottles (48 servings)
---
The Pure Via stevia, while it won't replace my coffee creamer has been a great addition to my coffee when I am using milk. Instead of using sugar I have been adding the Pure Via stevia and quite shocked at just how much a little bit of it goes. I like things sweet sweet, so with sugar there is quite a bit in my coffee with stevia there is a lot less of it used to get the perfect sweet coffee flavor.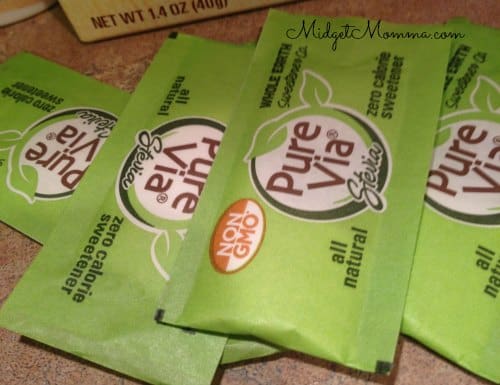 Pure Via stevia comes in a liquid bottle and in packets, both of which were in my box that they sent me. I don't have a preference for either one but when traveling or on the go the liquid bottle can come in handy and make it easy to add to my coffee to get the sweetness I want.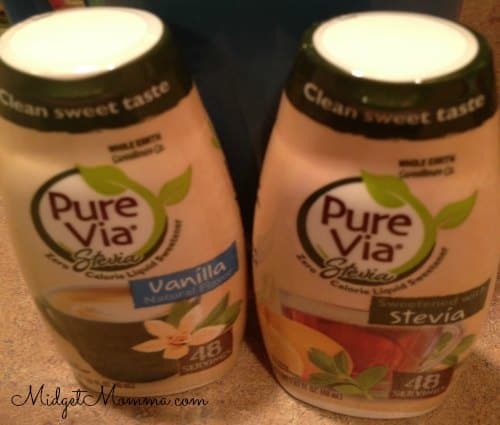 Ok so I am sure you are wondering what the heck is stevia, well it comes from the stevia plant, more specifically the leaf. They then get a pure extract from it which is called Reb A. Reb A is the sweetest component extracted from the stevia leaf and is 200 times sweeter then sugar! Which explains why I need so little in my coffee to get my beloved sweetness. So you are getting the sweetness you love with it being a natural product! It sounds like a win to me, plus the bottles are small enough that you can carry them with you 🙂
Disclaimer: This post is sponsored by Pure Via, All opinions are 100% my own.