With the newest little one on the way my wish list and needs have changed since my older 3 were babies. When the other 3 were babies I had other kids who were younger (at one point I had 3 kids under the age of 5) and my needs were much different and so were the things I could do that were on my wish list. The Quinny Buzz Xtra was a stroller that I found that had a bunch of my wish list hit, some of them are needs and some of them are wants, but this stroller from what they said online fit what I was looking for. I reached out to Quinny to see about doing a Quinny Buzz Xtra Stroller Review and seeing if in person it hit the needs that I had and the wants as well. I know baby is not here yet, but for the things that matter to me I can check out the stroller with out baby here. You can purchase the Quinny Buzz Xtra Stroller in local retail stores and on Amazon.
Quinny Buzz Xtra Stroller Review
Needs I have for a Stroller that I found with the Quinny Buzz Xtra
1. Switching of of seat positions. 
With all of my older three kids I always wanted to be able to see them when I was pushing the stroller after they were done in the infant seat or if I choose not to use the infant seat as they got older. So with the newest little one due in September one of my wish list items for a stroller was a seat that I could have baby looking at me when I was pushing the stroller. However I did not want that to be the only way that the stroller would work, as I want them to look out and see the world once they are older. The Quinny Buzz Xtra gives me the ability to change the position of the seat, not only that but when it is facing me or facing outward there are 2 different positions the seat can be in.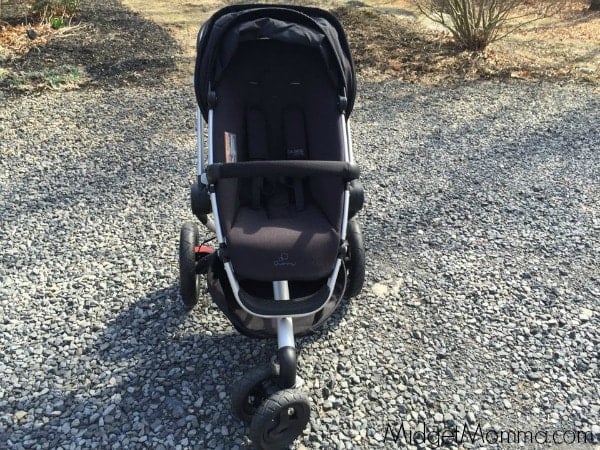 2. Adjustable Handle Bar 
I am short and Tom is not so with a stroller I need one that we can both us, that have proven to be more difficult then many would think. With the Quinny Buzz Xtra, the handle bar adjusts to different heights which makes it possible for us both to comfortably push the stroller. I also had the older kids test it out and they can push it too! Thats a HUGE win because all of them have been arguing about who is going to push the stroller more. There is a downside that it is not low enough for Alyssa to push on her own, but being that she is 6 years old I don't see her pushing it as much as she thinks she is going to.
3. Easy to fold and put away
This part is a 50/50 on the ease of putting it away and folding it after use. The tough part is that the seat has to be in the outward position to fold it, so if you have baby facing you then you need to switch the seat around. Thankfully it is easy to switch the seat around. Now the EASY part is that once you have the seat facing outward folding it is SUPER easy.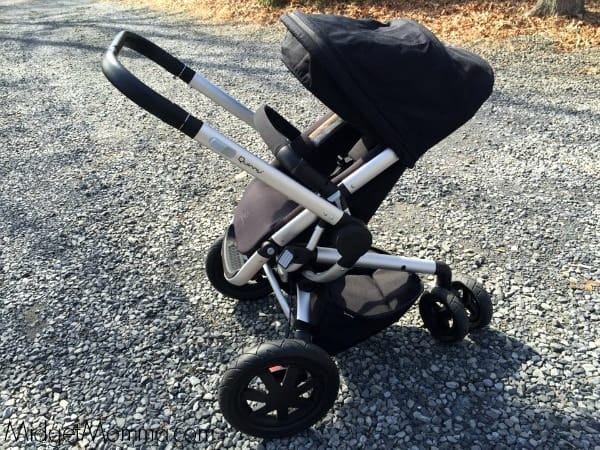 4. Can handle rough terrain. 
We live in the Poconos, we have wooded area every where around us and including around our house. Plus our driveway is gravel, so even when we are wanting to go on walks as a family we will have to deal with rough terrain until we get to the paved road. I had no issues at all pushing the stroller on the gravel and not only that but back up our driveway. Our drive way is a STEEP hill, with gravel and a big challenge that we needed a stroller that could handle it.
5. Large Canopy 
During the summer months when we are on the go I want to be able to keep baby out of the bright sun when needed and I want to be able to pull the canopy down far enough to block baby for when baby is napping in the stroller.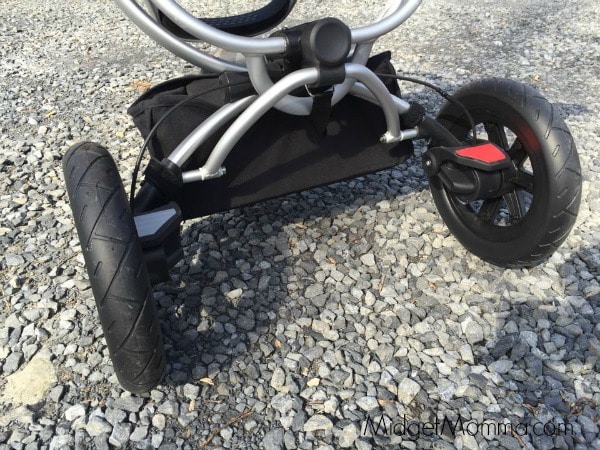 6. Easy wheel locks
I don't have time to be messing with locking wheels, if we are out somewhere like an amusement park and I have all the kids with me (which I am known to do even though Tom thinks I am totally crazy for taking all 3 of the kids alone to places like Sesame Place when Alyssa was just 6 months old) I want to be able to stop the stroller, lock the wheels, grab baby and go. With the lock system you hit the red petal to lock the wheels and the grey one to unlock them. All you need is a push of your foot to use them too!
7. The Tukk
This is one add on that  you can purchase in addition to the stroller, that is a bassinet type part for the stroller. It gives you the ability to have baby lay down flat.
There are a few things that are a challenge with the Quinny Buzz Xtra that I found while doing the Quinny Buzz Xtra Stroller Review. While they are not a deal breaker for me they are things you will want to keep in mind when purchasing this stroller.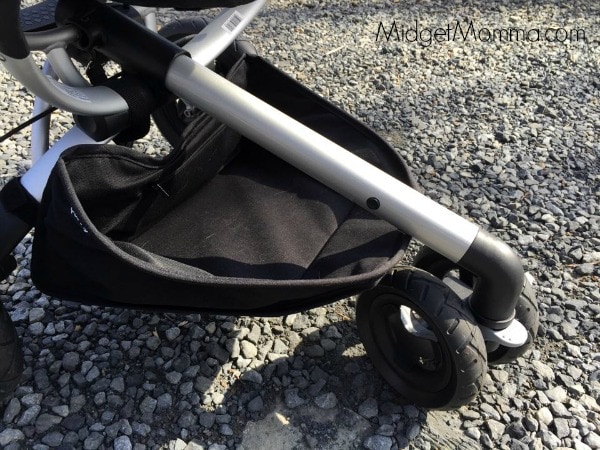 1. It doesn't come with cupholders out of the box, but you can buy them separately if you wish to have them.
2.The basket underneath is slightly small, you can buy an add on that will make it bigger, but right out of the box it is on the small end.
3.The directions to put it together are a challenge to understand. This stroller took me a bit longer then I would have liked (about 30 minutes) to put it together and it was because of trying to figure out the directions. However the directions on how to do things like move the seat around were not complicated. I wish I had known this ahead of time and I would have made a video for you all on how to put it together – I did look at trying to take it apart and then making a video for you but thankfully it doesn't come apart 🙂
4.Only the Maxi Cosi Carseat can be used with it. If you are looking to have the ease of keeping baby in the carseat and putting them directly on to the stroller (which you can do) the only seat that will work with this stroller for doing that is the Maxi Cosi.
I hope this Quinny Buzz Xtra Stroller Review helps you in figuring out which stroller is best for you and your baby when you are doing your baby needs shopping.
Disclaimer: In order to do this Quinny Buzz Xtra Stroller Review Quinny provided me with the stroller. All opinions in this Quinny Buzz Xtra Stroller Review are 100% my own.