Valentine's Day is right around the corner and thinking outside of the normal box of candies and chocolate is what will make the lady on your list see how much she means to you. Don't get me wrong all of us ladies like flowers and chocolate but that is the "typical" gifts to get a lady and thinking outside the box will get you brownie points (trust me on this one, its the unique thoughtful gifts that mean the most. Not to say I am unappreciative of things like chocolate and flowers but I enjoy gifts with thought more).
QVC is not a place where I would normally think Valentine's Day, to me my original thought of them was the late night tv channel surfing and landing on that channel to sit and indulge and watch things that I would like to buy. As I am sure most of you have the same thought as I do. BUT they have a lot of great Valentine's Day gift ideas from jewelry to make up to fun baking needs!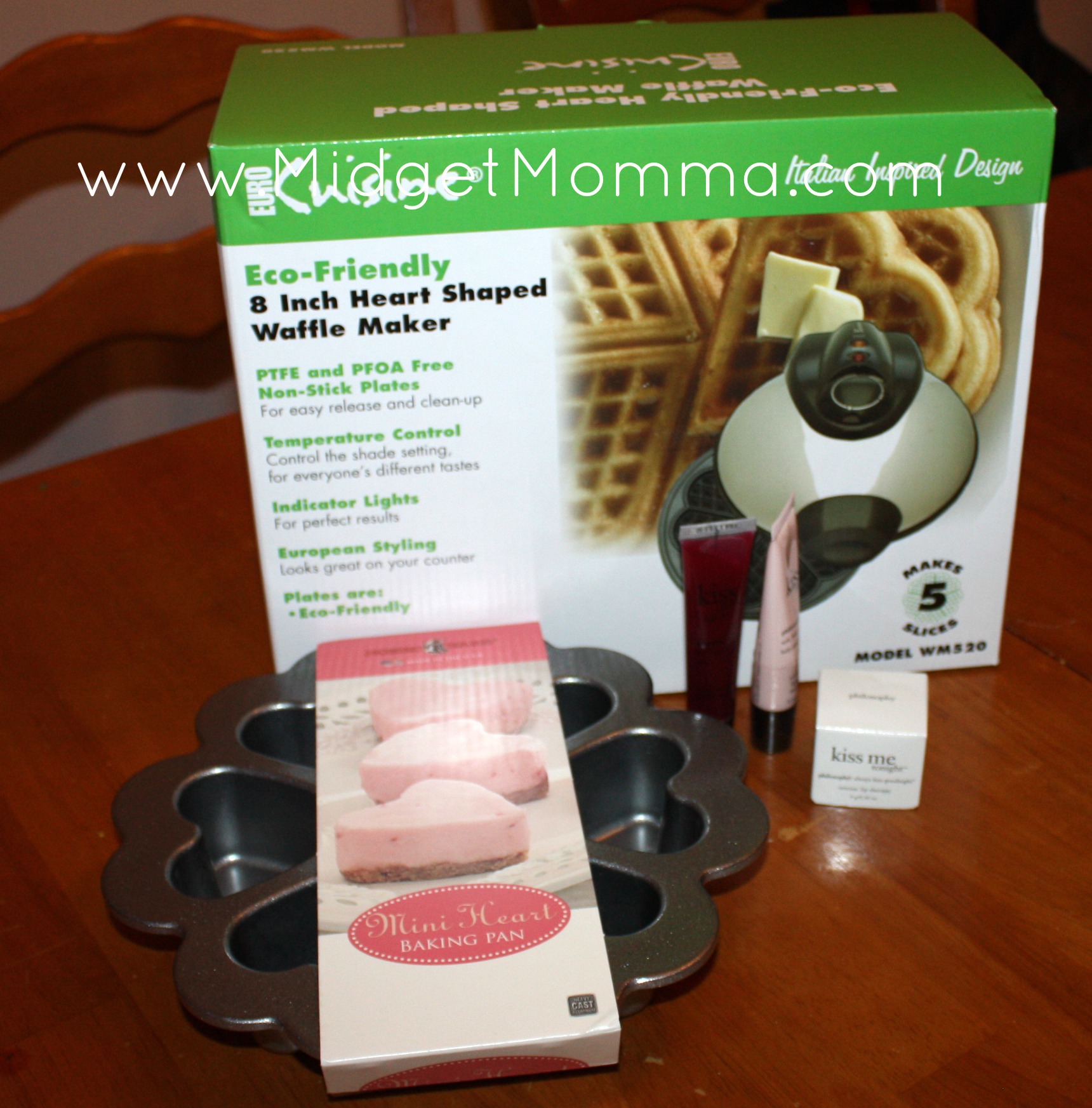 When I say they have all the ladies covered they sure do! Me I am one of those that likes to make Valentine's Day tons of fun for the kiddos with fun things like shaped waffles and fun cupcakes! Up until now I have been making heart shaped pancakes using my cookie cutters, but not this year! This year we will have heart shaped waffles made in the Euro Cuisine Heart Shape 8″ Waffle Maker and then I am going to use the  Mini heart baking pan to make heart shaped eggs (baked in the oven) for a fun Valentine's Day morning!
Both of these have been super easy to use and fun, although my kids did yell at me and tell me it was not Valentine's Day yet and that I was not allowed to use them.
So if you have a lady on your list that likes to make the holiday fun for the kiddos you can surprise them a bit early with these 2 fun kitchen helpers:)
If gifts are what you are looking for check out the jewelry section for some super pretty necklaces and if you have a Philosophy fan (which I haven't met a lady yet who doesn't love it) they have some really awesome Philosophy sets for Valentine's Day!
With the cold weather kicking in full speed now (like today at 15 degrees outside) my lips are not having a good time and so i was super excited to test out the Philosophy kiss me always 3-pc. perfectly kissable lip therapy set. The exfolating lip scrub seems to be helping me with combating chapped lips from the cold and then each night before bed I have been applying the intense lip therapy and my lips are super soft! I am loving it!
No matter what the lady on your list would want QVC has quite the selection but don't blame me if you get lost because there is so much fun stuff to look at 😉
Disclaimer: I was provided promotional items to review to facilitate my review. No compensation was received. All opinions are 100% my own.
Join the newsletter
Subscribe to get our latest content by email.
This post may contain affiliate links. Please read my disclosure policy here