Halloween costume shopping I swear is one of the hardest thing to do, there so many options to pick from and finding the perfect costume for your child can make you go insane. The hardest part is finding the costume that your child really wants at a reasonable price, lets face it dropping $100 on one costume is not in the budget and not worth it unless they are going to wear it everyday to school for months, and well that is not going to happen.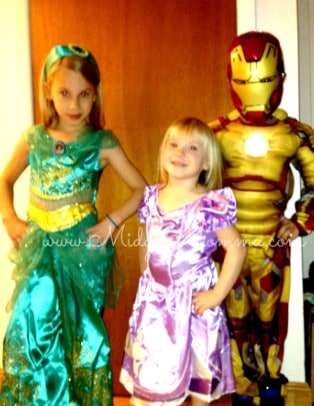 When Costume Express contacted me about reviewing their costumes the first thing I did was check out the prices, and they were not bad at all. Since my kids use their costumes as dress up after the fact I don't mind spending $25-$30 on one that I know will last way beyond Halloween and be in the dress up box from a very long time. With this I always am concerned with the quality and if the costumes will stand up to the multiple wears and the playtime that they are used for.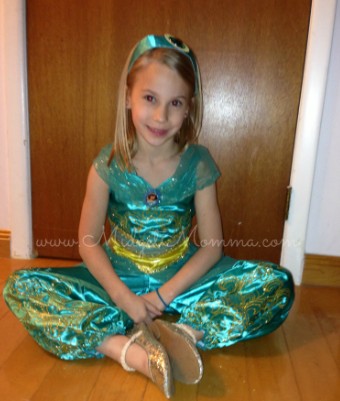 The kids picked out their costumes, McKenzie finally got her wish (that she has had for 3 years) of being Jasmine. I couldn't find one for the longest time that would hold up well enough to justify the cost. When the Jasmine costume arrived I was excited as was she. The costume is a thicker material, which means not only will she not be cold when trick or treating but it will with stand being used as dress up afterward. It could also easily be passed down to Alyssa to wear in a few years if she wanted to be Jasmine for Halloween.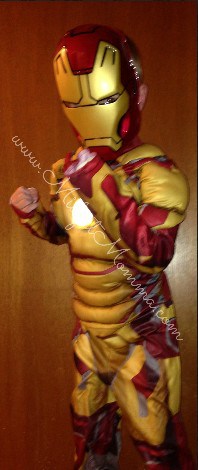 Logan picked Iron Man, and I was surprised when that one arrived as well. It said it was puffy in the description but when it arrived and I saw the detail and the puffiness of the chest and then the light up piece on Iron Man's chest I knew once again we had gotten a great quality costume that will last a lot longer then just one night.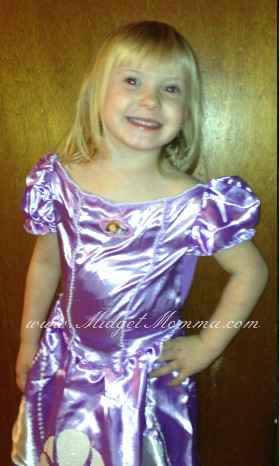 Alyssa picked Sofia the First, a very simple costume that is perfect for her, she likes that she can dress herself easily and I like that the material is thick and a quality material. It is not one that is going to fall apart or rip.
If you are looking for costumes for the kiddos Costume Express has a lot to pick from, your kids may end up being there for hours trying to pick the perfect one but they are quality costumes that you can then add to the dress up box after Halloween is over 🙂
After Halloween Use Update: After being worn about 8 hours from their school parade and trick or treating we ran into an issue. With Alyssa's Sofia costume she wore it the day before Halloween and then when we went to take it off realized the whole right hand side the seems had come undone. Then arriving home from Trick or treating we found the whole left side of the top of the dress the seem had come undone. The quality was great looking but unfortunately it turned out not to be and we have a sad little girl who wanted to wear it as dressup.
McKenzie's Jasmine costume made it mostly through the day of her school parade and then trick or treating until we got home and found the back seem ripped apart in the same way Alyssa's was and using it as dress up is not going to be possible.
Logan's Iron Man costume has no tears, no rips and the light is still fully functioning. Using it as dress up is definitely possible with his.
Disclaimer: I was provided costumes to facilitate my review. No compensation was received and all opinions are 100% my own.