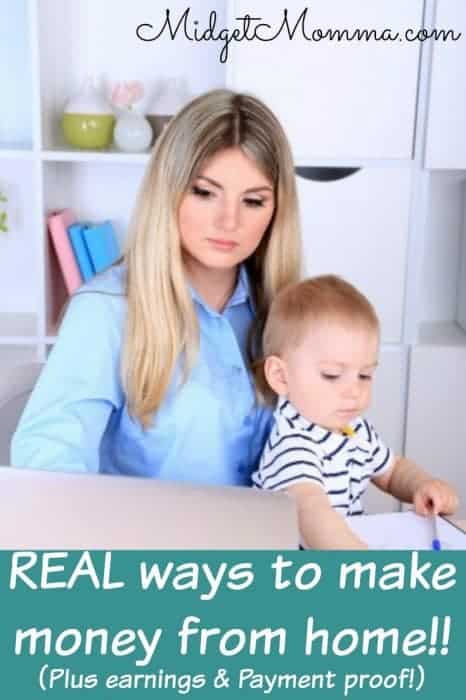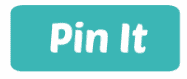 Making money from home is something that people want to do but they just don't know how to do it or where to find legitimate places to make money from home. There are many different ways that I make money from home and while you are not going to get rich doing them you will be able to make enough that you can go on a vacation that you wouldn't have been able to go on or pay for Christmas, things that would not normally be in the budget due to finances.
You should NEVER Pay to join a survey company, they pay you so if any survey company ever asks you to pay them know they are not legit and walk away as quickly as possible.
Make sure when signing up for Survey companies that you confirm your e-mail address and fill out your profile so you get the product testing and survey opportunities that best fit you
Tip: Make a new e-mail account just for your survey company sign ups. You will get quite a lot of e-mails and you don't want to fill your regular e-mail up with them and you want it easier to not miss any paid opportunities. 
REAL Ways to Make Money From Home
Pinecone Research
Sign up here. I have been doing surveys with Pinecone Research since 2008 and I love them! They were the first survey company I ever did and they are what got me hooked on doing surveys in general. I have cut back doing them for lack of time (time in general) and wish I hadn't because the surveys they send are simple and do not take very long and for each one that you do you get paid $3! They also send you products to try as well, we tried a new fruit snack a while ago and then filled out a quick question and answer form of my thoughts and then with in 2 weeks I had my check in the mail!
Reader Comments about Pinecone Research-
Alicia – "I love Pinecone, I have been a member for them for a few months now and love it"
Amber- " love this company! They send you a Mastercard that your $$ is loaded onto automatically. I only get a couple surveys per month, but it adds up!"
Melinda – "I love pinecone. Simple surveys user friendly."
Opinion Outpost
Sign up here. They are currently accepting new members! They are looking for men and women, if you are a man sign up here if you are a women sign up here. They have survey opportunities that you will earn money taking along with times where they send products for you to review and tell them your opinion about that you will get paid for too. Many readers have gotten things like Keurigs, Digital cameras, food items, laundry soap and more!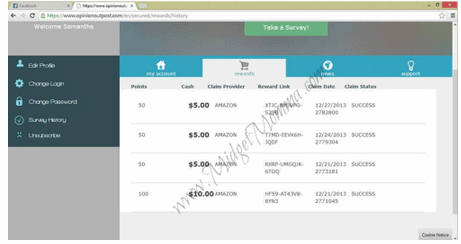 Here is what a reader said about Opinion Outpost:
"Once I received my first product test from them I'm getting surveys almost daily for product tests. Just in 2 1/2 weeks Ive received Woolite Dark colors Laundry detergent-32 load I believe, Ive received Baby Wipes, Fiber One Kids Bars, and took a survey that I will receive a new yogurt product test as well.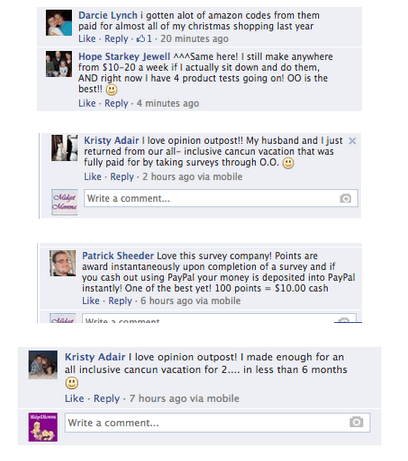 Ipsos- I Say
Sign up here. They are a survey company that many MidgetMomma Readers have said they enjoy doing surveys with. They pay cash for surveys and at times send cash along with products to try out!! Many readers have been paid for testing out shampoo, digital cameras and more!
MySurvey
Sign up here. This is another one that tends to send cash before hand when doing surveys. Just remember that you need to do the survey or they will not give you any more opportunities. Most of the surveys I have done with them have been quick ones, so they pay less then other places per survey but many have taken me less then 10 minutes and paid $5. If you were to do 6 10 minute surveys at $5 each that is $30 an hour! Can't complain about that pay when minimum wage is $7 🙂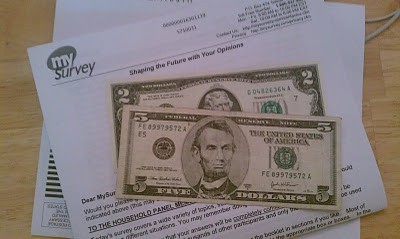 FusionCash
Sign up here. When you sign up for this one you get a FREE $5 just for signing up! You have to make sure you confirm your e-mail to get the FREE $5. They pay via check or paypal, which ever option you choose.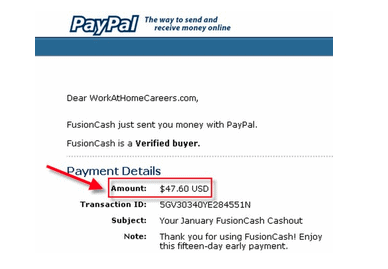 Valued Opinions
Sign up here Their main objective is to have consumers test out new products and give their opinion (and earn a few bucks for doing so). You have the chance to earn upto $240 a month with them and the often have product testing for new products that are coming out and a lot of people have gotten toys!!
Once you earn your points you get to cash them in for rewards like Amazon Gift Cards and then use those Amazon gift cards to score FREE items on Amazon! Which is perfect for Christmas shopping!!
VIP Voice
Sign up here. Right now, members are getting a survey for $25! Once you are signed up go take a few short surveys and you should receive a message like the one below offering you a $25 study!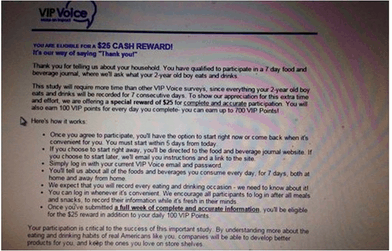 InstaGC
Sign up here. To get free gift cards, you have to earn and redeem points. You can earn points by completing free offers, referring friends and family, and winning contests. Once you have enough points (for example 100 points), you can redeem them for an instant $1 gift card. I earn gift cards quickly with this one just by entering the contests they have Plus you have the chance to win the contests as well so its a win win.
Survey Spot
Sign up here. This is one company that pays check and the pay is a bit slower at times but they do come. Seeing big checks like this one are great to find when you are getting the mail from the mailbox 🙂 This survey site has a 4 star rating which is really high and some awesome reviews!

Right now you can sign up for to earn some money from home with Springboard America and earn cash!
CONFIRM EMAIL ADDRESS
Take surveys to earn money!
FREE Christmas and Holiday shopping!!!
Springboard America gives Americans like you the opportunity to speak up on what affects their daily lives – from products to politics. By joining Springboard, one of America's leading online research communities, you'll become eligible to receive invitations to our surveys, earn Survey Dollars and to help shape America's future!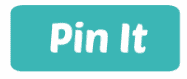 Photo credit Couponin' On Coffee,  Live2Save2Live