So this came out completely different from what I was trying to make but it tastes soooooooooo good! (I love when that happens and it is not a complete flop!) It was a flop because I forgot that I had it in the oven for to long. I was going for a creamy cheesecake however leaving it in the oven for to long made it not so creamy but it is still sooooooooooo good! Hubby said it tastes like a mix between brownies and cheesecake so that is what I am calling it 🙂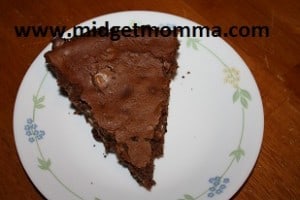 Ingredients:  
Filling
2 tub Philadelphia Indulgence Milk Chocolate Flavor
1/2 a block of regular cream cheese
3 tablespoons sugar
2 eggs
Crust- You could use a graham cracker crust or an oreo crust and I am sure it would taste good too
1 8oz bag Teddy Grahams  turned in to crumbs (i tossed them in the food processor to get them into crumbs)
4 tablespoons butter
2 table spoons cocoa powder
Directions:
Pie Crust
Melt butter
In a big bowl add Teddy Graham crumbs, melted butter and cocoa powder into a mixing bowl and mix
Then pour into a pie pan (make sure to spray with non stick spray) and pat on the bottom and sides to form a pie crust, make sure it is packed and a solid crust
Filling:
Throw cream cheese, sugar and eggs into mixer and mix till blended then add in Philadelphia Indulgence
Pour filling into pie crust
Bake at 350 for 45 minutes
Take out and let cool for about 2 hours or throw it in the fridge until cool and Enjoy!