How to make Sushi at home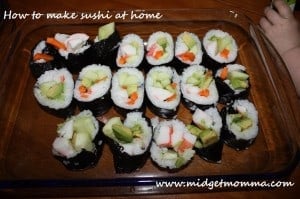 We love sushi but it can be very expensive but it is very easy to make at home and it will save you a lot of money! If you like recipe don't forget to pin it using the button above so you don't lose it 🙂
Our favorite Combinations:
Smoked Salmon and cream cheese
Smoked salmon and avocado
smoked salmon and cucumbers
Imitation crab meat, carrots, cucumbers, avocado
Smoked Salmon
Imitation crab meat with avocado
Sushi Recipe
Ingredients:
Seaweed wrap
sushi rice
veggies- i use carrots, cucumbers and avocados – make sure you slice carrots and cucumbers thin
Raw fish (buy sushi grade) or do like we do and use smoked salmon and imitation crab meat
 Directions:
Make rice (recipe below)
Lay a bamboo mat down, and place a piece of plastic wrap on top
Put a piece of the seaweed wrap on the plastic wrap
 top with what you want to put into your rolls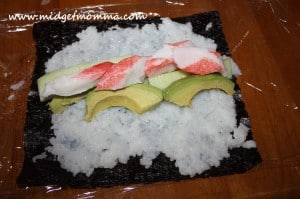 Roll up and wrap the sushi roll with the plastic wrap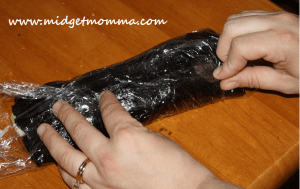 Put in the fridge for about 20 minutes
Slice in to pieces and Enjoy!
Sushi Rice Recipe:
Ingredients:
2 cups sushi rice
2 cups water
2 tablespoons rice vinegar
2 tablespoons sugar
Directions:
Add rice and water to a pot and cook on medium high until water boils, then turn heat to low and cook until water is gone
once rice is cooked put vinegar and sugar in a bowl and heat in the microwave for 30 seconds (to melt the sugar)
pour vinegar/sugar mixture into the rice and mix together in a large bowl.
Let rice cool before using
Join the newsletter
Subscribe to get our latest content by email.