Check out how super cute the Reindeer are at Build-A-Bear!! Are they not the cutest holiday decorations that are totally kid friendly that you could have! There are 8 different ones to pick from too!! ok let's all be honest here they are cute and we would all like to have all 8 in the house and so would the kids 😉
Pick from the following:
Vixen the Shy Deer
Dancer the Dancer
Prancer the Singer
Blitzen the Dare Deer
Cupid the Fashionista
Donner the Builder
Team Santa Reindeer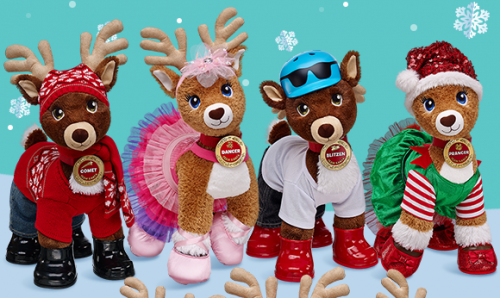 You can pick your favorite reindeer from Santa's herd and you can dress them to be fun and festive! Check out the total cuteness here!
And of course since they are Build-A-bear you know they are going to last and year after year you will be able to pull them out as decorations and as toys for the kids to play with! Its a total win win when you have decorations that are ok for the kiddos to touch with out having to worry they are going to break them!
Disclaimer: Build-A-Bear sent us product to review. No compensation was received and all opinions are 100% my own.