Looking for restaurants offering free delivery? Check out this great list of Restaurants offering free delivery plus deals to eat on the cheap!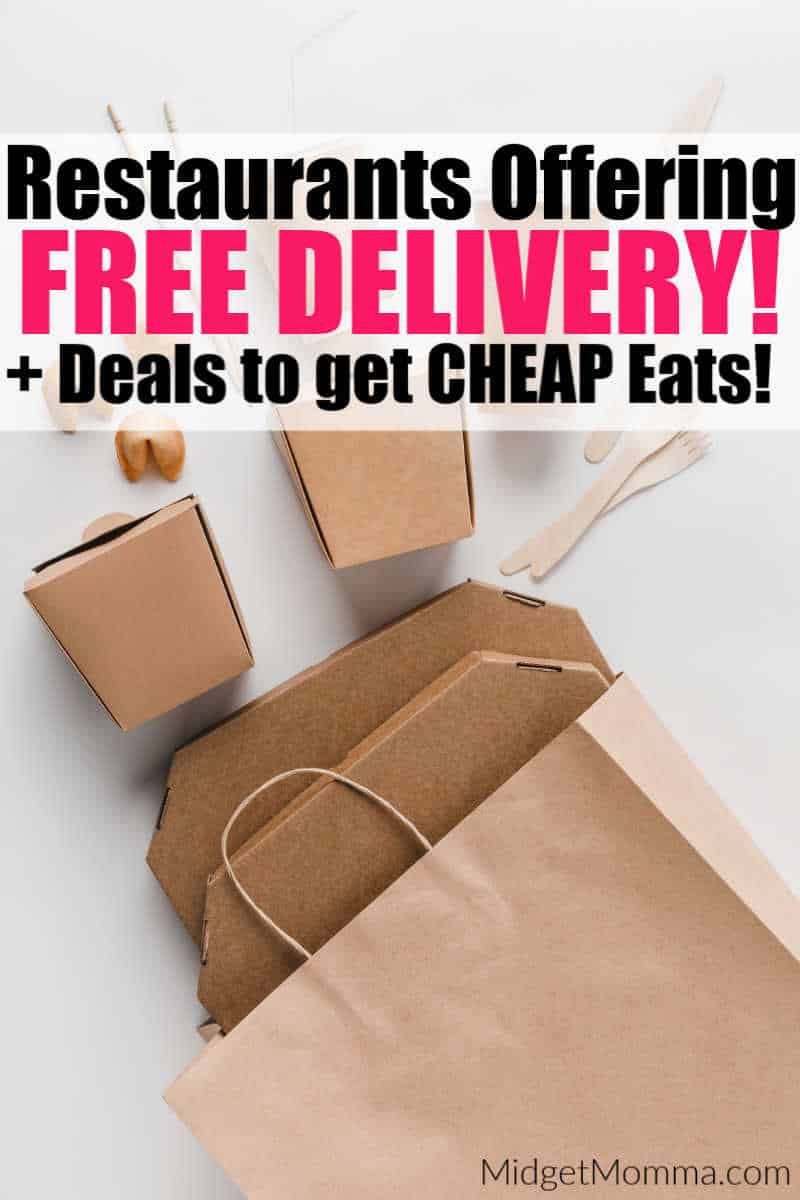 Restaurants Offering FREE Delivery
With all things going on right now one of the last thing I am sure many of you want to do is cook every single night for dinner. I love cooking, I love baking however I am getting overwhelmed some days with everything that is going on and I need to have a break from cooking. Thankfully right now there are lots of ways to save money on take out and curbside delivery or to get FREE Delivery!
I have included deals that are also going on at the restaurant along with them offering free delivery so you have everything all in one place.
Before I get to the list of restaurants that are offering free delivery, it is important to let you know about an easy way to save money on your takeout. Using discounted gift cards you can save BIG! Buy a discounted gift card, use a restaurant coupon when ordering and tada, Saving money while eating take out giving yourself a break on the cooking!
How to get Cheap Restaurant Gift Cards
Create an account at Raise. You will get $5 after your first purchase when you use my signup link and when you use coupon code FIRST you will get 10% off your first gift card purchase.
Create an account at Rakuten. You will get $10 once you've spent $25 through your portal,  but only when sign up with this link.
Then if you can combine the discounted gift cards you get with delivery sales going on right now and score SUPER Cheap food delivered! And you will also get cash back on Ebates for buying the gift cards thru Raise!
Restaurants offering FREE Delivery
Check out some of these awesome delivery deals you can score right now! If you are eating keto or low carb be sure to check out the Keto and low Carb eating out posts we have shared previously including how to stick to keto when dining out.
Auntie Anne's
Order from an Auntie Anne's near you, and get a $0 delivery fee on orders $15+ with DoorDash until March 30. Plus you can grab a $25 Auntie Anne's Gift card for just $21.71 on Raise.com with the extra 10% off!
Black Angus Steakhouse
Through March 29, get free Delivery on Black Angus Steakhouse orders of $15 or more through DoorDash. Plus get a $40 gift card for just $30.17 on Raise.com with the extra 10% off!
Bob Evans
Grab Free Delivery when ordering from Bobevans.com.
Boston Market
Boston Market is offering free delivery for all online and app orders. Get a $25 Gift card for just $18.30 on Raise.com with the extra 10% off!
Buca di Beppo
Get FREE Delivery from Buca di Beppo when you place an online order. Plus get a $50 Gift card for just $33.07 on Raise.com with the extra 10% off! PLUS, use coupon code 40438-3417-3097 to score $10 off your $30 online order!
Cracker Barrel
Through April 1, get free, contactless delivery for all orders over $15. Plus get a $25 Gift card for just $21.56 on Raise.com with the extra 10% off!
Ihop
Now through April 19, use code IHOP20 when you order online to get 20% off your first online order. Free delivery with no minimum required. Plus get a $25 Gift card for just $19.44 on Raise.com with the extra 10% off!
Jersey Mike's
Get free delivery on all orders placed through the Jersey Mikes app. Plus get a $25 Gift card for just $22.48 on Raise.com with the extra 10% off!
Olive Garden
Get two meals for the price of one — $12.99 — with their "Buy One, Take One" promotion. Get free, no-contact delivery is available on orders of $40+. Plus get a $25 Gift card for just $19.44 on Raise.com with the extra 10% off!
Dickey's Barbecue Pit
Now through all of April, delivery is FREE at Dickey's Barbecue Pit.
The $34.99* Classic Family Pack Includes 1lb of Pulled Pork, 1lb of Brisket, Barbecue Beans, Cabbage Slaw, Potato Salad, and rolls with all the fixin's.  Available for curbside, pick-up, and free doorstep delivery.
Save $5 off a $25 Curbside or Carryout orders when you place them online or on the Dickey's App when you use coupon code CARRYOUT5!
Moe's Southwest Grill
Free Delivery on Orders of $10+ at Moe's Southwest Grill thru April 10th.
Meal Deals
Taco Bell
On March 31st, Taco Bell will be giving every drive-thru guest a free seasoned beef Nacho Cheese Doritos Locos Taco – no coupon or purchase necessary!
Wendy's
For a limited time, Wendy's is offering several Free Items with Purchase making for some great deals! I am listing all of them, but one of them is a free kids meal with ANY mobile order.
Free Kid's Meal with Mobile Order (exp 4/12)
Free Breakfast Baconator with Mobile Order (exp 4/6)
Free Dave's Single with Mobile Order (exp 4/6)
Free Honey Butter Chicken Biscuit with Mobile Order (exp 5/3)
Free Hot Coffee with Mobile Order (exp 4/6)
Free Wendy's Frosty with Mobile Order
Panda Express
Through April 17th, 2020, Panda Express is offering up the Panda Express Family Meal for just $20. This offer is valid for online orders only or in the Panda Express app and no promo code is needed!
Designed to feed 4-6 people, the Family Meal includes two large sides (i.e. chow mein, fried rice, steamed rice, or super greens) and 3 large entrees (i.e. sesame chicken, broccoli beef, kung pao chicken, etc). Note that extra charges may apply for premium entrees. Limited to two Family Meals per online order.
Kids Meal Deals
There are lots of places that are offering free kids meals as well that are good to check out if you have kids and are looking for a great deal.
FREE Kids Meals at Burger King
Through April 6th or while supplies last, head to Burger King to score two free Burger King Jr kids meals per day with any purchase when you order ahead on the BK app.
FREE Dickey's Barbecue Pit Kids Meal on Sundays
For a limited time, Dickey's Barbecue Pit is offering FREE Kids meals every Sunday when you use promo code KEFOLO on all delivery and carryout orders. You will get one kids meal per check, for kids 12 and under, with a minimum $10 purchase at participating Dickey's locations only. This offer is not valid with any other coupons, offers, discounts or promotions.
Sonic Kids Meal Deal
Through April 30th, head to your local participating Sonic Drive-In restaurant where they are offering Wacky Pack Kids Meals for just $1.99 all day, every day!