As you all know I was lucky to be asked by Disney and Dreamworks to go to New York City at the beginning of December to attend the War Horse Movie Red Carpet premier, and while we were there we not only attended that but also saw Mary Poppins on Broadway, Toured the Amsterdam Theater and then saw the new Beauty and The Beast in 3D.
My favorite Princess of the Disney Princesses is Pocahontas, I know she is not the fairy tale princess like the rest of them but she is my favorite, so when I learned that we were going to see Beauty and The Beast in 3D I was not as excited as some (don't get me wrong I was excited that I was seeing it but was not sure what the difference was going to be from the original). But that all changed when the beginning of the movie started, something about 3D making it come to life, and bring the characters pop out of the screen really made this movie seem like it was the first time I was seeing it (even though as a kid I saw it countless times since my sister fully believes that she is Belle, even at the age of 22 she argued with my oldest about how she was Belle when my daughter wanted to be Belle, but that is a whole other story).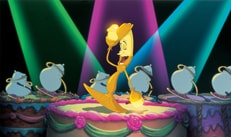 My favorite song and part from this movie has always been "Be Our Guest", the catchy song is on that every time I see the movie or think about the movie, gets stuck in my head. The dishes dancing and singing in 3D across the kitchen and the dining table is more magical in 3D then they were in the original film. Beauty and the Beast has a magical feel to it, even though the story line is a girl has to pick between 2 men but is a person of her own and the one who accepts her for that is who wins her heart.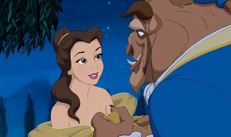 The one thing that I really want to take my kids to see this movie for (other then I know my daughter will love it because it is a Disney Princess Movie) is because the ending and meaning of the story, not to judge people on looks alone because you never know what a person is really like until you get to know them and that is important for kids to learn.
Beauty and The Beast 3D comes to theaters this weekend and I am excited to take me kiddos to see it 🙂 Will you be seeing it?