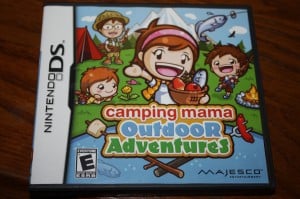 We were recently sent Camping Mama to review and my daughter and I love it! It reminds me of Zelda, which is one of my favorite games, but this is more like a girl scout type version, which is great for little girls. The point of the game is to go around the woods and build your camp site. There are mini games through out the game to play that are fairly easy for little ones to play. My daughter is 6 years old and have no problems being able to play both the main game and most of the mini games, now that is not to say they were not challenging and they did not make her think but she was able to play on her own. There are games that are great for helping with numbers, like the counting lady bugs mini game where you have to catch the ladybugs in order of the number of spots that they have on them.
You can get Camping Mama on Amazon.
Join the newsletter
Subscribe to get our latest content by email.
This post may contain affiliate links. Please read my disclosure policy here