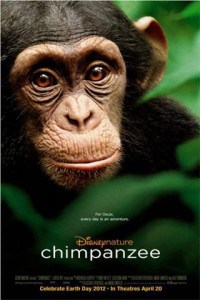 I am going to be bluntly honest here and tell you that when the Disney Nature movies first came out and I heard about them I was kinda like, umm I love that it is to help the Earth and animals and all but I am really not sure how interesting a full length film could be on the Earth or animals but as much as I hate admitting when I am wrong (ask hubby he will tell you that I am never wrong) I was WRONG, very, very wrong. I saw the clips of the movie and I knew it was going to be sad and I am a sucker for animal shows on tv, so I knew I would semi-enjoy it but I was unsure about a full length movie about it, I enjoy the 30 minutes little animal episodes on tv but that is normally enough for me:)
With in about 2 minutes I was hooked! Narrated by Tim Allen in a way that I would never have imagined him talking (I still think of him as Tim the Tool Man) added such an emotional aspect to the movie that I can not put it in to words(seriously you have to see it and hear him talking to fully understand the feeling). His added comments make it comical, and the music that plays during the music adds such a feeling to the movie that I never expected. I never expected to walk out of the movie wanting to know more about the group of chimpanzees that I had just spent over an hour watching, but I did, I wanted to know more about them and what they were doing now and how little Oscar had grown since the taping of the movie. I walked out with a completely different feeling then I ever imagined I would from seeing Chimpanzee, it actually makes me want to see the other Disney Nature movies now too.
The Movie begins with Oscar, who is quite adorable I must add, a baby chimpanzee who is head over heels in love with his mama(what kid isn't?) and is learning the ropes of the life of a chimpanzee. As he slowly learns what it is that he needs to do to survive while following what his mama does and relying on her for his food, safety and life itself, his life is abruptly changed when she disappears (they never say exactly what happens to her and they never found her which leads you to believe that she has passed away, which is a part of jungle life for chimpanzees).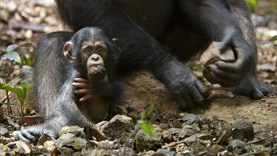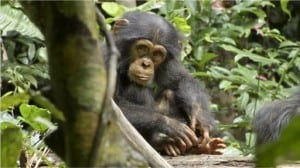 Oscar wonders alone with the group of chimpanzees that is mother and him were a part of trying his best to survive and all of a sudden the most amazing thing happens, the elder of the group (a male) takes on the mothering role. Talk about making a person cry some more and tugging at your heart and filling it with warmth. I knew that there was something spectacular (animal kingdom wise) that was going to happen after seeing the trailer, but seeing it for real, on the screen brought on a completely different emotional then I expected it too.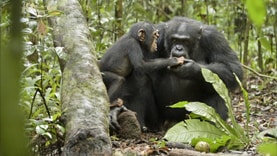 Through out the movie you also see the "other" chimpanzee pack that is in the area, that Oscars pack is always fighting against while in the search for food because both packs need to eat and food is not always available in their territory. It brings you right into the center of what it would be like to be living the life of a chimpanzee.
While watching the movie, the resemblance of human behavior that the Chimpanzees display really touched me, you don't think of animals having the same connection with their babies as we do, but this movie proved that to be completely wrong. The way Oscar's mom takes care of him and the sense of community that you feel among the chimpanzees is amazing.
I could go on and on about this movie, but seriously take the kids out for a family movie day to see it, you will walk out with a completely different feeling then you expect to (and make sure you bring a box of tissues).
What I am also loving about Chimpanzee is that for every ticket bought during opening week (April 20-26)  money will be donated to help save the Chimpanzees through the Jane Goodall Institute, which not only helps chimpanzees (right now they are at risk for being extinct), but to also educate people about Chimpanzees.
You can take the See Chimpanzee, Save Chimpanzee Pledge, they have a goal of 8,000 pledges and when I last looked it was at around 6,000 pledges.
Watch this clip to find out more information from the movie done by the makers of Chimpanzee
While there is part of the movie where Oscars mom is no longer in it, there is no violence in the movie that is not appropriate for any age. I will be taking all 3 of my kids to see this movie and they are 7, 5 and 2.
Chimpanzee comes to theaters on April 20 and to find out more information about the movie like the Chimpanzee Movie Facebook page .
Photo Credit to Disney/Pixar
Disclaimer: I went on an expenses paid press trip with Disney/Pixar. No compensation was received and all opinions are 100% my own.
Join the newsletter
Subscribe to get our latest content by email.
This post may contain affiliate links. Please read my disclosure policy here