I don't know about all of you but there was never a "talk" in my house about all the girly stuff that happens when you are a teen and I am sure I am not the only one with embarrassing stories that go along with it. I kinda went along and used the information I had gotten from my friends and my health classes and just figured it all out on my own. But in all honesty it would have been much easier to have a little bit of guidance and some parental involvement when it came to dealing with all the changes. I know that I still have time until I have to have any talks with any of my daughters since they are 6 and 21 months, but when the dot girl First Period Kit was introduced to me I totally thought "I wish I had something like this when I was younger" and as a parent of 2 girls I am glad that this is available, I do not ever want my daughters to be stressed out or not feel comfortable coming to me when the time comes that they do get their periods(Yikes it scares me thinking that they will be that age at some point when they are so little now).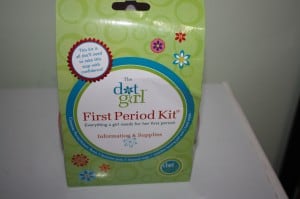 The dot girl First Period Kit is not only filled with supplies, but information too. You know all those questions, like what is a period? How long is it? and many others, well they are all answered in the information book that comes with it. The kit also comes with supplies, it includes feminine  pads, disposable bags, a reusable heating pad and hand wipes.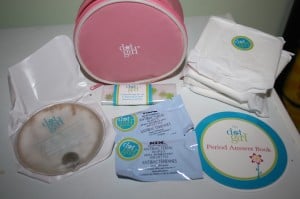 Now you may say to yourself that $20 seems like a lot for pads and you can use coupons to get them cheaper but the point of dot girl is not the price, it is about making your daughter feel comfortable and knowledgeable about what is going on and prepared. Being confident in herself and with the changes that her body is making are important and if your household is like mine was, and it is hard to have conversations about these types of things this is a great way to start the conversation and to have your daughter know she can come and talk to you.
You can purchase dot girl First Period Kit on their website  Dotgirlproducts.com, where you can also find more information for you as a parent and information that can be helpful to your daughter.
This post may contain affiliate links. Please read my disclosure policy here