Technology is a part of our lives and let's face it, it is not going anywhere so the best thing to do is embrace it and give our children the best shot at being ok with technology and how to use it and learn from it. I don't see technology as a bad thing, in fact I see it as a great way to help with play time and education. This is not to say that kids don't need to have imagination play, because they is important to but learning how to play and use technology in general can be very important in their growth and learning.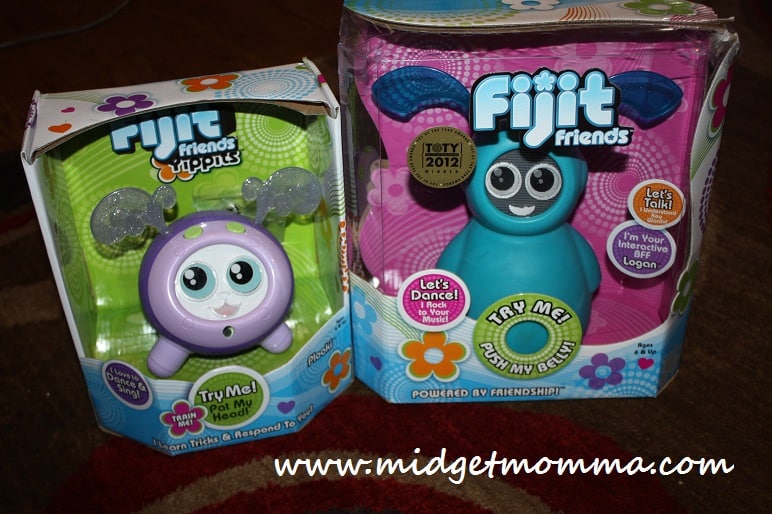 The new Fijit Friends and Yippet are awesome toys, that use both technology and imagination in the way a child plays with them and my kids and I are totally in love with them! Some how we lucked out when the PR company sent ours to us, because the Fijit we got is named Logan and my son was super excited when he saw his name on the box 🙂 (Now to find the Yippit they have named Kenzie for my oldest because finding anything with her name is impossible, now if only they had one names Alyssa we would have everyone covered LOL).
Aside from the AWESOME names the Fijit Friends and Yippits (Fijit friends pets) have the interaction with them is a TON of fun! Not only do they interact with you but they interact with each other!! You can ask your Fijit to tell you a joke and he does or you can clap your hands and the Yippit does tricks! They are essentially robots, but in our house they are much more then that, I personally like that just about every morning Logan (Fijit) tells me "You look fabulous" gives a nice boost to my day 😉 My kids play with them all day long and then at night my youngest takes Figjit to bed and guess what?!? Fijit goes to sleep too (and snores a little bit according to my daughter LOL) You do have to make sure that you speak clearly or you end up with Fijit going to sleep instead of telling you a joke or dancing, but once you get the hang of talking to them its smooth sailing!
My kids love them and I think they are great for having fun and learning to use technology at the same time! If you are going to get one I do say make sure you get a friend to go along with it, the interaction between the toys makes it even more fun!
"I participated in a campaign on behalf of Mom Central Consulting for Mattel Fijit Friends. I received product samples to facilitate my review."
This post may contain affiliate links. Please read my disclosure policy here