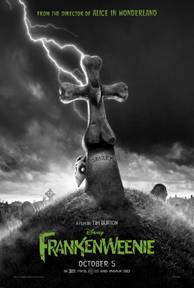 So we all know that family pets are one of the things that children love the most, I know my kids love the 2 cats and turtle that we have and when talks of having to get rid of them have come up it has been nothing but tears from the kids (which is why the only thing we have had is the turtle go on vacation to a friend's house). Frankenweenie brings out the love a child has for their pet when Victor unexpectedly loses his beloved pet dog Sparky. With the help of a science teacher teaching about how electricity can make the muscles in an animal work even when they have passes on the idea of bringing back his beloved pet is set into his mind. Victor brings Sparky back to life and tries to keep it a secret knowing what could happen if what he has done gets out. His secret is exposed and a few classmates try the same thing in bringing back their pets, but the results are not what they wanted and instead of bringing their pets back havoc is put on the town with monster creations.
Frankenweenie is a movie that is great for kids of all ages. All three of my kids, who are 7, 5 and 2.5 loved the movie. While there are some scary parts, like when the monster creatures are attacking the town my kids were not frightened by it and all they kept asking me was if Sparky was going to be ok. If you have kids that get frightened easy this may not be a movie that you want to take them to the theater to see but wait for it to come out to dvd instead. There are quite a few humorous parts in the movie including the "psychic cat", which was one of my kids favorite parts of the movie.
Frankenweenie comes to theaters today October 5! The movie is rated PG and has a run time of 1 hour and 30 minutes.
You HAVE to check out this clip, it is hilarious and my kids have been asking me if we have "psychic cats" ever since we saw this movie the other day at the screening!
Disclaimer: I was provided tickets to an advance screening of this movie, no compensation was received. All opinions are 100% my own.
Join the newsletter
Subscribe to get our latest content by email.
This post may contain affiliate links. Please read my disclosure policy here