When I first had my children I had dreams of giving them the perfect bedroom, including the matching bedding set, window valances, and wall decor. We have yet to own our own home so the wall decor has not been something that I have been able to accomplish but a few years ago I feel in love with a Ladybug  Jo Jo Design bedding set for my oldest, an animal print set for my youngest and found an awesome animal print one for my son and I had my heart set on this bedding for my kids.  It was a time when hubby and I were broke and so I took a few bucks from each paycheck to save up for the bedding that I wanted for my kids and when it finally came to the day to buy my kids bedding I was super excited and even now a few years later the bedding is what my kids are using and the quality is amazing and lasts. I knew when it came time to start looking for bedding for my youngest to move into her big girl bed (the one Bedroom set I found for $101.64 at Goodwill) what brand I would be looking at for her bedding. Money is not as tight as it once was but I knew that I would be saving for her bedding for a few paychecks so when the chance to do a review with Beyond Bedding came up and I was able to do a review of a bedding set for my youngest I was dancing around my house excited.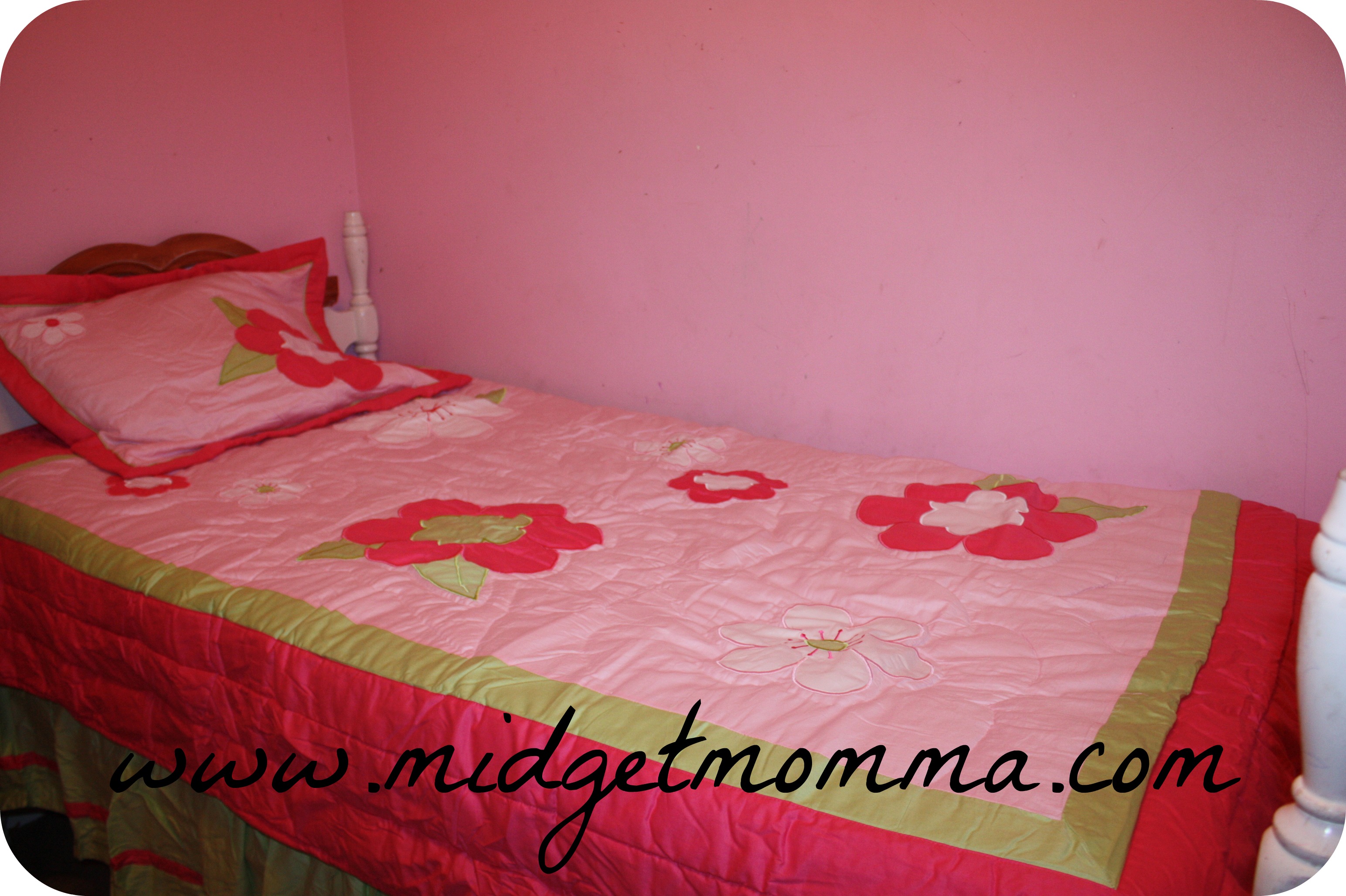 Beyond Bedding has Jo Jo Design bedding, and so many different options to pick from. I knew that I wanted something pink and girly for my youngest daughter's new big girl bed. After a few times of going back and forth between the three that I loved we went with this pink and green flower bedding set. I am so glad I did because as soon as I opened the package and put it on the bed with my 2.5 year old she said "Mommy this is awesome", So yes I am patting myself on the back for making my daughter one happy little girl all while knowing that this bedding is going to last a long time and that it is not to young or to old for her and that as she gets older it will be able to be used.
The colors of the bedding are the perfect colors and they are nice and bright and look fantastic against the while headboard and foot board. I love the different colors of the flowers and how the green gives just the right punch in color 🙂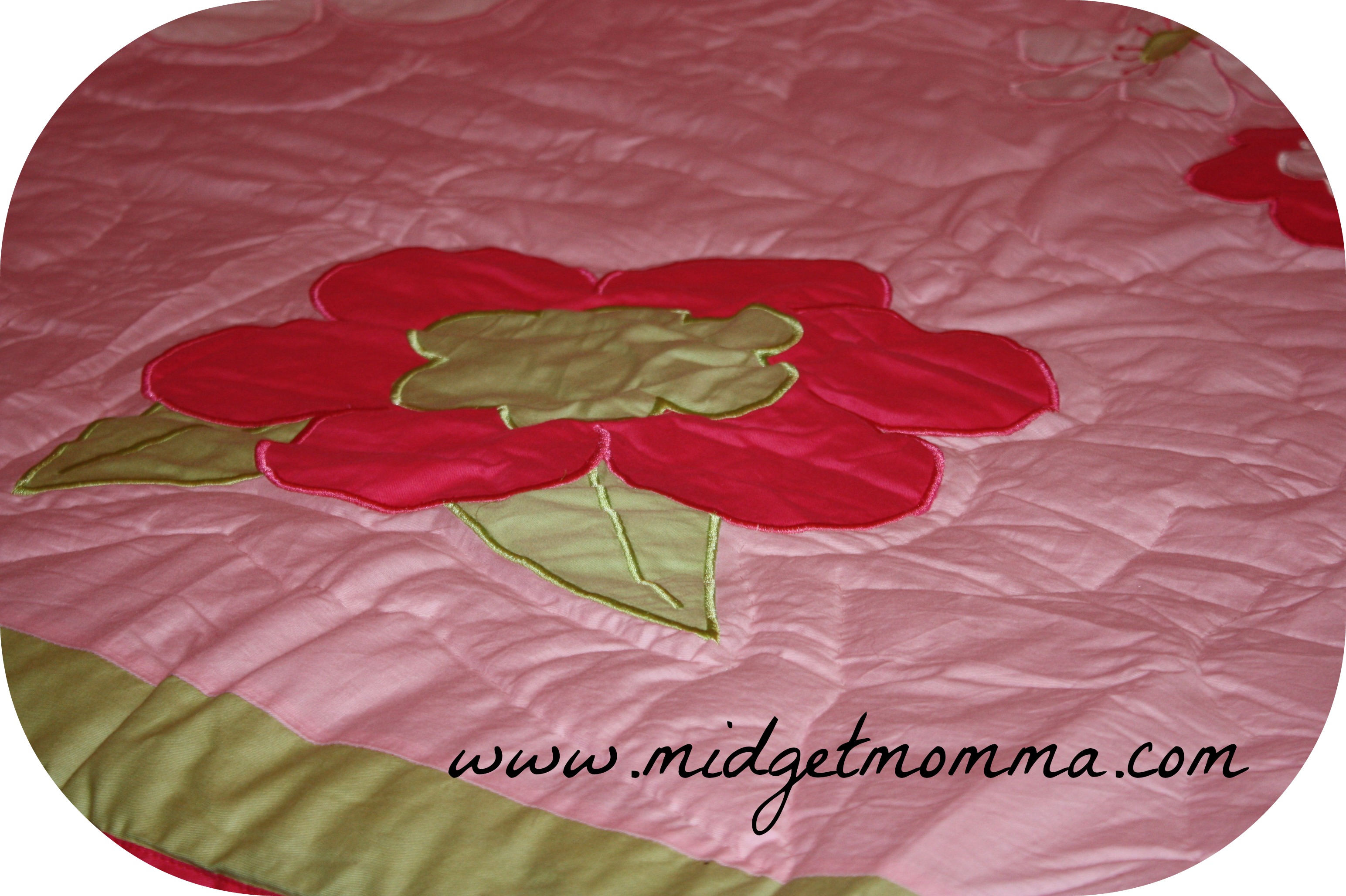 Now I have to admit that I also made her sad when I had to put it back in the bag since I used my oldest daughter's bed to try it out since her new big girl bed it not yet put up yet since we are still working on getting a mattress. I was hoping to have had a mattress by now but it has not been in the budget just yet. Now all we have to do is work on getting a mattress and then a house of our own so I can add my own wall colors to her room and the other kids rooms and I will have the rooms I have always dreamed of for my kids.
No matter what style of bedding you are looking for Beyond Bedding has it, and not just for little kids they also have teen bedding, and adults too!
Beyond Bedding is giving away 10 bedding sets, to give your special kiddo the bedding set to make their room exactly what they want it to be!!!! All you have to do is fill out the form below!
My giveaways are for my AWESOME loyal readers and the only way for me to do that is to check my subscriber list to make sure you are indeed a loyal reader, so if you are not signed up yet please enter your e-mail address in the box below 🙂 Thank you!
Join the newsletter
Subscribe to get our latest content by email.