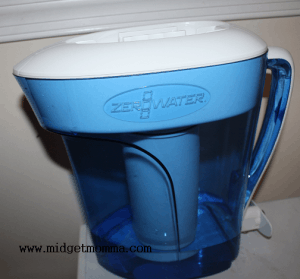 Raise your hand if you are worried about what is in your tap water (I have mine raised), while I hate the price of bottled water I still do like that it does not have all the junk in it that tap water does, but recently I was introduced to the Zero Water Pitcher and while at first I did not believe that it would change my water I was proved wrong.
The Zero Water Pitcher not only comes with the pitcher and filter but it comes with a reader so you can actually see the results of using the pitcher. Our local areas tap water before using the Zero Water Pitcher was 90. The Meter checks for all the junk that is in the water, the average tap water has 51-200 part per million, so ours is on the low end of the spectrum when it comes out of the tap. So it is not to bad, I was a bit skeptical because our number wasn't very high if it would do anything at all.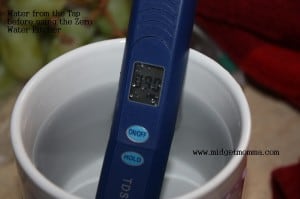 BUT It did! As you can see the Zero Water Pitcher made our water have 0 parts per million!!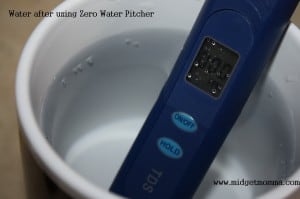 This is a great way to save money instead of buying bottled water. It is easy to use, just pour the water into the top of the pitcher and the filter filters the water to get all the yucky stuff like lead that is in tap water. I don't mind the taste of tap water but I will say it does takes better when it comes out of the pitcher then straight from the tap. I also had Midget Momma taste it and she also agreed that it tastes better then if it came from the tap.I gave her 2 cups and didn't tell her which one had what water in it and then asked her which one tasted better and she pointed at the glass that I had poured using the Zero Water Filter.
You might not know that I am a recycling nut (well that is what MidgetMomma calls me) I am very concerned about what the environment will be for my kids when they are older  and if it can be recycled I like to make sure that it is, but at the sametime I also enjoy products that are good for the environment and cut back on waste to begin with and the Zero Water Pitcher also helps with that. With no need to buy bottled water when using this and being able to use reusable water bottles this also helps with saving the environment.
You can get 30% off the Zero Water Pitcher when you head on over here and use the coupon code MC30. You can also learn more about the Zero Water Pitcher on their facebook page.
Enter to Win a Zero Water Pitcher of your own! (2 winners)
Mandatory Entry:
Tell me what your local areas TDS number is here
Extra Entries:
Like Zero Water Filter on Facebook– 1 entry (feel free to let them know you learned about them from MidgetMomma)
Like this post(use the button at top of post)-1 entry
Subscribe to my e-mail Newsletter (Don't worry it is free and comes once a day to keep you in the loop)- You Must confirm your subscription (you will get an email asking you to confirm it)-1 entry
Like My Fan page on Facebook– 1 entry
Follow Us on Twitter and tweet- Enter to #Win #Giveaway @Avengers Prize Pack from @MidgetMomma1200 https://www.midgetmomma.com/?p=28233 – 2 entries per day (must be space a minimum of 2 hours apart)
Follow me on Pinterest– 1 entry
Rules:
No purchase necessary to enter, leave a separate comment in the comment section below for each entry method. This giveaway is not associated with any of the entry methods, This giveaway will run till 11:59PM EST on April 29, 2012. The winner will be picked using And the winner is (a random winner picker) and will be announced in a new blog post  after the giveaway has ended. Giveaway is open to those 18 years or older and who are US residents. Winner will be contacted and have 48 hours to reply to contact e-mail or the prize is forfeited. The sponsor of this giveaway is responsible for prize fulfillment.
This Giveaway ends on April 29, 2012 at NOON EST and the winner must reply immediately as I have to turn the winners information in by April 30, so please check your e-mail to see if you are a winner or a new winner will have to be picked.
 "I wrote this review while participating in a blog tour by Mom Central Consulting on behalf of ZeroWater and received a waterpitcher to facilitate my review, two pitchers to giveaway, and extra filters to thank me for taking the time to participate."
This post may contain affiliate links. Please read my disclosure policy here