Are you looking for a fun game to play as a family? Just Dance is a great one, all of us including my 20 month old have a blast playing this game together!
The game is easy to navigate, which in our house is a need especially for games that while you are playing you need to do different things . My 6 year old easily figured out how to load up which game option she wanted and pick the song she wanted to dance to. The songs are not familiar to my kids, but they have a nice beat that the kids can pick it up easy and watch the screen and follow the dance moves. Now they are not the best at getting them right but who cares when they are having fun. Our 20 month old even dances to the music with us, so even though she can not actually play we can still make it a family event playing the game.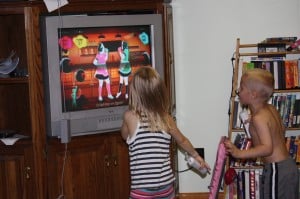 Tom is not normally a dancing game kinda person but even he had a blast playing it, and one thing that makes for a lot of fun is everyone letting loose and just having fun and this game totally does that!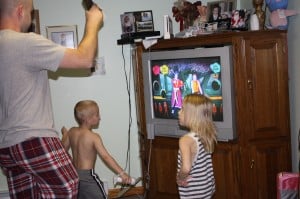 We brought the game to our sleepover that we had with a friend of mine and all 4 kids ages 7, 6(2 of them) and 4 all had a blast and were dancing away. My kids do tend to loose interest fast when it comes to games in general but my friend's 7 year old kept on playing even when the other kids were done 🙂
Just Dance Summer Party is a great way to have family fun or to let the kiddos just hang out and have fun hanging out playing:)
Disclaimer:I was not compensated for this review, the product was provided to me free of charge by the representing PR firm or company. All opinions are my own.
Join the newsletter
Subscribe to get our latest content by email.
This post may contain affiliate links. Please read my disclosure policy here