Since I was a young girl American Girl was something that I enjoyed, I have an American Girl doll, Samantha that I have had since I was about 8 years old and my oldest has a Bitty Baby doll that she got when she was 3 and has loved it ever since. I was recently introduced to the American Girl DVDs when we received the newest American Girl DVD, McKenna Shoots For The Stars.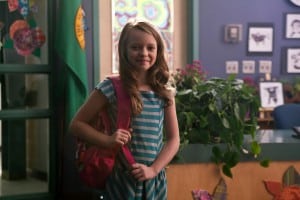 Synopsis:
McKenna Brook(played by Jade Pettyjohn), a determined and confident young gymnast has been training hard to meet her dreams and goals of being a member of the regional gymnastics team when her goal is side tracked by two challenges. Having struggles with her school work and reading is her biggest academic challenge. While working on improving her reading she is struggling with keeping her secret of having a tutor. While she is struggling with her academics she also lands on another challenge when she as a horrible fall at practice that leaves her injured. She has to work hard to recover from both of her challenges and train hard to reach her goal of making the regional team. With the support of her friends and family McKenna must find her strength but it will be the belief in herself that will prove to be the most important strength she can have.
 Check out this video clip from the movie.
Our Thoughts:
My older 2 children (7 year old girl and 5 year old boy) both enjoyed this movie. My 7 year old has struggled with school, this year was a hard year for her with her reading and as she was watching the movie she said "Mom, McKenna is just like me and has trouble in school like I did with my reading". My daughter was able to relate to McKenna and when the movie was over she told my youngest (2.5 years old) "You can do whatever you want even if it is hard all you have to do is your best", which I thought was adorable and I am glad the message of the movie was easily seen by my daughter. I was unsure about what my son would think of this movie since the main character is a girl but he loved the gymnastics part of this movie. He also made comments about how he wants to do gymnastics, but that he doesn't want to be on a girls team 🙂 We have watched the movie multiple times since the first time we watched it, which for me is important because it means that the kids thoroughly enjoy it. With a great message and from one of my childhood memories of my American Girl Dolls, I am looking forward to adding more American Girl Movies to our collection of DVDs. I think this is a great movie for kids ages 4 and above as it has a great message of believing in yourself and taking your challenges on and accomplishing your dreams and goals.
This movie has a run time of 1 hour and 34 minutes.
Disclaimer: I was provided this product free of charge to facilitate my review. No compensation was received. All opinions are 100% my own.
This post may contain affiliate links. Please read my disclosure policy here