A stunning movie that will have have you laughing, smiling and crying is People Like Us. This heartfelt, comedy drama will leave you feeling full when you leave the theater. I know I have gone to the movies thinking that it is going to be an awesome movie only to be let down however this movie is not one of those. The message of the importance of family is one that will leave with you as the movie is over, and be prepared because I was in tears at the ending and my tears continued for quite a while after I left the theater and was driving home. It really makes you think about you and your family and the relationships that you have.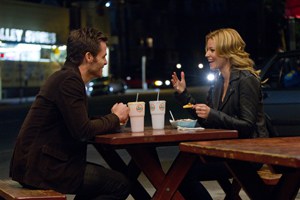 Synopsis: 
Jerry a music producer has passed away and left surprises for his 2 children Sam and Frankie, who did not know that each other existed. Sam, a salesman, comes home because of the sudden death of his father only to find that what money he did have was left to people he never knew existed and not him and his mother. As events unfold Sam and Frankie begin to form a relationship, while Frankie has no idea that Sam is her brother. Frankie is a single mom of a son who likes to get into trouble, and she is struggling to give her son the best that she can by working long hours at a bar. She is also dealing with the fact that according to everyone else in the world, she does not exist as Jerry's daughter. Sam and Frankie both had the same thoughts about their father and him not being a part of the life the way they wanted him to be, until the end when a home video that their father had made is found and they both realize what they meant to their father.
Check out this clip from the movie
People Like Us is rated PG 13 comes to theaters on June 29 and would make for a great movie date with your spouse or a fun time out with family members like your siblings and parents.
Disclaimer: I was provided tickets to see an advance screening of this movie, all opinions are 100% my own.
This post may contain affiliate links. Please read my disclosure policy here