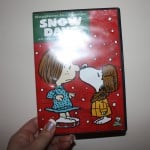 Who doesn't love the Peanuts? We love the Peanuts in our house and I grew up with them as  a kid, I remember doing a play in elementary school of the Peanuts Thanksgiving and how much fun it was. I have always been a fan of the Peanuts and I have introduced them to my kids at a young age and they all love them too. We recently received the new Peanuts Snow Day Dvd to review and  we all loved it. It made for a great family movie night! This DVD is the second release of the "Happiness is…" series of Dvds and  has 2 episodes She's a Good Skate, Charlie Brown that was a TV special in 1980 and Sally's Sweet Babboo (from The Charlie Brown and Snoopy Show)  both of which we all enjoyed. 
You can purchase the Snow Days DVD on Amazon right now for $8.99 (reg price is $14.98)
Disclaimer: I was provided this product free of charge to facilitate my review. All opinions are my own.
This post may contain affiliate links. Please read my disclosure policy here