Accent pieces are important in any room, and when decorating a room there are many pieces to the puzzle that come into play, furniture, paint, wall decorations and what is on the floor. When you rent a house like we do painting the room is not always an option so when getting a room to be what you want it to be sometimes you have to get a bit creative and use other accessories to decorate. Matching bedding and furniture is great but sometimes it still leaves the room a bit bland so an area rug can be the perfect way to spice up any room.
My younger two children share a room and have always had matching bedding, well it is semi-matching, we are going for a jungle theme with out being to babyish that they will out grow the room and so we went with brown and tan animal patterns. My son has zebra stripes and my daughter has cheetah print. (Side note, she did have a really adorable comforter on her bed until the day my daughter painted herself with blue nail polish and her bedding was a part of that disaster that we realized that night when putting her to bed).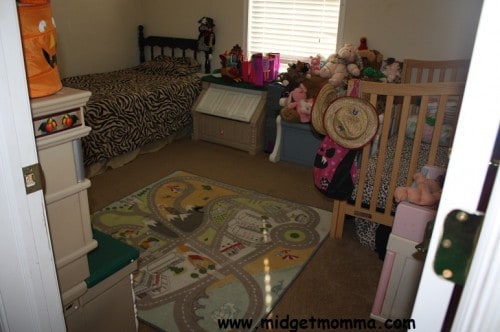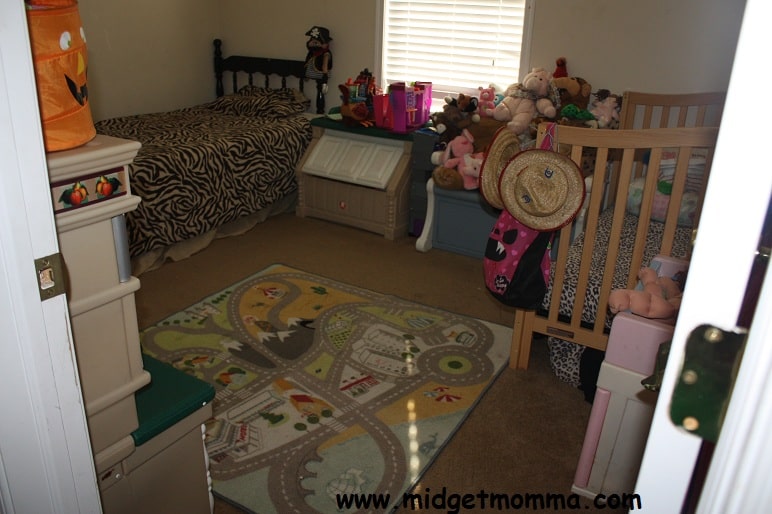 For the longest time they have had a "car track" rug, that I could not stand because it looked awful in their room and did not match the room. Even though they have carpet in their room I still like to have a rug in their room as it is easier to clean then the carpet if the kids get stickies on the floor and I think a rug pulls the room together, especially if it matches.
As you can see adding a rug to the room, totally changes the rooms appeal and the style the room has. Adding the brown zebra striped rug adds just the right "spice" that my kids room needed.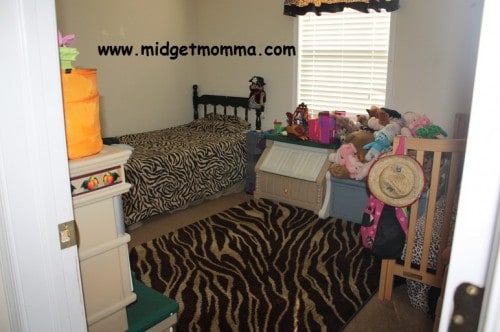 Now that I have the younger two kid's room finished it is time for me to start hunting for an area rug for my oldest daughters room, that is designed in red, white, black and ladybugs 🙂
It is not just about looks though, the feel of the rug is important, no one wants a scratchy rug that they have to walk on. The feel of the rug was the first thing I noticed when I took it out of the plastic wrapping that it was shipped in. Right away you could tell that it was going to be nice on the tootsies 🙂 Taking it out of the packaging and setting it up was easy, once out of the plastic there was just a small wrapping of plastic around the middle to undo and then it was easy to unroll and lay on the floor. I had to move a few things in the room to get the rug where I wanted it but it was not to heavy of a rug for me to lift and carry it myself from the living room where hubby had left it when it arrived down the hall to my kid's room. Laying it on the floor there were no ripples in the rug, and it was smooth and flat as soon as I put it down on the floor.
Mohawk Rugs come in so many different designs that you can easily find one to match whatever room you are working on decorating and they come in a wide range sizes and prices. If I had not known what type of design I was looking for to use in my kid's room I could have spent hours finding one and not in a bad way. The large variety of rug designs will make it a challenge only because you will "fall in love" with so many of them that narrowing it down to just one that you want to add to your homes decor. The rug in my kids room is the Watamu Printed Rug and is a 60×96, it fits perfectly in their room and is priced at just $142! One of my other favorite features of Mohawk rugs is that they are 100% made in the USA and you can check out their video on You Tube.
Mohawk Rugs can be purchased both online and in stores such as Sears, Walmart, and JCPenny.
Disclaimer: I received product free of charge to facilitate my review. No compensation was received. All opinions are 100% my own.
Join the newsletter
Subscribe to get our latest content by email.
This post may contain affiliate links. Please read my disclosure policy here