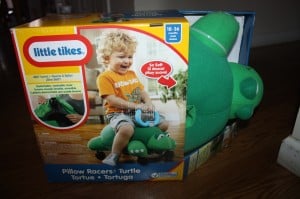 My kids are always asking if they can bring their outside ride on toys in the house, so I am very excited about the Little Tikes Pillow Racer, they can now have what they have been asking for,  for what seems like forever!

All 3 of my kids loved it, even though it says up to 36 months, my 5 year old and 7 year old had a blast racing around the house on it and then pushing each other around the house on it. I love that the turtle is not only adorable but totally fits its name of Pillow Racer, because it is nice and soft. Even when the kids get a bit hyper pushing each other around if one of them falls the soft body doesn't hurt them. The older 2 are a little bit to tall for the handle and riding it the right way but my 2 year old fits on it perfect, and her feet are able to reach the ground to push herself and she has quite a bit of growth room right now for playing with it as she grows! The kids used ot on both carpet and our hardwood floors and were able to move it on both surfaces so even if you have carpet they can still use it (it was a little harder for them to move on it though on the carpet.)
It was really easy to put together, and no other tools needed!
1-Get your Handle and screw on piece, and undo the fabric on the bottom (it has Velcro so its really easy)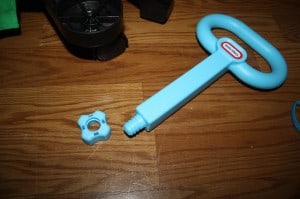 2. Put the handle in the top of the front, and then screw on the other piece underneath.
3.Reclose the Velcro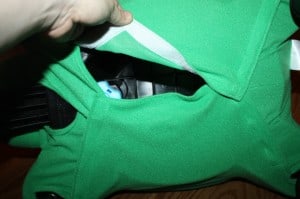 4. Pop the 4 wheels in the bottom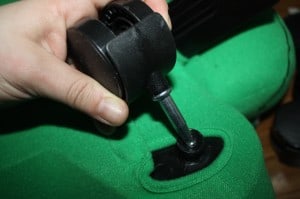 5. Put a smile on a happy kiddo!
You can purchase the Little Tikes Pillow Racers for $39.99 and right now you can get FREE Shipping! They have the turtle that we recieved, a dino and a ladybug!
Disclaimer: I received this product free of charge to facilitate my review. All opinions are my own.
This post may contain affiliate links. Please read my disclosure policy here