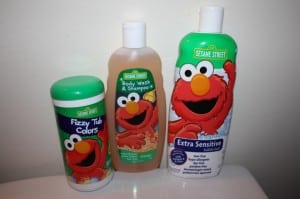 My kids love taking a bath, even with out anything fun added to the tub but when there is fun stuff added they have a blast (and fight getting out 🙂 ) We recently received the Sesame Street Bath Products line to try out and the kids LOVED it, of course my 2 year old saw Elmo and screamed "Elmo in the tub with me". I told the kids we were going to have some fun with the Sesame Street Extra Sensitive Bubble bath and Sesame Street Fizzy Tub Colors  and make the water different colors and add bubbly. The girls ran to get their barbies and baby dolls and my son brought his trucks and batman action figure and then got in the tub. Big mistake on my part of giving them a bath with the color tablets and bubble bath 40 minutes before we needed to leave the house, none of them wanted to get out.
Sesame Street Extra Sensitive Bubble Bath is tear free (which was tested in this house when my youngest covered her whole face with bubbles and didn't cry when i washed her face off and the bubbles got in her eyes), Hypo-Allergenic(which is great in our house because my son has exema and some bubble bath irritate his skin) and it has Aloe & Vitamin E.
You can purchase Sesame Street's line of bath products in store and on Amazon:)
Disclaimer: I received these products to facilitate my review. No compensation was received. All opinions are my own.
This post may contain affiliate links. Please read my disclosure policy here