As a mom I want my kids to have the best advantage when it comes to education, my oldest went to preschool when she was 3.5 and my son was 2.5 when he started,(although we had not planned on sending him until he was 3.5 but when we would bring our daughter to school he cried and the schools rule was they had to be potty trained to go to school and he potty trained in a week when we told him he had to be potty trained to go). For me sending them early was to get them to interact with other children but at home we still did things like working on our numbers, letters and doing crafts during the day when they got home from school.
It was challenging though to find something that is not to overwhelming and my kids would see the huge giant work books and would not want to do them. Fighting children to learn takes away from the fun that learning should be and those big books can get expensive, some of them are 40 bucks just for one subject (math, reading, writing ect). I wish I had known about Teach My teaching products with my youngest children, they have everything you need to help you children succeed and at a budget friendly price.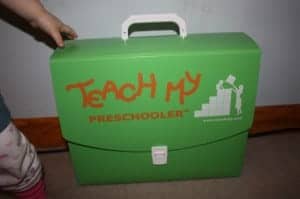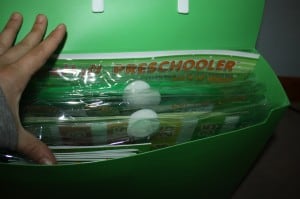 Teach My Preschooler covers all 4 major areas of learning; Reading, writing, counting and math and all the supplies are contained in one box and each subject is in its own spot! I don't know if your house has the same problem mine does but if things aren't contained together they get lost and I like to have things organized to where I know where everything is.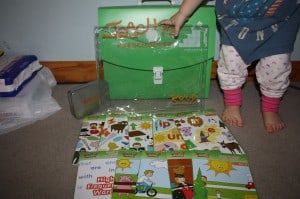 The reading has 10 books, all different steps to help your child learn to read. Each book is a little more challenging then the previous one because a new skill is being added. Some of the books have flash cards with site words that you can work on separately  and a case to hold all the flashcards. We are putting the words my son knows into the card holder so we can focus on the words he has trouble with as we read the books.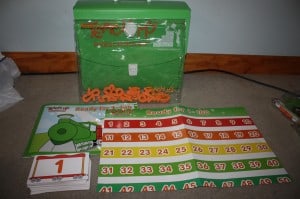 The numbers 1-100 portion is fantastic in my opinion, and my favorite part is the number poster, it makes it easy for my son to count by looking at the numbers. There are also number flash cards, that have the number on one side and it spelled out on the other.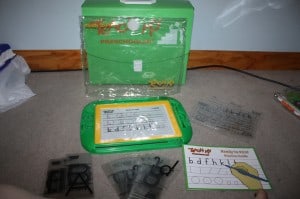 Writing is a challenge for my son, he is left handed and everyone else is right handed. He gets frustrated and then throws the paper in the trash even if there is just a small mark, with the Teach My Preschooler I do not have to worry about it, he still gets frustrated but with the board he can just erase it and start over and he likes it better too. All the letters are there for your child to trace so they can learn how to write.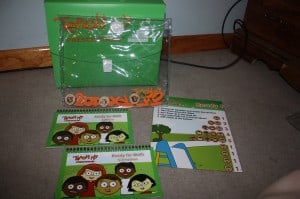 My son  loves the math section, he loves using the "people counters" when counting. The addition and subtraction books are great for having him see what is going on versus just me telling him.
The Teach My kits are available for Baby, Toddler and Preschool, all are focused on the learning development of those stages of a child's life. They are only $49.99 and you can buy the Teach My Products directly from their website or from Amazon
One Lucky Luxury Living Frugal Style Reader will win their own Teach My kit!
Mandatory Entry
Tell me which part of Teach My Preschooler you like the most
Extra Entries
Like Luxury Living Frugal Style on Facebook– 1 entry
Live Teach My on Facebook– 1 entry
Follow Luxury Living Frugal Style on Twitter and tweet #Win @TeachMy Learning Set from @MidgetMomma1200 https://www.midgetmomma.com/?p=12923 – 1 entry daily
Follow Teach My on Twitter– 1 entry
Follow Luxury Living Frugal Style on Google Friend Connect- 1 entry
Enter any of our other giveaways leave giveaway entered and comment number-1 entry
Giveaway Rules
Giveaway will end on September 30, 2011 at 11:59PM EST. The winner will be picked at random and contacted by e-mail and will have 48 hours to respond or a new winner will be picked. This giveaway is open to US & Canada Residents who are 18 years or older. The sponsor of this giveaway is responsible for prize fulfillment. Leave a separate comment for each entry method. This giveaway is not affiliated with any of the entry methods.
Disclaimer: This giveaway is Sponsored by Teach My, all opinions are my own.
Join the newsletter
Subscribe to get our latest content by email.