I have been sharing with you all this week the movie clips and then this morning I shared with you an interview with and now I get to tell you all about the movie! The kids and I went last weekend to see it and all 3 of them loved it!
Have you ever heard the story of the Borrower, you know the little people that live in the floor and when they need things they "borrow" them from us, the human beings, or as they call humans "beings". The Secret World of Arrietty brings you into their world, the world of the little people who live under the floors of homes and are always cautious that they might be seen.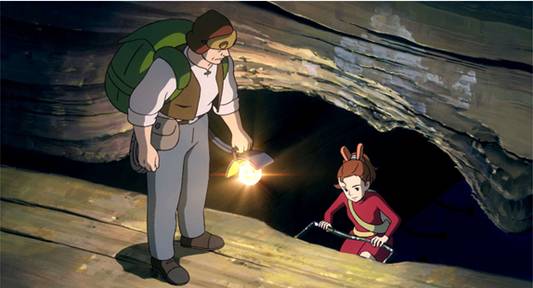 Sho, the young boy who is staying with his aunt Sadako, and the housekeeper Haru because he needs to rest before he has heart surgery sees Arrietty in the garden as he arrives to the house. That is the first time that Sho sees Arrietty, the next is during her first trip borrowing and she then drops a block of sugar. A friendship is formed between the two of them when Sho puts the sugar with a note outside for Arrietty, and that causes fear to run through the borrower's household because their worst nightmare has come true with being seen.
Though there is no crazy action scenes my kids loved it, my daughter who is 6 said she wanted to go home and see if we had any little people living under our floorboards, the movie brings a wealth of imagination to the kids and adults who see it. It brings back hand drawn animation which I really enjoyed. I love computer animation but there is just something that the hand drawn animation does with this film.
A surprising and wonderful message of finding friendship in places that you would not expect is found in this movie and a message of being tolerant of those that are different from you is brought out as well. With so many differences among people in the world, including in schools, the message of being tolerant of those that are different from you and that you never know who may end up being a great friend to you I think is very important.
The Secret World of Arrietty is a great family film that both parents and kids will enjoy, I am even thinking of going to see it again and having hubby come with us since he didn't get to go when we went to see it.
Disclaimer: I received tickets to see this movie, I was not compensated for this review. All opinions are my own.
This post may contain affiliate links. Please read my disclosure policy here