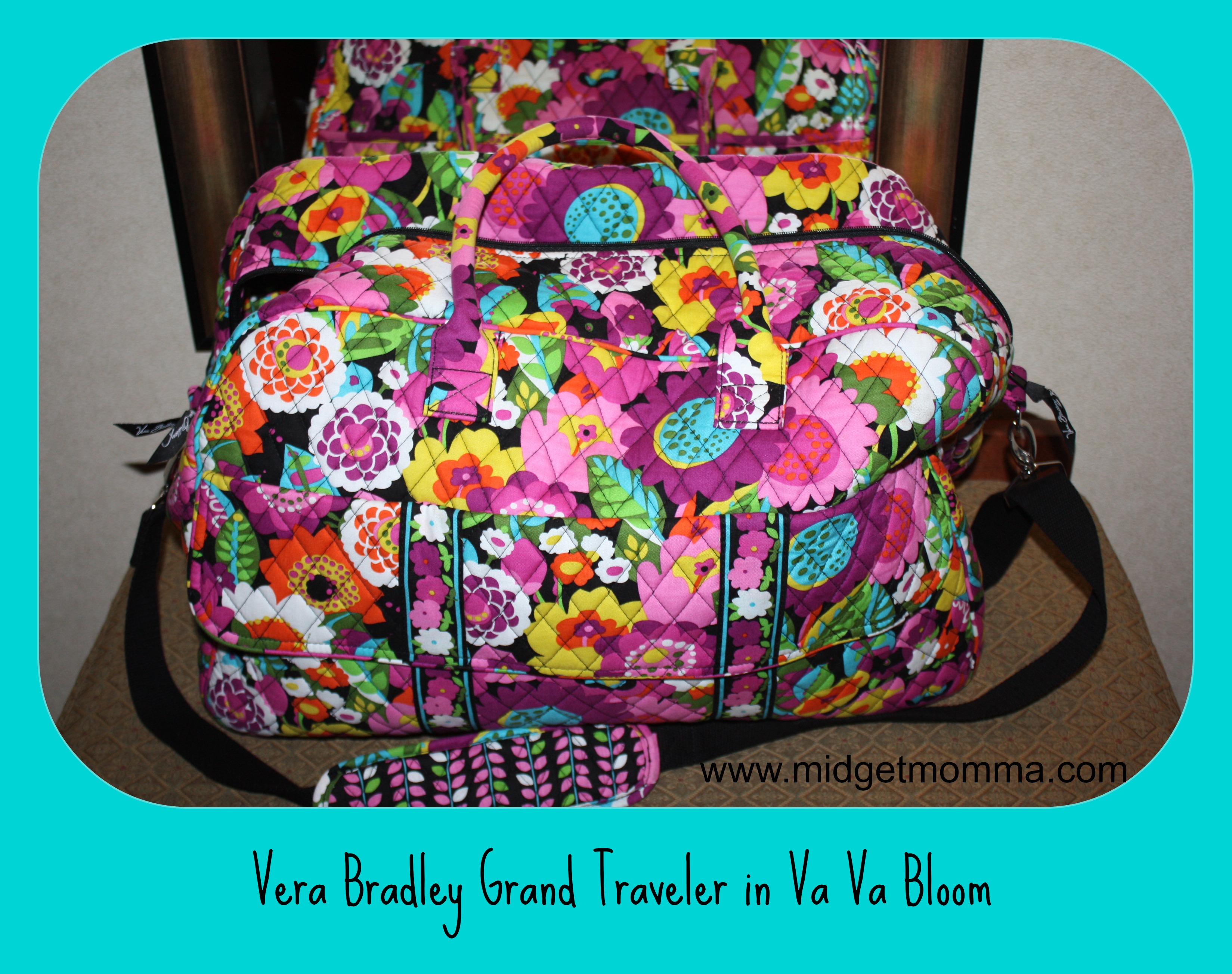 I have been looking for a bag for a while now that would accommodate my growing kids needs, it is no longer just diapers and wipes and a few extra pieces of clothing when we go places. Now on top of the clothing and snacks they are also wanting to bring things like their Nintendo DS, the Kindle and if we are all going over night I need to bring my laptop and camera too. I needed a bag that would accommodate it all, I have a Vera Bradley Miller bag that I LOVE but it just is not big enough for all our day trip and single over night trip needs. I received the Vera Bradley Grand Traveler in Va Va Bloom to take with my on my trip to NYC at the beginning of August and it fit all of my clothing and my laptop. I then took it with us when we went to Dutch Wonderland in Lancaster Pa and once again I was very happy that I was able to put my kids stuff in the bag along with my laptop and we were good to go for the night. I was able to fit an outfit for each kiddo and myself, our swimsuits, pjs for the 4 of us, the laptop, my camera, their Nintendo DS, a few games, the kindle, snacks, juice boxes and our bathroom stuff in the bag!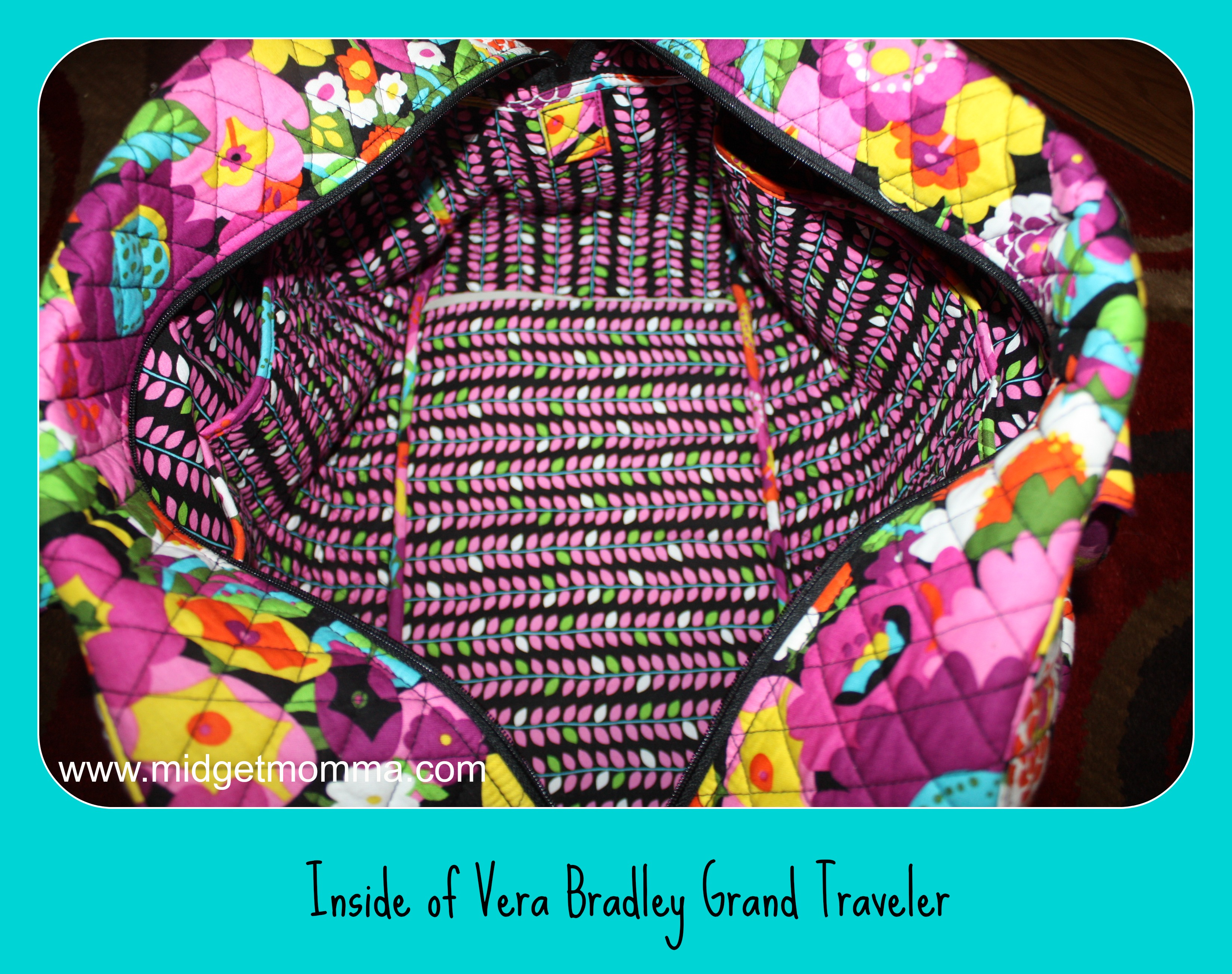 The Grand Traveler has a HUGE inside and there are 4 pockets lining the inside of the bag. There is a flap pocket on one side that has magnets to keep it shut and 2 pockets on the other side. that are open for easy access to things like the kid's Dses. I have the option to carry it on my shoulder or to carry it by hand, either way I choose it is not hard on my back or my arms.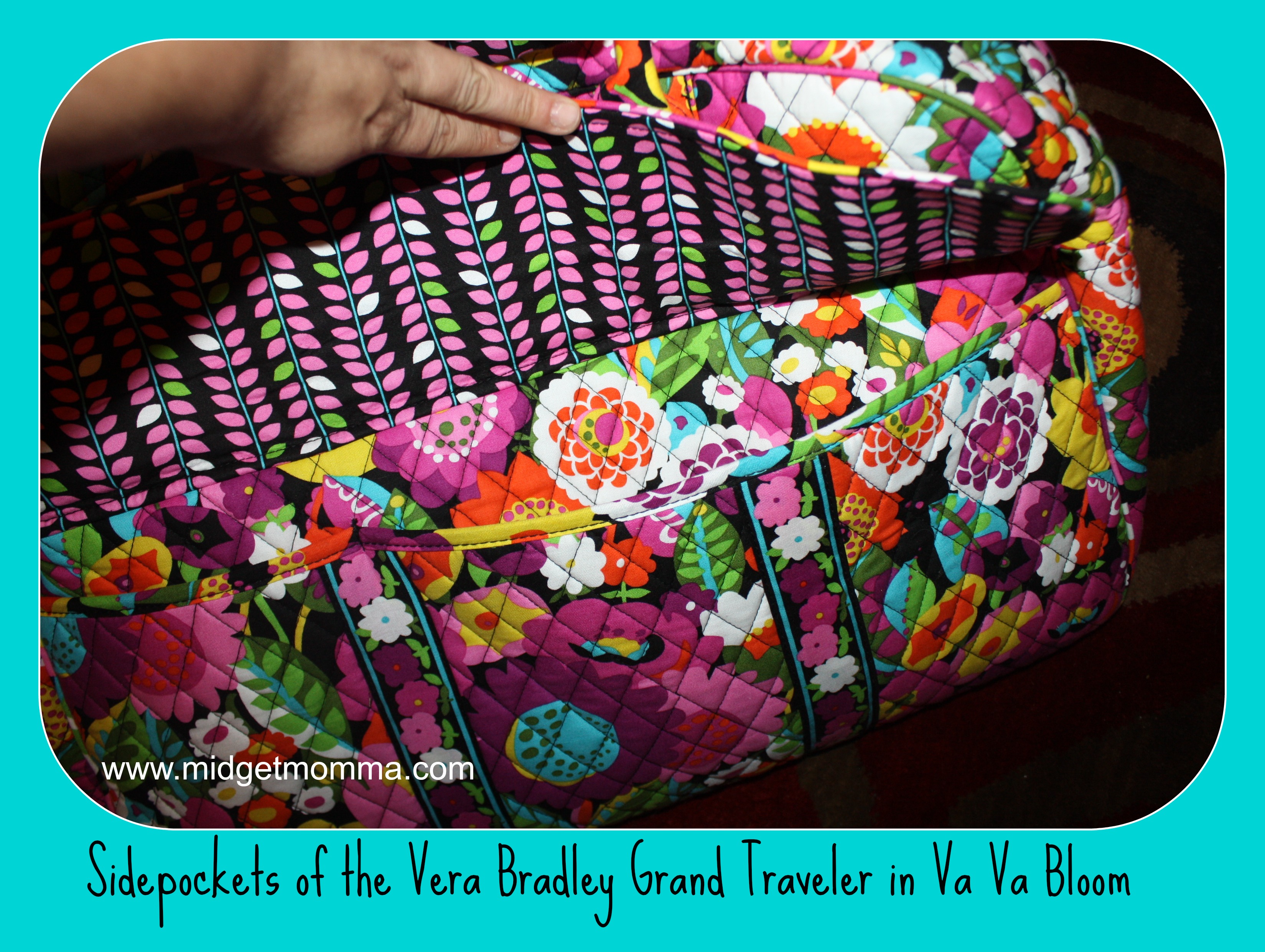 When I am traveling I also need to bring my needs other then clothing, you know the essentials like makeup and jewelry which is where the Vera Bradley Home and Away Cosmetic bag comes in to play perfectly! I can fit so much into this cosmetic bag that I don't have to leave any of my makeup at home, I can bring a few days worth the jewelry and hair ties and I don't have to "organize it" to fit everything into the bag! I just toss it all in, zip it up and I am on my way!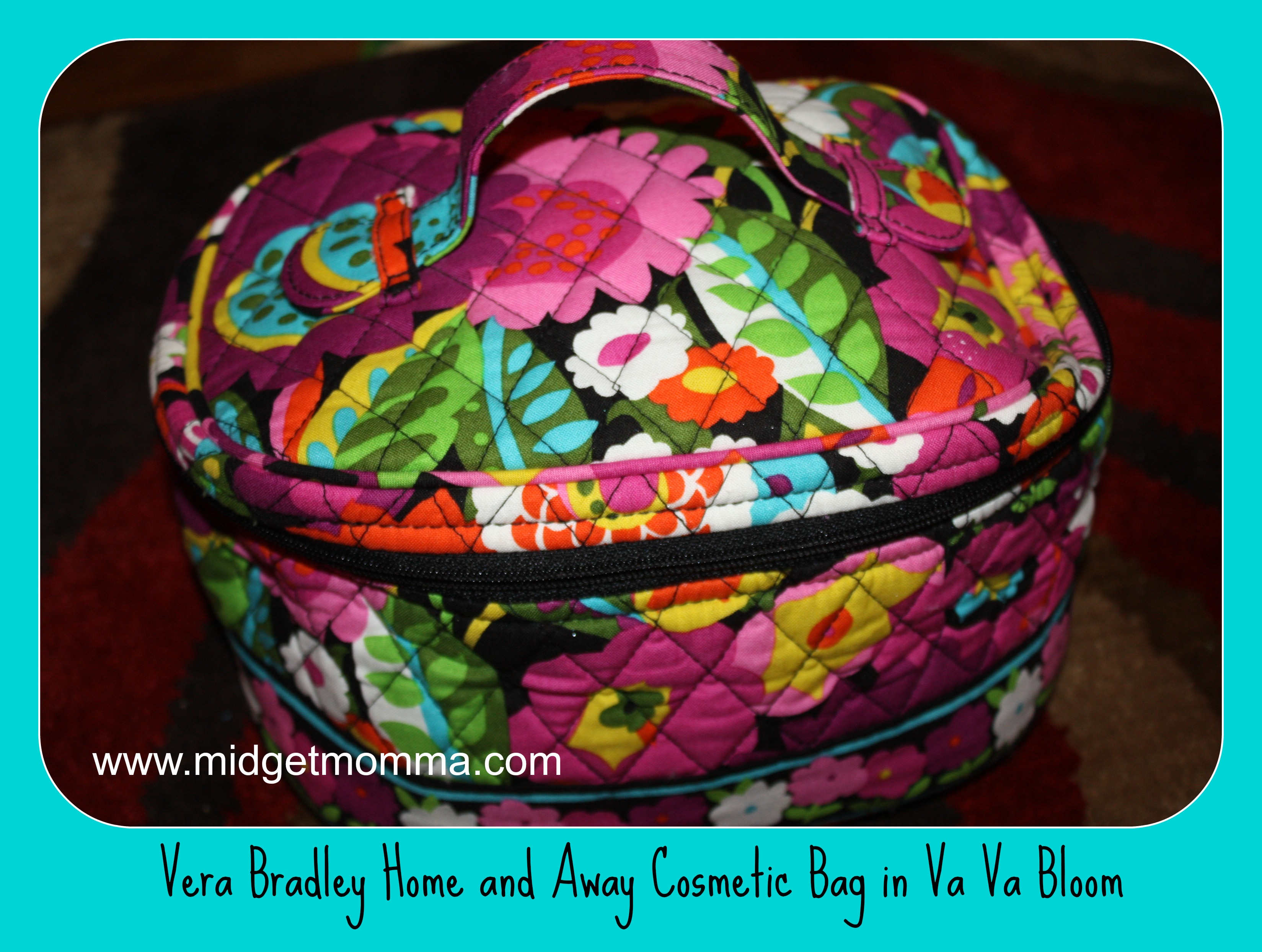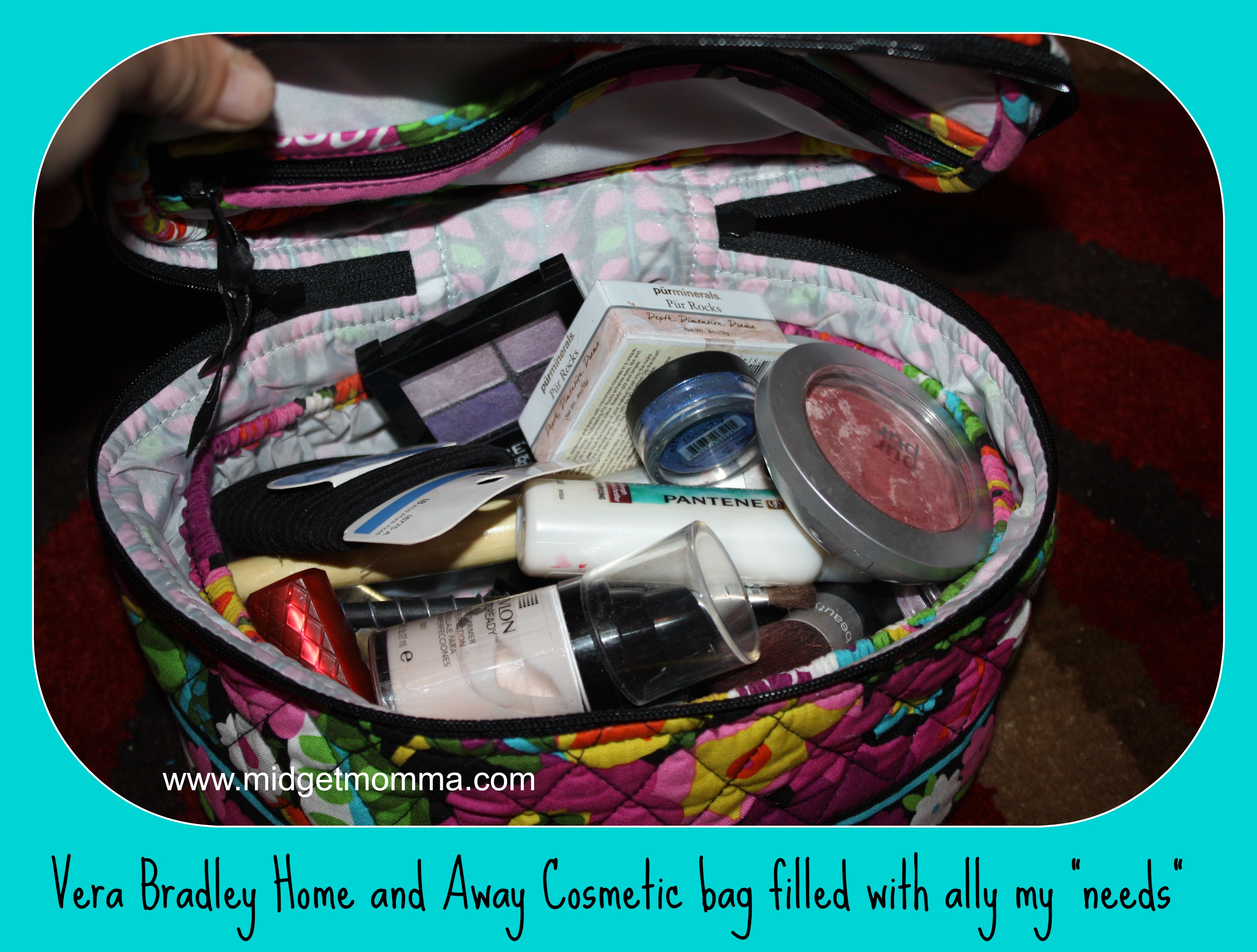 On top of being bright colors that I love and being able to fit all my stuff into the bags the other thing that I love about Vera Bradley is that I can take the hard bottom out of the Grand Traveler and toss the whole thing in the washer! With kids that is very important to me since juice boxes and sippy cups are known to leak. I also end up putting my bags on the ground at time when I am traveling via subway or train and those places are not great places to be putting my bags down if I want to keep them clean, so I don't have to worry if they get dirty since washing them is easy peasy!
With this travel set I am ready to go on any of the trips I may need to take, be it a day trip with the kids, a one night trip with the family or a few days trip with just me all my needs can fit into these two bags and I don't have to worry that they will be to heavy for me carry or that they will get dirty and I can not wash them. If I am flying then I will be able to travel with out having to check a bag since the Vera Bradley Grand Traveler is the perfect size for a carry on 🙂
Disclaimer: I was provided this product free of charge to facilitate my review, no compensation was received and as always all opinions are 100% my own! 
This post may contain affiliate links. Please read my disclosure policy here