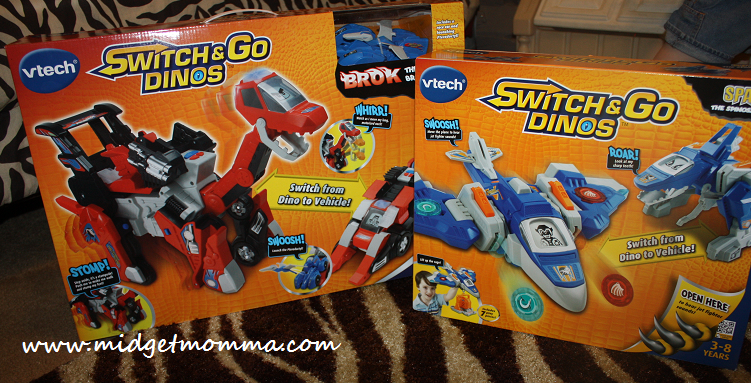 Boys toys are the hardest thing for me to find, and it is not so much that there are not boy toys but there are so many and not having ever played with boy toys in general and his ever changing mind of what is "cool" makes finding a toy that will be played with for longer then just a few days a challenge. When it comes to toys I want them to be more then just "there", unlike my girls who can take anything from a barbie to a stuffed animal and have it go on a girly adventure with shopping or going to school my son enjoys toys that "do things" and have action already there.

The VTech Switch & Go Dinos cover everything that I look for in a toy for my son. They have the action "built it", as in he can have them change from being a plane or a truck into a dinosaur and the play idea is right there for him. They are interactive, when in the shape of a truck or a plane you have a "driver" face on the screen that does the talking and in dinosaur form the dinosaur is the one talking to you (and the other Switch & Go Dinos). My son has been playing with them on a daily basis and has even been able to get the girls to play with him and really enjoys sharing with them "how you play with boy toys". If you are like me and not "boy toy compatible" as I call it, don't worry switching them from plane or truck into the dinosaur and back is super easy and takes just a few seconds. I love that they are durable, we had a little spat over who got to play with the plane and my youngest threw the plane on the hardwood floor and it was all still good to go (and I am sure hoping that the plane doesn't fly like that anymore ;)).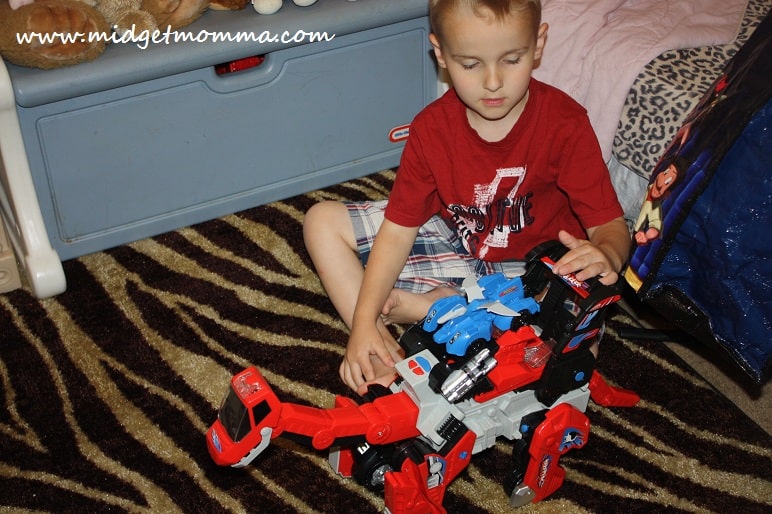 Right now there is an awesome contest going on on the Vtech Switch & Go Dinos Facebook page and check out the Show & Tell with Switch & Go Video Contest! Your kids use their imaginations to see what cars and dinosaurs they would combine! Your kid can win a kids' lifetime supply of toys, your video on Nickelodeon and a viewing party with your friends and family!
Simply upload a 30 second video of your child's home-made Dino creation. They can show us their new Dino by drawing, building or customizing their existing Switch & Go Dino. We want to hear about the cool things your child's dino does!
View and share your favorite video entries with your friends and family!
From October 8 through October 19 check out the top 10 to cast your vote for the coolest, most creative and fiercest video! Everyone who votes may be entered into a sweepstakes for the chance to win one of 25 sets of Sliver, T-Don, Horns and Tonn.
One grand prize winner will get a kid's lifetime supply of VTech toys, plus a chance to see your video air in a VTech commercial on Nickelodeon, which you can watch at your very own viewing party with friends and family. VTech will also transform your living room into the ultimate Dino den!
Everyone who votes on the top ten starting in mid-October and submits their email address will be entered into a sweepstakes to win one of 25 sets of Sliver, T-Don, Horns and Tonn
"I participated in a campaign on behalf of Mom Central Consulting for VTech. I received VTech Switch & Go Dinos product samples to facilitate my review."