I know you have all been waiting to hear my thoughts on the movie War Horse. As you all know I was in New York City a few weeks ago to see War Horse at the Red Carpet World Premiere event and I can now tell you all about it (Well not everything because I do not want to ruin it for you). Be prepared to enjoy yourself when you go see War Horse and go with a box of tissues. I made the mistake of not having tissues with me and trust me when I say it you will want to have them with you.
An Amazing Steve Spielberg film, that brings the 1982 Novel "War Horse" to the big screen that will have you full of emotion, captivated right from the start and never realizing that time went by. It is a war movie, but unlike any that I have ever seen, the dramatic events of World War 1 are shown in the cleanest, nonviolent way possible, with no blood or gory moments. Capturing the full emotions of those watching the film with out having any blood, violence or goriness is absolutely amazing. Tied into the events of the War are stories of compassion, companionship, friendship and love, something you also would not expect from a movie about a War. This movie tugged at my heart, when the men were getting ready for war. As the spouse of a military member who has deployed I know all to well the feelings that race through your head when a loved one leaves home to defend their country.
The first main focus of War Horse, is when Albert and Joey(the horse) meet and a bond is formed between the two of them. Albert (played by Jeremy Irvine) is the son of Rosie (played by Emily Watson) and Ted (played by Peter Mullan ) Narracott. Their ever lasting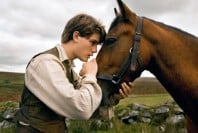 love and companionship never fades during the movie, and Joey is always on Albert's mind and in his thoughts. This first main focus is just the beginning of captivating the audience. As you watch the movie you will enjoy that Steven Spielberg kept the true animal feeling with Joey, which keeps the full spirit of the movie alive.  Steven Spielberg's talent of bringing all the emotions that come along with war; companionship, compassion, love and fear from a soldier's view is absolutely amazing. He is able to show all different emotions that everyone can relate to and he does it fantastically. While War Horse is about much more then the bond between Albert and Joey, that is something that never leaves your mind while watching.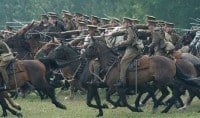 The music that is used is spectacular and really sets the mood for individual scenes, it brings you into the movie and gives you so much more then you would expect. It is important to pay attention to the music that is played as it really does set the mood for the scenes and events.
War Horse comes to theaters on Christmas Day, a day that we all spend enjoying time together with those we love. War Horse opening on Christmas Day is very fitting to celebrating life, people and those we love and cherish. War Horse is a must see movie this holiday season.
Enjoy this fun Question and Answer session with Steven Spielberg about the Movie War Horse and you can also see the exclusive War Horse movie clip if you missed it 🙂
War Horse is rated PG-13, however if your kids are able to understand the difference between what is real and what is a movie I would say they are ok to see this movie around the ages of 8 or 9, but that all depends on the maturity of your children. War Horse is a fantastic family film, that the whole family will enjoy.
I was provided and all expenses paid trip to New York to attend the Disney/Dreamworks World Premiere Red Carpet Event for War Horse. All opinions are my own.
This post may contain affiliate links. Please read my disclosure policy here