So a few months back you all know I went to the Toy Fair to check out all the new toys that were coming out and some of them I was not allowed to say anything at all about until now. The one that caught my eye the most was the Waverly & The Magic Seashells playsets. Mermaids! My girls love mermaids and princesses and I knew this would be something that as soon as they saw it they would be wanting it! When I was contacted about doing a review I knew the answer, no thoughts about it YES! I didn't tell the kids it was coming and as soon as they opened it I got more of a reaction than I thought I was going to, they loved it as soon as I opened the box (which also led to two little girls fighting over who was going to play with it first:))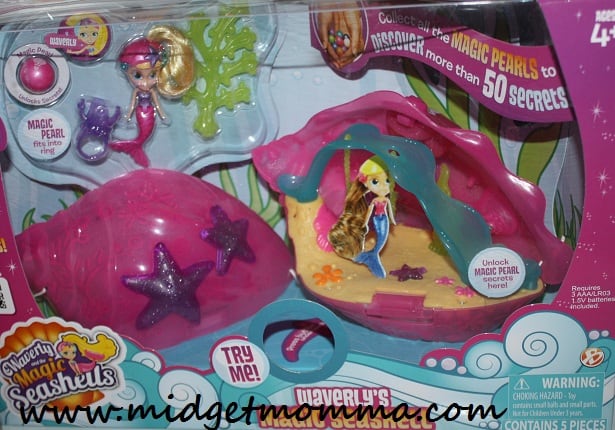 Venture into the under sea world of Waverly a magical mermaid who has special pearls that when you put them in the shell they tell the secrets of the ocean and of Waverly and her friends (each friend comes with a special pearl that holds all the secrets). In her magical seashell Waverly has a swing that she can relax and enjoy. There are many different friends for Waverly to play with you just have to buy them separately.
Once the fighting stopped both girls were very happy, the secret pearls were their favorite part and my oldest loved that there was a ring she could put them into and wear. I personally like that all the pieces fit into the shell closed up, which means hopefully nothing will get lost!
I need to mention that the first shell we received did not shut properly and the one side of the shell would not stay on, however the second one that we received had no issues at all and it shut. With both sets the mermaid were a solid toy and the pearl reader worked as well. So I am going to say that it was a manufacturer default on the first one and not an on going issue with the toy shell itself.
You can purchase Waverly and her friends on Amazon or in other retail stores!
Disclaimer: I was provided this product free of charge to facilitate my review. No compensation was received and as always all opinions are 100% my own.