So I have not yet shared with you all the Amazing FUN I had this past week! I got to go to Reviewer's Retreat 2011 at Great Wolf Lodge! It was pure luck that I got to because tickets have been sold out forever and another blogger was unable to go and I was able to buy her ticket from her!It was only a 20 minute drive from my house to it so it was perfect for being my first blogging conference!
If you are a blogger and you have a chance to go to a conference GO! I can not stress it enough, it is one thing to talk over the computer but face to face with people who feel the same passion and love for blogging it  is so much better then e-mail!
So not only did I learn a lot of great information I met a bunch of great bloggers (Including one who lives like right down the road from me!) Paula from The Tween and Me, Mary from Sweeping Me, Tonia from The Chatty Mama and MommyBKnowsBest and many other great bloggers as well! I also got the chance to talk to the Clever Girls Collective ladies, Pampers, and Little Looster (who may just think I am a bit over the top because I told her how much I love the Little Looster lol, seriously if you do not have one you need one, especially for potty training!)
The Double Duty Divas did a fantastic job! Seriously it was so much fun, we had a welcome party type thing on Sunday night sponsored by Ubisoft where there were games to be played these Awesomely cool light up rings that were stretchy (they may just be my favorite thing from that party to bad my 6 year old snagged that as soon as I got home and I have no picture of it) We also got a HUGE bag of Swag! Seriously I was totally not expecting that but it was so awesome!
Here is a picture of some of the Swag I received over the 3 days I was there (there was more but the edible stuff has been eaten and the kids and hubby have ransacked the bags before I got to take a picture). Other things not in the picture were A coupon code for a FREE Little Looster, coupons for FREE Diapers and Wipes from Pampers, Jell-o Desserts, chap stick, and more.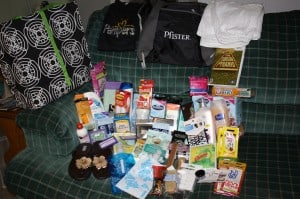 Monday was filled with session, that were great and I learned things about blogging that I did not know before I got there. Things that will help me be a better blogger and give all of my readers the best that I can! Monday was also Getting Gorgeous, a time to mingle and gather another round of Swag (seriously if you go to a conference and you are traveling make sure to bring an extra suitcase, I am glad I was so close to home!) We all got these amazingly comfortable sandals from OKAB, they are so comfortable and so stinking cute along with make up, Thomas' new pretzel bagels, and much more! Then on Monday Night we had a PJ Party… Let's just say it was a ton of fun with groups of us running around on a scavenger hunt and they had a chocolate fountain! It was a blast chatting with other bloggers. We lost the scavenger hunt but I can tell you I have not ran so fast in a very long time, we didn't do to bad though our time was 4 minutes and 2 seconds and the winners was 3 minutes and 30 something seconds. But a Ton of fun!
Tuesday was our last day and it was only in the morning. But we got the chance to sit down and have discussions with everyone in small groups about what things we felt and what we learned. It was really great to have the chance to do that. Then came the drawing (we all were given tickets to stick into boxes to win prizes) and I won an AWESOME Prize, I was totally hoping I would win it and didn't think I would (I do not tend to have luck with giveaways and drawings ect) but I won……..

I won a Bumble Ride Flite Stroller!!
Next year it will be held at the Great Wolf Lodge in North Carolina and I am so excited because I am totally going! (hubby doesn't know yet and I am going to keep it a secret until after I get back from Texas and he is distressed from having 3 kids alone for a week 🙂 )
I totally recommend going to a conference if you have the chance to not only will you meet great people but you will learn a ton of great information to help your blog grow!
While I did not stay at Great Wolf Lodge because I was so close to home it was awesome! I want to take the kids tehre for a night or 2 family vacation because I know that they would love it! A HUGE Indoor waterpark what kid wouldn't? They also have a scavanger hunt game for the kids to play. and the Food……YUM! The buffet was amazing! Dinner buffet had a seafood buffet, pasta, pizza, soup, bluefish in a yummy sauce with clams and muscles, shrimp, so many choices that were all filled with l Amazing! and then there was the dessert bar, something for everyone cheese cake, cakes and it all looked amazing! (I was good and didnt have any because we were having a chocolate fountain at the PJ party )
I can not wait for next years Reviewer's Retreat and I am hoping to plan my family's trip to Great Wolf Lodge soon because the kids would love it and it would be a great family fun trip!
This post may contain affiliate links. Please read my disclosure policy here