This is a Sponsored post written by me on behalf of Revlon. All opinions are 100% mine.
Make up is one of the easiest and quickest ways to get a pulled together look, even if you are wearing jeans and a t-shirt and have your hair up in a hair claw adding makeup makes you look like you are ready to go. (It is my simple trick in the mornings when things are crazy and I have been known to wear make up even when I am in sweats and a sweat shirt)
I was recently invited to take part in the Revlon Expression Experiment and of course I was like "yes" I love makeup and it was a chance for me to bring back me (that I have talked about a few times lately as being a challenge) I am a big fan of quick and easy with having kiddos so I enjoyed it because it was another way that I can make that "make up time" in the morning take just a little less time. (Which I am sure you all know what I am talking about when it comes to school mornings and having to get the herd of kiddos out the door 😉 )
Easy Peasy to do, I am a huge fan of bright colors when it comes to eye shadow, but when I looked in the box and saw they wanted me to try out bight red lipstick,that was bringing this momma out of her comfort zone! But I figured that was the point right? To try something new with my makeup! The makeup primer was super simple to use and quick, it goes on just like lotion and made my skin feel smoother. Then went on my powder foundation and blush, no sticky mess on my brushes from the primer, so that was a huge plus! Next came eye shadow, there were 2 different pallettes to pick from, I am normally a brown on the whole eye lid with a bright color added to the lower part of the lid type so this time I went with the yellow and bright green, i really like the look the yellow brings it is a nice change from my normal brown 🙂
Then came the red lipstick…..I was scared because I have always been a light pink, clear lipgloss user and after putting the red lipstick on I learned a very important make up lesson….red lipstick is NOT my color, but I won't say that it was not fun trying and getting out of my comfort zone and putting it on. The red gloss I can kind of pull off, and I liked the way it looked but I don't think I will be adding red to my everyday make up routine.
With the red lipstick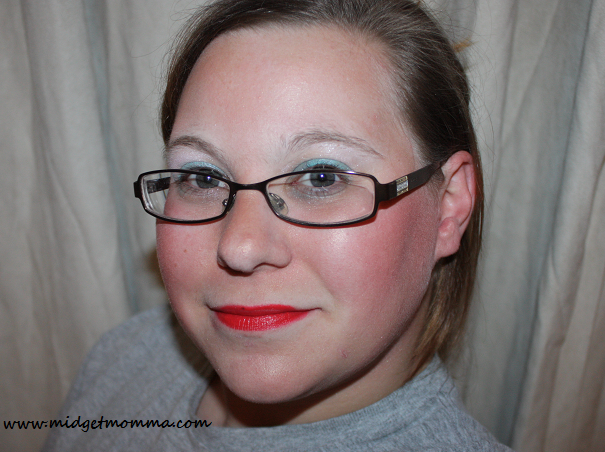 With the Red Lipgloss.
We can not forget about our brightening up our hands, as an easy way to get more dressed up, nail polish is the easiest way to add style and pull your look together with out having to worry about it each day. I was sent blue nail polish, and when it comes to my toe nails I admit I do like to have fun and get funky so this was perfect for me!
If you have never tried red lipstick or stepped out of your comfort zone with makeup I challenge you to do so, you might be in for a surprise like I was as to how much fun it can be to change things up a bit.
This post may contain affiliate links. Please read my disclosure policy here