budget Friendly plus style makes one great ride and with the Kia Optima Hybrid you get just that! Recently I had the chance to spend a week driving around in the Kia Optima Hybrid and testing out both the style and the safety this car has to offer. I had never driven a hybrid vehicle before and I have to say I have fallen in love with the way a hybrid works, but I will get to more of that shortly.
When the car pulled up I was in awe at its style, I had seen pictures of the Kia Optima online but when it is right there in front of you it is a whole different ball game 🙂 I have never owned a "pretty" car and while I loved the Kia Rio that I test drove a few months ago, it is not really a "stylish" type of car. I know, you are thinking Kia and the word stylish in the same sentence don't fit and I would have said the same thing a few years ago but they have really made some great changes over the years.
Check it out for yourself, even though the picture doesn't do it much justice unless you see it in person but I am hoping these pictures give you somewhat of an idea 🙂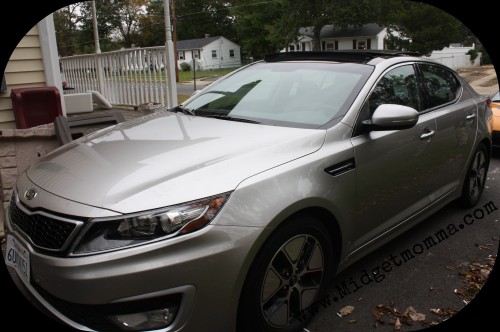 Let's not forget the sunroof, we had one when used to have just one child and we had a Hyundia Elantra and sunroofs are one of my favorite extras in a car, they add style and fun to the car when you are driving!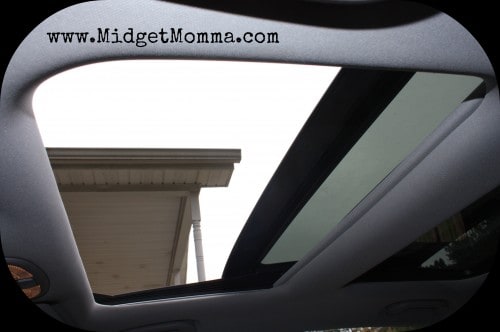 With  the sunroof to the bottom with snazy door handles and wheels the Kia Optima is not lacking at all when it comes to style.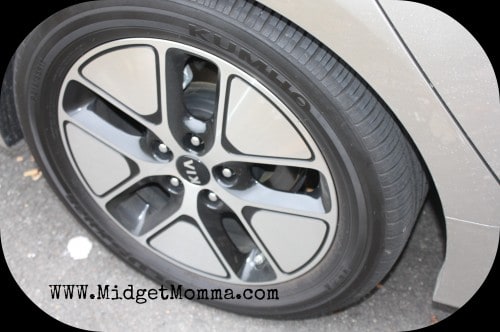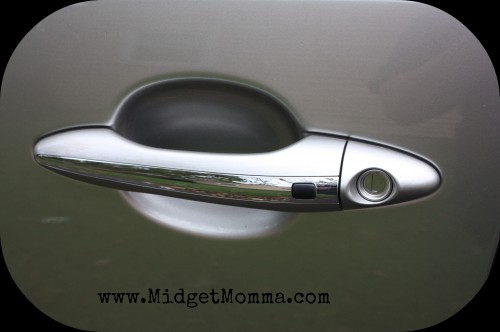 As I said before I have never driven a Hybrid vehicle before this and WOW! The first noticeable difference was how quiet the car is when you start it, I had to get out of the car and make sure it really was started because I did not hear any noise when I was sitting in the car and even when I got out it was extremely quiet compared to my minivan. The gas mileage was the next thing I noticed however I can not really talk about miles per gallon because I never used any gas when I drove the  car and I went over 500 miles in it!! What a huge money saver that is, my husband drives 400 miles each week but because of stop and go traffic he fills up his car 3 times a week!!! This would be a great way to save money on the cost of commuting.
The Kia Optima is extremely user friendly, from the push button start, to the navigation system, to hooking up your cell phone bluetooth (especially in New Jersey where it is illegal to talk on the phone while driving) to one of my favorite technology features to find in a car, the back up camera. With two people in our house that are quite different in height being able to have us both adjust the seat so we are comfortable driving is a need for us and the Kia Optima meets that need. Both of us can drive this car comfortably and easily adjust our seat to where we need it to be.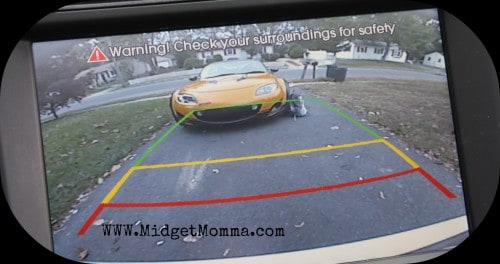 Luxury is not neglected in the Kia Optima, in fact they have so many great options like heated and cooled seats, leather seats, Infinity audio system (which my kids totally loved), heated rear seats to name just a few.
For those wondering if you can fit carseats in the Kia Optima Hybrid, you sure can and I was able to fit a Britax Roundabout, Britax Frontier and a Britax Marathon in the back seat!! My kids were super excited about that because it meant they got to ride in the car 🙂 Even with being next to each other the leg room for all 3 of them was great, no one complained about having their legs being smashed even when hubby was in the drivers seat and had to move his seat back.
Speaking of kids I can not forget to mention the truck! Wahoo! Massive trunk space! I fit in my bumble ride stroller and a HUGE cartful of groceries with ease:) Sadly I didn't get a picture of it, but there is enough room for my family to pack up for a trip and put everything we need in the trunk. there is more trunk space in the Kia Optima then I have in my minivan!!!
Quick Facts about the Kia Optima Hybrid:
Gas Milage – 35 mpg city and 40 mpg highway
Standard Features include: 8-way electric adjustment front drivers seat, dual zone climate control, automatic up and down front windows, push button start with electronic key.
Standard 2.4 liter, I4, 166hp hybrid engine
6 speed automatic transmission
CD player, MP3 player,
Child safety door locks and window locks
Keyless entry
temperature controlled glove box
power and heated signaling mirrors
Overall I love this car, it would be great for a family, a couple that doesn't have kids or anyone really who wants a stylish yet budget friendly car that has all the luxuries you could want with the money savings that comes from being a hybrid.
Disclaimer: A big thanks to Kia for loaning me this Kia Optima Hybrid for review. No compensation was received and all opinions are 100% my own.
This post may contain affiliate links. Please read my disclosure policy here