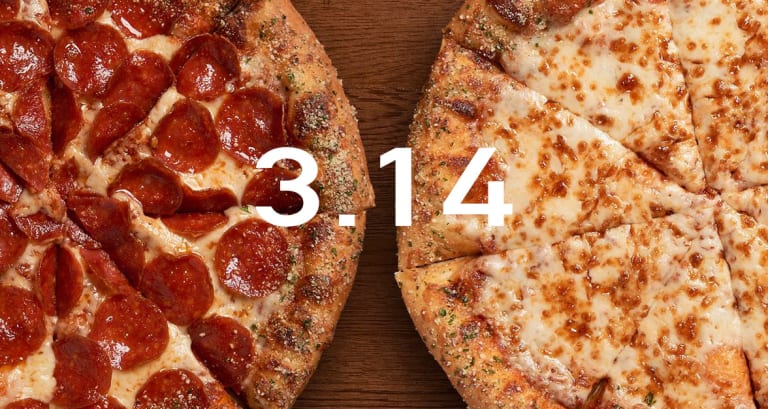 A little something to cheer us up despite everything that is going on in the world today.  Let's take a moment and celebrate Pi Day!  Now some places are canceling their events so please check with your local establishment before heading out.
Pi Day equals deals on circular food!  Today Saturday, March 14 marks the annual celebration of the mathematical constant π (pi), which is the ratio of a circle's circumference to its diameter. The trillion-digit ratio is rounded to 3.14.  This I never got in school, LOL.  But I'm sure someone somewhere uses this daily so lets celebrate!  Remember the coronavirus pandemic may affect some of these offers so call ahead, some might offer deals at a later date.
Also!  If you are sick stay home, there will be awesome deals another day!
7-Eleven

Get $3.14 pizza in-store or via delivery Saturday through the 7-Eleven App (Android or iOS). 
7Rewards members can get a Slice of Pizza for $0.50 with the app.

Kroger

35-41oz Kroger Deli Pizza for $3.14 when you clip the digital coupon to your Kroger account. (Can be used up to 5 times in a single transaction). Redeem by 3/15.
Kroger also has 8″ Bakery Fresh Fruit Pies for $3.14 when you clip the digital coupon to your Kroger account. Redeem by 3/15.

Blaze Pizza

Receive an offer for a $3.14 pizza when you download the Blaze Pizza app (Android or iOS) by 11:59pm PST on Sunday, 3/15.
Not going out?  It's OK  The Pi Day reward can be used in-restaurant between 3/16/2020 and 12/31/2020.

Cici's Pizza Buffet
Mod Pizza via DoorDash

Free 11″ Pizza with a purchase of $3.14 on March 14th when you apply code MODPIDAY at checkout.

Papa Murphy's

31.4% Off orders $20 or more with promo code PIDAY on March 14th.

Hungry Howies

Get a Medium Pizza for $3.14 when you purchase any Howie Bread at menu price.

Boston Market
Marie Callender's
Marco's Pizza

Get a Large Pizza for $3.14 when you purchase any large pizza at menu price ($3.14 must be of equal or lesser value) when you order online and apply promo code PIDAY2020 at checkout.

Cheddar's Scratch Kitchen

Get a Homemade Pot Pie for Free when you purchase a Homemade Chicken Pot Pie.

BJ's Restaurant & Brewhouse

Get a Mini 1-Topping Pizza for $3.14 when you dine in on March 14.