I am super excited about what I recently learned about! The Walmart Savings catcher! It is a 100% FREE app that makes you able to price match other stores right from the app and then Walmart gives you the CASH back and you cash it out from the app!
You can sign up here totally for FREE. Just make a Walmart account and you can get started on saving a TON of money with the Walmart Savings catcher! 
I am going to break this down for you so it is easy to follow 🙂
Go here and sign up for Walmart Savings Center account and download it to your phone (or you can opt to submit your reciepts online, but I find using the app to be a lot easier!).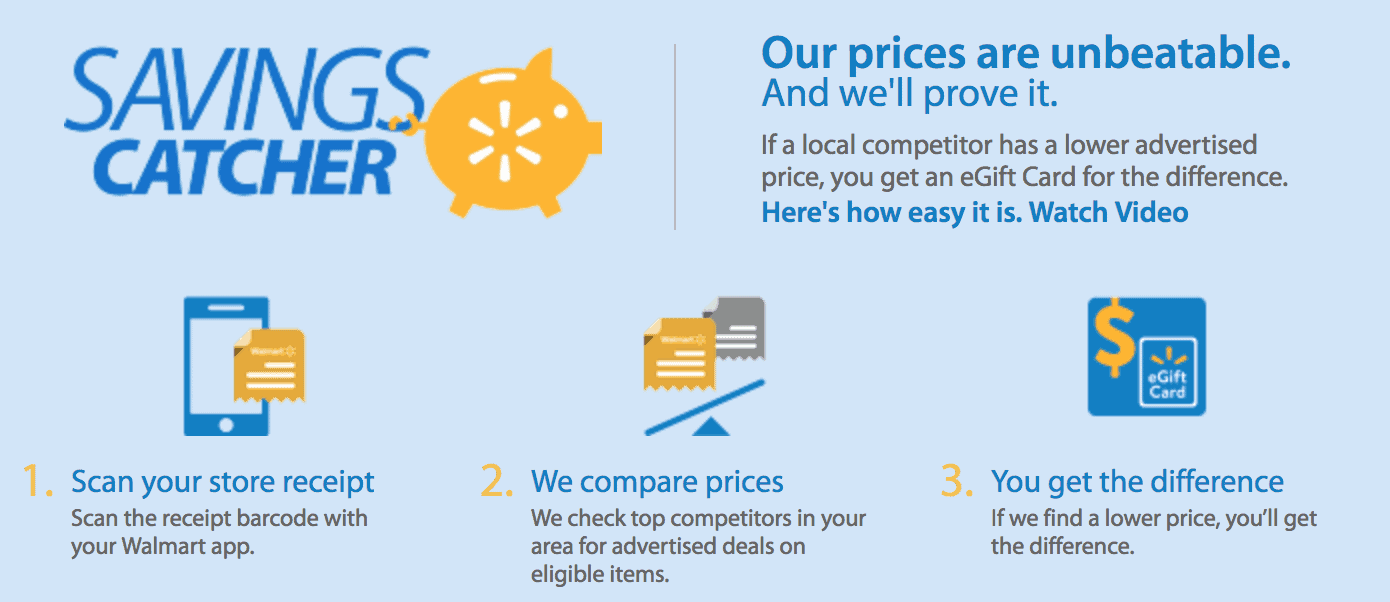 Here's how it works:
Make a purchase at a Walmart store.
Submit your receipt to Savings Catcher within 7 calendar days, including the date of purchase.
Savings Catcher compares the prices of the eligible items you bought at Walmart to the advertised prices found in the print and online versions of the weekly ads of top retailers in your area. The ads must be valid at the time you made your Walmart purchase.
If Savings Catcher finds an advertised price that is lower than what you paid for the same exact item at Walmart, we will notify you within 72 business hours of submission, and you'll get back the difference on a Savings Catcher Rewards eGift Card.
You may use your Savings Catcher Rewards eGift Card to make purchases in-store at Walmart via Walmart Pay or online at Walmart.com.
Yes – it's really that easy!
You can use coupons with it too, and the cash you get back is based on the store price BEFORE you use any coupons!!!
For Example:
You are doing your shopping for the week and Walmart has Coca-Cola 12 packs on sale for $4, you have a coupon for $1 off 1 coke 12 pack. You will spend $3 at Walmart with the coupon and the sale.
During the same time you are shopping Target has them on sale for $2.50 each well with the Walmart Savings app you will get $1.50 in to your account just because Target has it lower and the app does the price matching for you!! Awesome right!?!