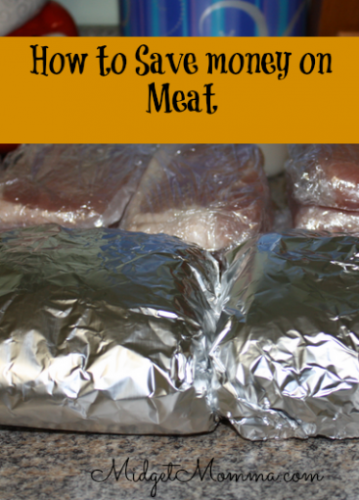 Saving Money buying meat
One great way to save money is to buy large cuts of meat yourself and to then cut it into the sizes you want and the cuts you want yourself. Look for it to be on sale and stock up.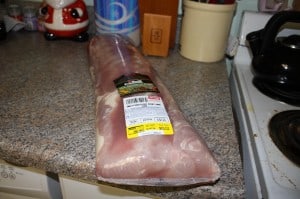 Every Christmas my grandmother gets us meat, one of my favorite presents each year! This year one of the meats we got was a 10 pound pork loin! I was able to cut this large piece of meat up into 2 large pork roasts and enough pork chops for me to make 7 different meals with! Pieces of meat this size are normally about $40, but if you hit a great sale you can get it for less then 50% off, this was bought for $15.52 @ 1.47/lb which is a great price because the normal price is 3.99/lb.
I then cut it up into sizes we would use, like the porkchops and pork roast and wrapped them. Wrapping them is important to make sure they do not get freezer burnt in the freezer. When wrapping meat I first wrap it with Press and Seal wrap, I place 1 piece down and then put the meat on top of it.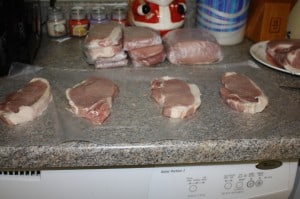 I then put another piece of press and seal on top and seal it.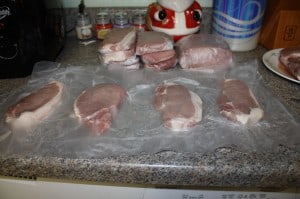 I then cut the press and seal so each piece is individually wrapped, and then wrap it again in plastic wrap. I also wrap the pork roasts in tin foil after I wrap it in plastic wrap.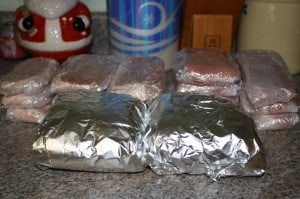 Break down of cost per meal is 15.52 for the meat, which gives us 7 meals making it just 2.21 per meal for our meat! Easily pair this with free/cheap veggies and free/cheap pasta and you have a dinner for between 2.21-5.00 for a family of 5(depending on how you cook the meat)! And there are many different ways to cook pork chops and pork roast.