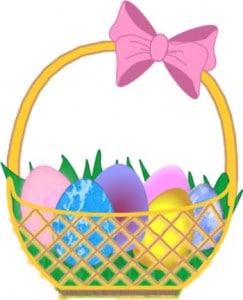 Easter is just 2 days away! Have you done shopping yet? If not here are a few ways to save!
Easter Baskets!
Get the FREE candy at places like CVS, Walgreens and Rite Aid

Reuse your Easter baskets each year

Get the FREE Easter Grass and Egg dying kits from places like Walgreens, CVS and Rite Aid

Buy toys on clearance – Saves money and you do not have to worry about sugar high kiddos

Get a small Easter basket-the bigger the basket the more tempted you are to fill it all

Get useful items like Swim Suits, sandles and sunglasses- items that you would need to buy anyway

Sidewalk chalk and crayons are great for Easter baskets, they are cheap and kids love them!
Egg Hunts
Get eggs after Easter to fill and use the next Easter

Buy things like erasers, stickers, ect through out the year and save them for filling eggs

Put Pennies and nickles in the Easter eggs and then have your kids put them in their piggy banks, a great way to teach kids to save!
Picture from clipartandcrafts.com
This post may contain affiliate links. Please read my disclosure policy here