I am a little bit in shock that today Hannah is 7 weeks old. I had plans to post pictures and blog posts for you guys to see her as she grows and well I kinda dropped the ball on that one. I know I have been posting them on Instagram and facebook, but that is not the same as updates on how we are all doing. Things got crazy between a new baby coming home, LuLaRoe and blogging work so I am going to try to do better.
It has been a very busy 7 weeks- During that time my Dad went to rehab to gain strength from having his emergancy surgery from his Aorta rupturing and then was well enough to go home. He is now well enough and his body strong enough to do so many things – he has to take it easy still but thats where he gets lucky to have 3 grandkids who enjoy helping him out and getting things like yardwork done 😉
A few weeks after he got home he was able to have and enjoy some Hannah snuggles!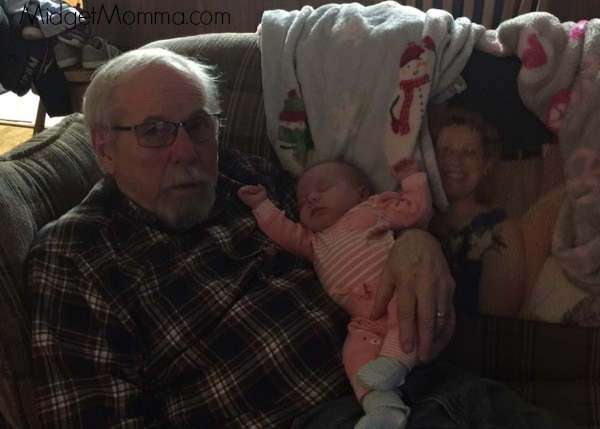 Hannah fits so well in our house- I have to admit that I was nervous on how the older 3 would be. I know they were excited for her to be here but it is totally different once baby is in the house. Shockingly the biggest fights we have had with the kids have been 1- who gets to push the stroller when we are out and 2-who gets to change her diaper.I swear its like the a gold medal to the older kids when Hannah poops and they get to change it. I thought the novelty of that would fade quickly but here we are at 7 weeks and they all are still arguing over who gets to change her diaper when she needs to be changed.
There have been quite a few times where Hannah was not wanting Tom or I but wanting snuggles from McKenzie, Logan or Alyssa. I love that they love her sooo much that they will stop and snuggle her like she wants – even if it means stopping playing minecraft or a video game!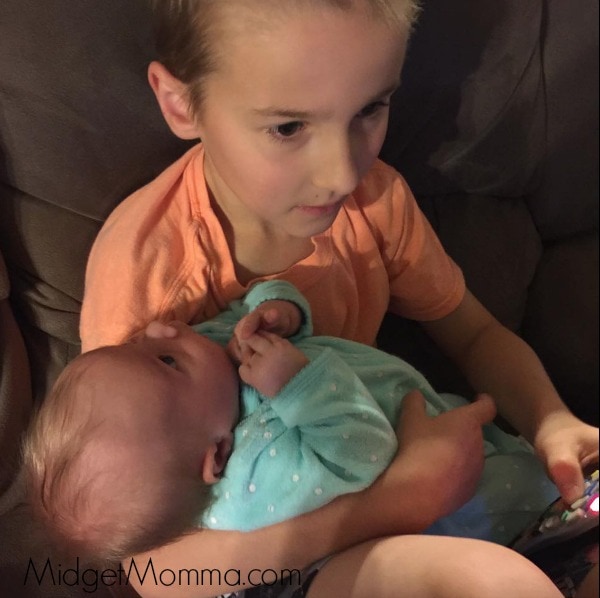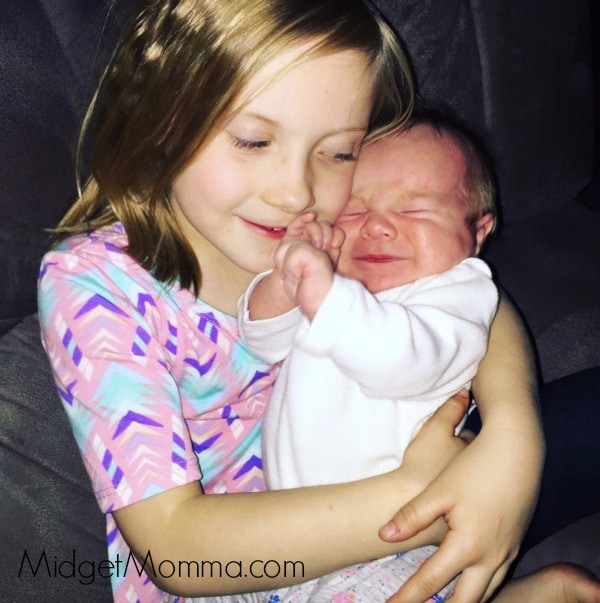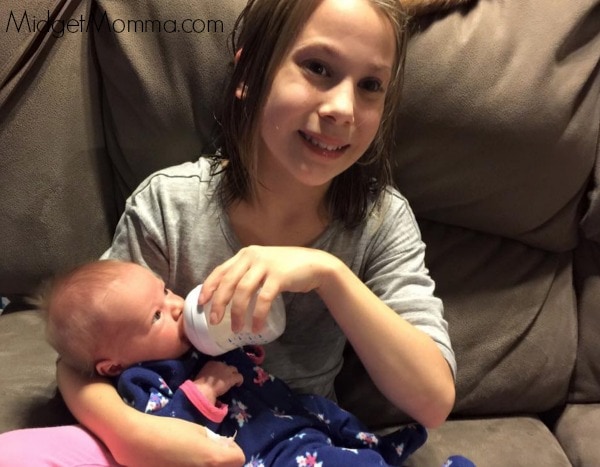 The sleepless nights haven't been bad at all – after a rough delivery because she was sunnyside up, I was not up and moving as quickly as I have been in the past but she has been a good sleeper since she was born and we have only had 1 night of her being awake crying – and that wasn't even to bad it was about 45 mins and some restless time of her trying to sleep, then she pooped and was back to being calm again. I haven't been as tired as I expected to be, coffee helps with that LOL and Hannah is not affected by caffeine so I am still able to enjoy my coffee and nurse her 🙂 But most nights even since she was born I have been able to get about 6 hours with only a 10 minute awake time after 3 hours of sleeping for her to eat, so I have been getting more sleep then I was before she was born 🙂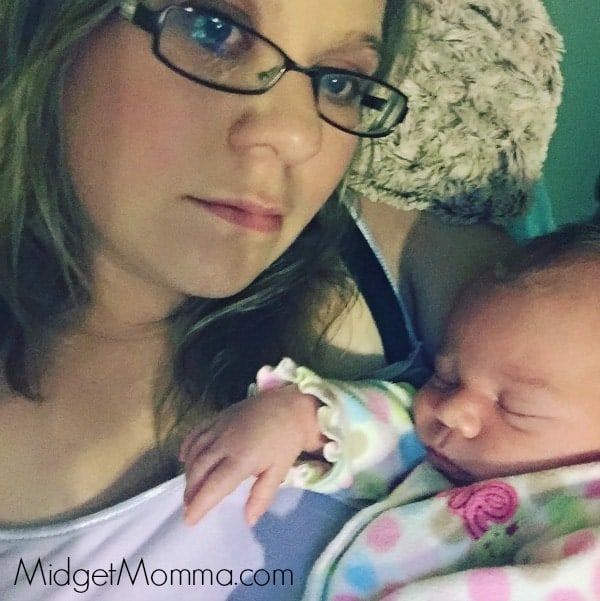 She enjoys her sleep, she enjoys her snuggles and she likes snuggling with the older kids. Even better is the older kids enjoy snuggling with her too <3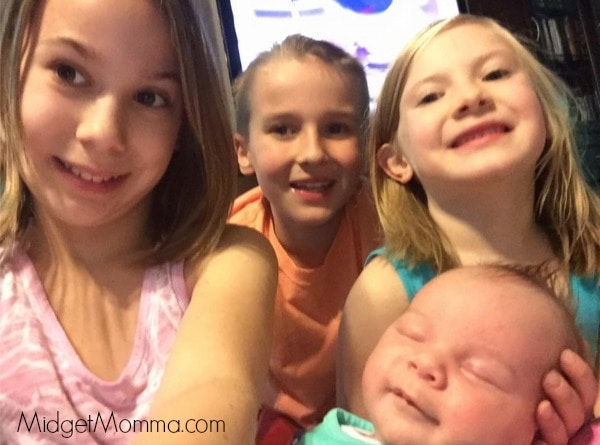 We had her 1 month appointment and she was 10 pounds 1 ounce and 21.5 inches long! LOTS of growing for her since she was born at 6 pounds 15 ounces and 19 inches long. She is the biggest one of all the kids so far at birth and at this age.The other 3 were all born between 5 pounds and 6 pounds 9 ounces, and at a month were between 6-8 pounds! Shockingly at about 3 weeks we had to adjust her car seat straps because she grew out of the smallest setting!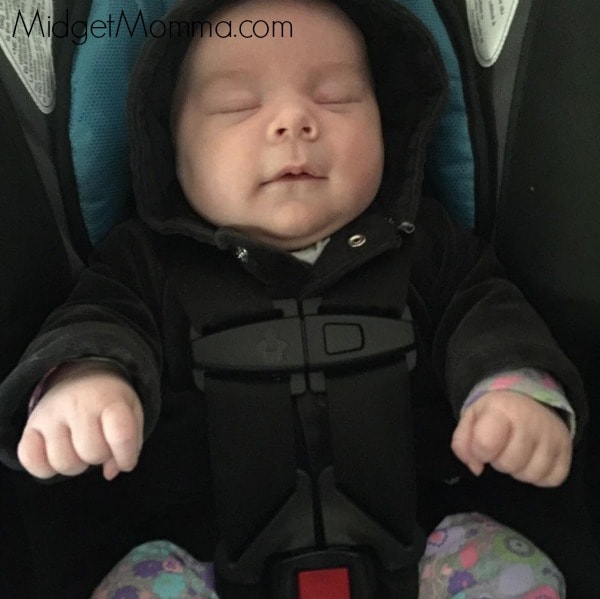 Tucker seems to be loving Hannah to – just like he did with the other kids and whenever Hannah is playing on her playmat Tucker is right there with her!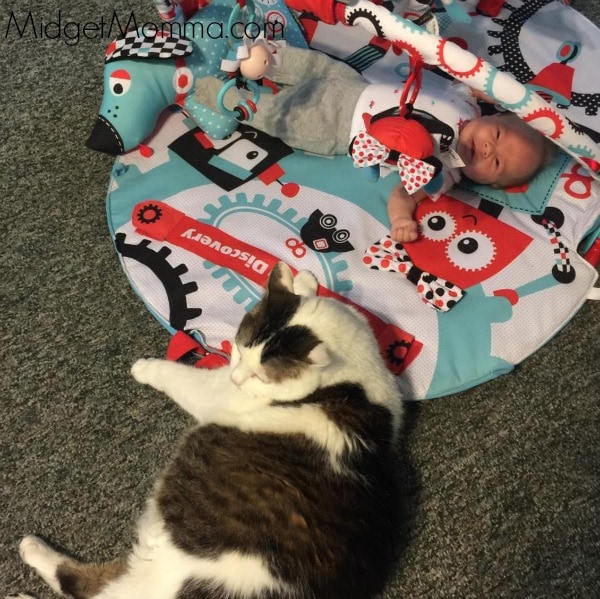 Hannah had her first bath – well a few weeks ago. I know all of these pictures and things are out of order of time line but thats about where my brain is right now LOL.
But she is the first of my kids not to scream when she had her first bath. In fact she cried when I took her out of the tub and so far with every bath she has has cried only when being taken out of the tub!
Tom has also been stealing baby snuggles – I am not sure how to handle that as he worked outside of home and now he is at home with me and I have to share. Sharing baby snuggles is a challenge for me as I am quite greedy with them but I have been working on sharing snuggles with Tom 😉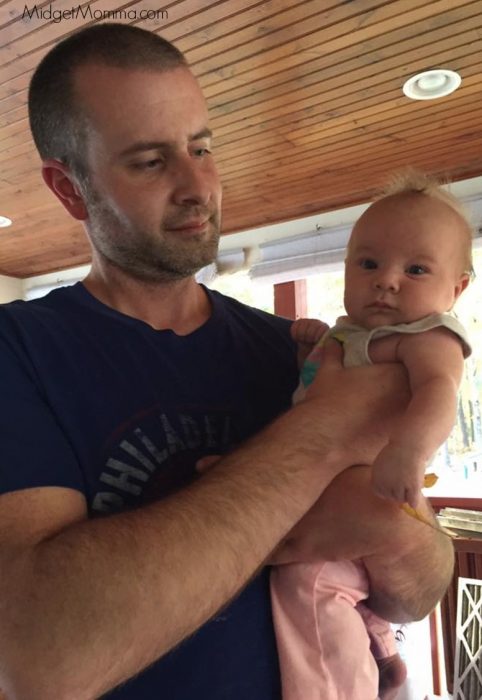 McKenzie had her first dance – I am still not accepting the fact that I have a middle schooler – McKenzie will always be my baby and it is hard for me dealing with her being a middle schooler already and going to her first dance already!!
Oh Hannah went to her first Movie with the kids, my mom and I. She was good, she slept the whole time!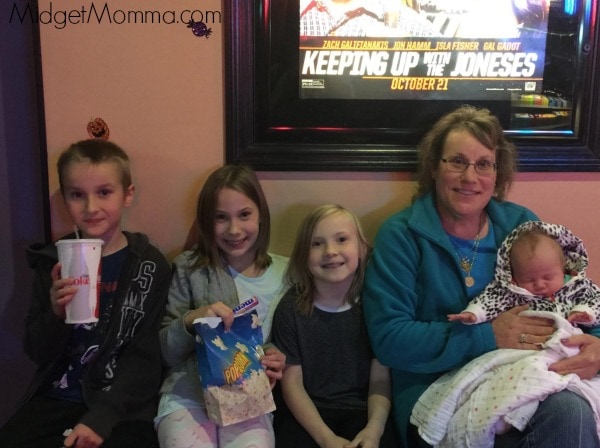 I know I have been scatter brained in this post and recently on the facebook page I wanted to give you an update! I also am very appreciative of the 3 people on my team who have been getting recipes done, deals posted for you guys and making sure I don't lose my mind to much 🙂
How have you all been?